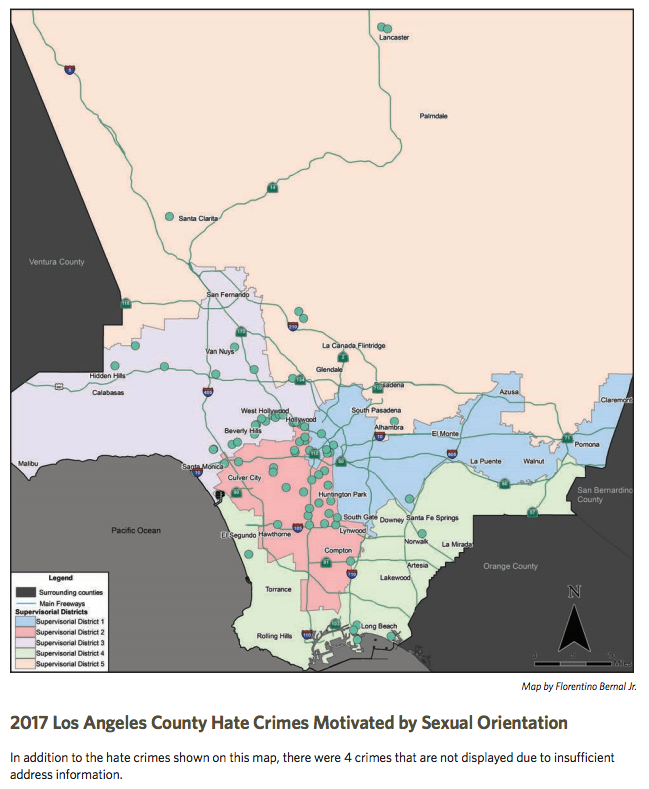 Crimes targeting gay men, lesbians and LGBT organizations in Los Angeles declined 8% last year according to an annual report by the Los Angeles County Commission on Human Relations. However, the report, which was released today, notes that those 108 crimes did constitute 21% of all hate crimes reported. For the second year in a row, a record number of anti-transgender crimes were reported (33), and 94% were of a violent nature.
The report states that hate crimes overall increased by 5% in 2017 over 2016 to a total of 508 reported incidents. Race-related hate crimes, which constituted half of all reported hate crimes, showed a 9% increase, to 256.
Gay men were the victims of 82% (89 instances) of the LGBT hate crimes, a 12% decline from the 101 reported in 2016. Anti-lesbian hate crimes increased slightly from 13 to 15. There were 33 crimes focused on gender identity, 24 of which (73%) targeted transgender women, the report says. Six crimes targeted transgender men. One attack was on a gender non-conforming women whose attacker asked if she was "a girl or a boy." Another involved grafitti on the wall at a community organization that read "F-ck Trannies." And finally there was a case where the gender identity of the victim was unclear from the police report.
The report says that crimes motivated by sexual orientation in the past "have had a significantly higher rate of violence than crimes based on race or religion. However, in 2017 violent sexual orientation crimes declined from 81% to 76%,
the lowest rate since 2013."
The report states that "the overwhelming majority of the suspects (89%) were male. Most of them were complete strangers to the victims. However, victims were also targeted by neighbors, a classmate, another client of the same women's
shelter, and a family member."
The report also includes descriptions of a few of the LGBT hate crimes:
–Jan. 11, North Hollywood—A black male on a bus became agitated and aggressive toward a white male seated behind him. He called the victim, "fag" and "bitch." The suspect stood up and struck him three times in the face. The victim was transported to a hospital where he received three sutures for a laceration to his lip.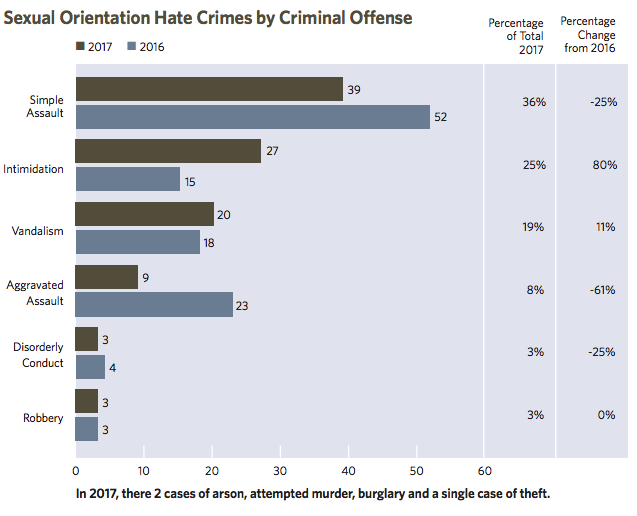 –Feb. 6, Hollywood—A Latino male was leaving a popular gay club at closing time. The suspects, a Latino male and Latina female, yelled, "Motherf-cking faggot! You should die!" They stabbed him multiple times, including in the head and ribs and when the victim fell to the ground they kicked him repeatedly.
–March 3, Walnut—An Armenian middle school student had been bullied for weeks by a classmate and his friends. They repeatedly called him, "gay" and slapped him on his neck and legs. Because of fear of retaliation, the victim did not tell anyone about the harassment until after the suspects injured his hand.
–March 7, South Los Angeles—Over two days, two gay Latino tenants were repeatedly attacked by a Latino male suspect who was the son of their apartment building manager. The suspect threw a Molotov cocktail into their bathroom, broke a window, and kicked the front door repeatedly while yelling, "You fucking faggots! Move to San Francisco!"
–Sept. 9, West Hollywood—A white male was walking home from a local bar, when suddenly a white male suspect approached him and yelled, "You faggot!" and punched him in the face. The suspect fled the scene. The victim's injuries required 8-9 stitches
–Oct. 3, Koreatown—A Latina lesbian was being affectionate with her girlfriend in front of a bowling alley. A Latino male suspect asked her for a cigarette. He then got aggressive and told her, "You ruined this neighborhood. Why are you here?" The suspect was joined by four friends who punched her and knocked her to the ground. The suspect then climbed on top of her and repeatedly punched her in the face. He and four companions then fled. The victim went into an epileptic seizure.
–Nov. 10, East Hollywood—Two men were kissing in front of a gay bar. A Latino male suspect confronted them and yelled, "Oh my God! You fucken' faggots are disgusting." The suspect then picked up a piece of wood and struck the Latino victim, knocking him to the ground. He hit him 10-15 more times and kicked him repeatedly. A security guard working at the bar intervened and chased the suspect away. As he fled the scene he shouted, "This is my 'hood!"