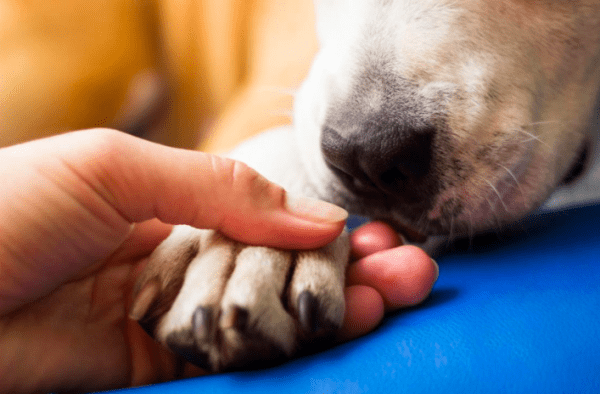 UPDATE:  A spokeswoman for the L.A. County Animal Care and Control Department said that it had been notified on Monday by the City of West Hollywood of reports of possible poisoning of dogs on Hayworth Avenue.  Animal Care has assigned two investigators to look into the incidents.  The spokeswoman said that Animal Care advises dog owners to give priority to getting their pets to a veterinarian and then asks that they call Animal Care to report the issue at(818) 991-0071.
Dog owners on the 1200 block of North Hayworth Avenue in West Hollywood and those who walk their dogs there are reporting an outbreak of illness among their pets that some worry might be the result of poisoning.
Bob Voakes, the manager of an apartment building on the block who also is a dog walker, said one dog was diagnosed by a veterinarian as having been poisoned. That dog almost died but has recovered, Voakes said, and must remain on antibiotics for a long time. Voakes said he's personally aware of several other dogs who have become seriously ill and taken to veterinary clinics.
One resident posted a notice on the street warning of the illnesses. "Beware!!! In the past two weeks, at least 7 dogs that we know of have been poisoned on the 1200 block of N. Hayworth Ave.," the notice reads. "Symptoms have ranged from vomiting and fever, to a stroke and seizures. No one is sure where or how the poisoning is taking place. Chemicals on lawns? Deliberate poisoning? There has been a strange man throwing bread into various lawns on the block. We don't know if that is connected to the poisonings, or not."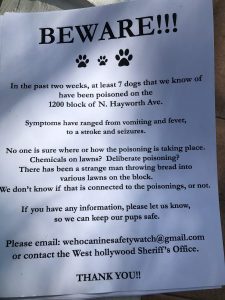 In a series of email exchanges, other residents described problems experienced by their pets.
"He threw up, was cold/shivering and didn't have energy to walk," one person wrote. "Then he had a fever. Thankfully he came out of it, but it could have been due to the 'poison' on the sidewalk."
"New puppy next door wound up in emergency, was throwing up and wouldn't eat for days before," said another person. "Maxie was throwing up yesterday but is ok today. … I don't have all the facts yet, But being careful is best course of action right now."
"Oh my goodness!!! This is horrifying. Duke was really sick 2-3 weeks ago and he never gets sick," said yet another. "He threw up, was cold/shivering and didn't have energy to walk. Then he had a fever. Thankfully he came out of it, but it could have been due to the "poison" on the sidewalk."
A resident wrote that another person's dog "was just diagnosed with pancreatitis, and is in hospital. She has had other misc (sic) health issues, but he's said, according to an ASPCA site, one possible cause of pancreatitis are organophosphates, which apparently are in a lot of insecticides."
Joshuah Michael, who has lived on that block of Hayworth for six years, said his two dogs have experienced red bumps on their skin. The dogs, one a year-old dachshund and chihuahua mix and the other a six-year-old miniature pinscher, also began throwing up after Michael returned from a vacation two weeks ago.
"Everyone thinks it's someone who has poisoned a dog on the street," Michael said. While not rejecting that as a possible reason for the spate of illnesses, Michael said, "I think that's off the wall."
"I definitely think that the news was trying to hype it up," he said, citing a local television reporter who seemed uninteresting in hearing other possible reasons for the illnesses. Those reasons, Michael said, could be infections from fleas or mosquitos. Such infections by mosquitos and fleas have been cited in recent news stories.
He noted that some neighbors suggested that dogs might have become ill after eating bread crumbs found on the sidewalk  and lawns. Michael said those bread crumbs began appearing after a spat in which one neighbor, upset that another had left a bag of trash on the lawn or sidewalk, had nailed it to a tree with a note calling out the neighbor for not putting the trash in a can.
"There is a very spiteful anger that we're begun to experience in the time we've been here," Michael said of life on his block. "The camaraderie is really strong," he said. "Not among humans but among dogs."
Ultimately, Voakes said, it will be up to the Sheriff's Station and the Los Angeles County Animal Care Control Department to determine the reason for the outbreak of illnesses. It is, however, unclear if anyone has reported the incidents to either.