West Hollywood, a city that has struggled to find ways to deal with so-called disrupters such as Airbnb, Uber and Bird, now has Pavemint.
Pavemint, a mobile phone app, allows drivers to find privately owned parking spaces. With WeHo's annual Halloween Carnaval around the corner, Pavemint has been pitching its service on social media to those who will be looking for places to park during the jam packed event.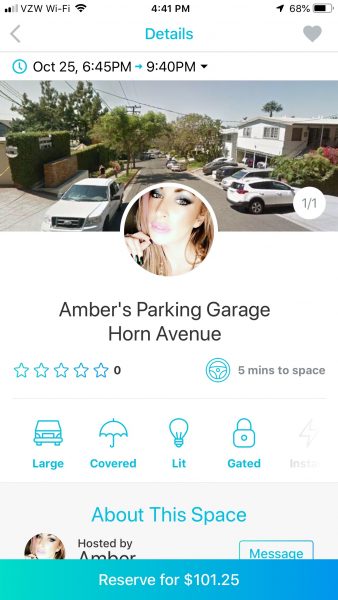 Pavemint also is being pitched with some success to owners or tenants who have access to parking spaces and want to rent them out through the app. On Wednesday afternoon in West Hollywood, for example, a woman identified on Pavemint as Aly was renting out a parking space tucked under an apartment building on North Alfred Street for $4.31 an hour on weekdays between 9 a.m. and 7 p.m.
The rates vary with the day and time of day. Kylie's space in her home garage on Westmount Drive was going for $2.24 an hour early Wednesday evening. And John had a space available in his apartment parking garage on Hacienda Place for $2.81 an hour during the same time period. The ground level space beneath TMarie's apartment on Shoreham Drive was a bit more pricey, with a rate of $9 an hour.
Amber is looking to charge $101.25 for a space in the apartment parking garage on Horn Avenue for a three hour stay tomorrow evening.
Commercial spots also were available. A spot in the lot at the former Tower Records on Sunset Boulevard was going for $11 a day at 5:45 p.m. The 30 spots in a lot on Larrabee Street were going for $11.25 a day each at 5:45 p.m.
Hollywood-headquartered Pavemint has received $5.7 million in funding from its founder and chief executive Randall Jamail, according to L.A Business Journal. It reported that he made his fortune as the head of Houston-based Justice Records, a record label that produced albums for country music stars such as Johnny Cash and Willie Nelson.
Lauren Hoover, director of communications at Pavemint, said that "unlike Airbnb, etc., Pavemint tries to work with, rather than against, each city we go into. In the past, we've talked with the City of West Hollywood in order to find out the city's specific parking pain points and try and address these.
"Every tenant is required to get permission from their landlord before listing on Pavemint and every listing is required to go through address verification–a process which ensures that the person renting out parking is a verified owner or occupant of the listing.
"I know that there are certain people who are nervous about the platform, as it's such a new one in the realm of the sharing economy. However, we are here to genuinely try and help neighborhoods, not harm them (and reduce the traffic and CO2 caused by parking). Most people with driveways have extra space that they never use, or don't use during work hours. Some can walk to work and don't even have cars. We're here to unlock that underutilized space to help both drivers and residents. "
Correction:  An earlier version of this story stated the prices for parking at the former Tower Records lot and at the lot on Larrabee as per hour.  In fact, those rates are per day.  The story has been corrected to reflect that.