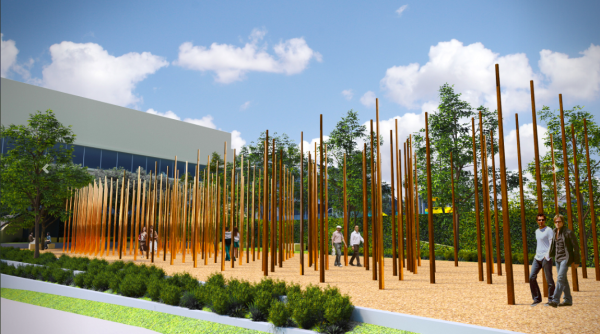 Tony Valenzuela, the former executive director of Lambda Literary, is now the executive director of the Foundation for the AIDS Monument (FAM).
"We're thrilled that Tony Valenzuela has come on board as our new Executive Director at this crucial time for our organization," said board chair Mark Lehman in an announcement of the appointment. "In the upcoming year Tony will lead us through the final design development of the AIDS Monument art piece, work with us to continue our remarkable fundraising efforts, and marshal our resources to flesh out and expand the development and delivery of online and on-site content and programming.
"Tony brings with him a unique set of management skills, vast experience in the non-profit arena, and expansive contacts in and connections with the local and national HIV/AIDS community that will be great assets for FAM going forward. I personally look forward to working hand in hand with Tony to realize FAM's and West Hollywood's dreams for what the AIDS Monument will be."
FAM is a non-profit organization working to create a monument in West Hollywood Park to those who have died of AIDS. The monument, designed by Australian artist Mark Tobin of Urban Art Projects. The monument will be located to the north of West Hollywood Library.
Valenzuela is a longtime community activist and nonprofit leader in LGBTQ, HIV/AIDS, and arts communities. Before his nine years at Lambda Literary Valenzuela,¬¬¬ worked at Gay and Lesbian Adolescent Social Services in Los Angeles, and the LGBTQ Community Center in San Diego. Since the 1990's he has been a leader in the gay men's health and HIV/AIDS communities.
"No issue has shaped my life as profoundly as the AIDS epidemic," said Valenzuela. "Today, as we reflect on the darkest years of the 1980's and 90's and continue to grapple with an intractable epidemic, especially in communities of color, I consider it paramount to understand where we've been and where we're going, to honor the legacies of the hundreds of thousands of brilliant souls lost to the plague in the U.S., and to educate the public about the history of the epidemic so that we never face a similar calamity again."
FAM has been successful in raising money for the memorial. In a recent newsletter it announced a $250,000 grant from the State of California and a $100,000 donation from Steve Tisch, the Academy Award-, Golden Globe- and Emmy Award-winning producer and New York Giants chairman.