The City of West Hollywood was honored with six awards recognizing distinction in communications by the Public Relations Society of America (PRSA) Los Angeles Chapter. The awards were presented at PRSA's PRism Awards gala on Oct. 17. The city's Communications Department won these awards while facing steep competition from the likes of several major public relations agencies, including MGA Media Group, Golin and H+M Communications.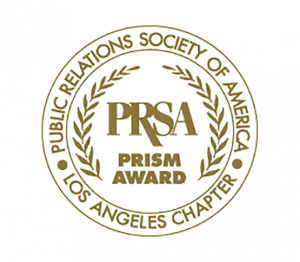 "The City of West Hollywood's Communications Department works incredibly hard to ensure that our community members are well informed in captivating and educational ways," said West Hollywood Mayor John Duran. "In just the last few months, the team has taken home 15 different professional awards. These PRSA Awards are the equivalent of the Oscars for the public relations industry, and I'm incredibly proud of the work the department does for our city."
PRSA-LA conferred its highest honor, the PRism Award, to the City of West Hollywood in three categories:
• Public Service Announcement: Linus and the Meaning of Pride
• Marketing Campaign, Government: Social Media Connect @WeHoCity
• Streaming Media, Livestream: #ResistMarch Livestream
In addition, the city also received the PRSA-LA Award of Excellence in three categories:
• Creative Tactics, Teaser or Other Collateral: Drag Queen Story Hour Fans
• Video Programs, Government: Getting to Zero
• Video Programs, Government: WeHo City Budget Animated Video
The city's Communications Department oversees media relations, digital media, TV production, public relations, marketing, branding and advertising, and works closely with the city's more than 20 departments and divisions and the City Council to provide transparency and open communication among stakeholders, the mediac and the public. The Communications Department oversees the city's website weho.org, which provides wide-ranging information to more than 140,000 visitors each month and WeHoTV, which offers Emmy-winning content and coverage of civic meetings and cultural events to viewers through Spectrum and AT&T U-verse cable television, on YouTube at www.youtube.com/wehotv, and on multiple streaming platforms including Android TV, Apple TV, Fire TV, and Roku TV. More than 60,000 people follow @WeHoCity on Facebook, Twitter, and Instagram for up-to-the-minute WeHoTV NewsBytes, alerts, updates, and stories. The Communications Department has been honored with dozens of awards in recognition of its innovative approach and effectiveness in engaging with the community.
PRSA is the largest public relations organization in the world, with more than 21,000 members nationwide. The Los Angeles chapter (PRSA-LA) is the fifth largest in the country, with nearly 600 agency, in-house, and independent PR professionals across the Greater Los Angeles region. The PRism Awards, the PR industry's version of the Oscars, is presented annually and recognize excellence in public relations strategies and tactics for outstanding programs and materials to LA-based companies and PR firms who support them.