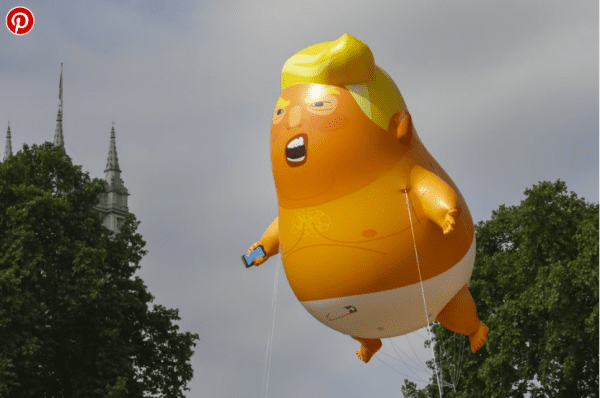 West Hollywood will be one of six cities in the United States that will be keeping the hot air inside Donald Trump this weekend as an iconic "Trump Baby" balloon rises over West Hollywood Park.
The balloon protest initiated in London during Trump's visit to the U.K. in July. The balloon, which depicted Trump as "an angry orange baby" wearing diapers and carrying a mobile phone, was designed by Matt Bonner, who has permitted it to be copied for other demonstrations.
"I guess when they put out blimps to make me feel unwelcome, no reason for me to go to London," Trump said in an interview at the time with The Sun, a conservative U.K. newspaper owned by Rupert Murdoch.
Donald Trump already has been informed that he's unwelcome in West Hollywood, a city where more than 60% of voters are registered as Democrats and slightly more than 9% as Republicans. In 2016 then-Mayor Lindsey Horvath announced that Trump would not be welcome in West Hollywood.
West Hollywood Mayor John Duran has confirmed that he'll be hoisting the balloon with the help of some drag performers.
The Trump Baby will rise in the air at noon on Saturday in West Hollywood Park at 647 N. San Vicente Blvd. and will float over the park until 1:30 p.m. It also will be in the air tomorrow in St. Louis, Mo., Grand Rapids, Mich., Palm Beach, Fla., Wilmington, N.C. and New York City, where an impeachment parade is being held.
The balloon's California debut was at the Los Angeles Convention Center on Oct. 19. It was floated above the Center during Politicon, an event that features speakers from across the political spectrum.