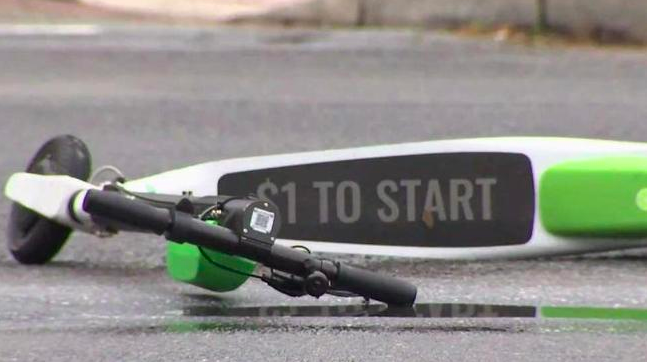 A man riding what appears to have been a Bird scooter was hit by a car at 10 p.m. last night on Fountain Avenue near Havenhurst. He was taken to Cedars-Sinai Medical Center for treatment.
Lt. William Nash of the West Hollywood Sheriff's Station said the man was not wearing a helmet and the scooter had no lights operating. Nash said an officer on the scene said the man "had a strong odor of alcohol" and confessed to having drunk three beers.
The scooter driver apparently was in violation of a state law that is changing soon. That law states that "an operator of a motorized scooter must be at least 16 years old, possess a valid driver's license or instruction permit, and wear a helmet.
"A motorized scooter may be operated on a bicycle path, trail or bikeway, but not on a sidewalk," the law states. "On the roadway, it must be operated in the bicycle lane, if there is one. On roads without bicycle lanes, motorized scooters may operate where the speed limit is 25 mph or less, and shall be ridden as close to the right hand curb as possible, except to pass or turn left."
Gov. Jerry Brown last month signed into law a bill that makes it legal for adults to ride electric scooters without a helmet. Under the new law, cities have the authority to let scooters operate on streets with speeds limits up to 35 mph, a 10 mph increase. That would include virtually all streets in West Hollywood.  The new law will take effect Jan. 1.
Since electric scooters from companies such as Bird and Lime began appearing on WeHo's sidewalks this spring, there has been an increasing number of riders injured. Data specific to scooter injuries isn't available, but an emergency room worker at Cedars-Sinai said they have seen an uptick in such injuries, particularly on weekends.
The Washington Post reported in early September that emergency room physicians across the country are experiencing an increase in patients injured while riding on scooters.
"They have been pouring into emergency rooms around the nation all summer, their bodies bearing a blend of injuries that doctors normally associate with victims of car wrecks — broken noses, wrists and shoulders, facial lacerations and fractures, as well as the kind of blunt head trauma that can leave brains permanently damaged," the Post reported.
To date, there have been two reported deaths from scooter accidents – one in Dallas and one in Washington, D.C.
The West Hollywood City Council in July voted to ban the rental of shared electric scooters within the city limits. Prospective riders can find such dockless scooters sitting on sidewalks by using a mobile phone app and then rent them from that app. The City of West Hollywood is unable to stop scooters rented outside the city (many are clustered on Melrose Avenue) from entering WeHo, but Bird and Lime have cooperated with the city to make it impossible to rent their scooters left on the sidewalk within the city limits.
One issue that local residents have raised is the possibility of pedestrians being hit by scooters, many of which continue to be ridden on sidewalks despite that being illegal.
The Washington Post reported on Saturday that a class-action lawsuit has been filed in L.A. County Superior Court against Lime and Bird and other scooter companies such as Segway and Xiaomi, alleging that they are "aiding and abetting assault" by making the scooters available.
Three of the eight plaintiffs claim they have been seriously injured when a scooter hit them from behind. The plaintiffs also say that the practice of "dumping" scooters on sidewalks without getting permission or providing advance notice, creates a public nuisance.
"Scores (if not hundreds) of riders and pedestrians and members of the public have suffered, are continuing to suffer and will to continue to suffer egregious and avoidable injuries and damage to their person and property," the suit alleges.