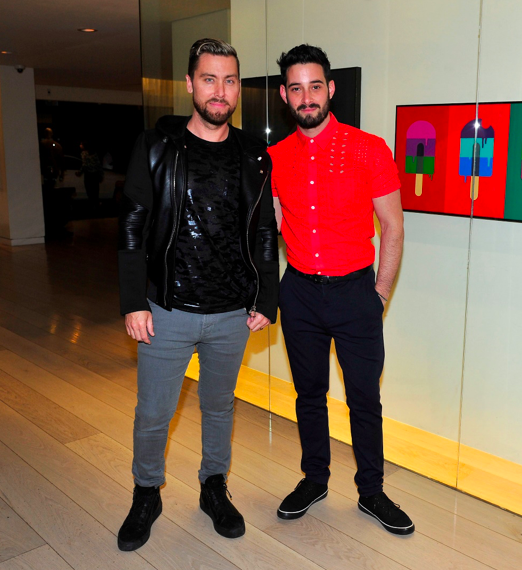 It was a packed house last night at Michael Turchin's "Dirty Pop" art opening and mural reveal at the Mondrian Los Angeles. Husband Lance Bass was on hand to support Michael and gave a kick off toast to the group, saying how proud and excited he was for Michael.
Guests included Bass, Joanna Garcia Swisher, Nick Swisher, Taylor Dayne, Fortune Feimster, Billie Lee, Derek Warburton, Dr. Shahin Ghadir and wife Jessica Ghadir.
"Dirty Pop" showcases Turchin's artistic evolution over the past few years, highlighting his playful use of bright colors, dynamic patterns and popular culture references with a tongue-in-cheek slant. The exhibit's "Dirty Pop" title pays homage to his husband Lance Bass, whose NSYNC band performed a song by that name.
The exhibit will be on display at the Mondrian, which is at 8440 Sunset Blvd. at Olive Drive, for approximately three months. You can visit www.mondrianhotel.com for additional details.
Turchin also unveiled a custom mural at the hotel's entrance that he had painted earlier in the week. The mural is a depiction of melting popsicles inspired by the colorful summer in Los Angeles and how quickly that season seems to fly by.
"We see the popsicles as an exciting focal point to engage guests as they enter Skybar to appeal to both hotel guests and locals. We definitely see it becoming the next go-to backdrop for social media posting," said Aidan Marus, Skybar's general manager.
Enoch Miller, the "Empress of West Hollywood," interviewed Turchin in a video that can be seen here. Miller also conducted a video tour of the exhibit.