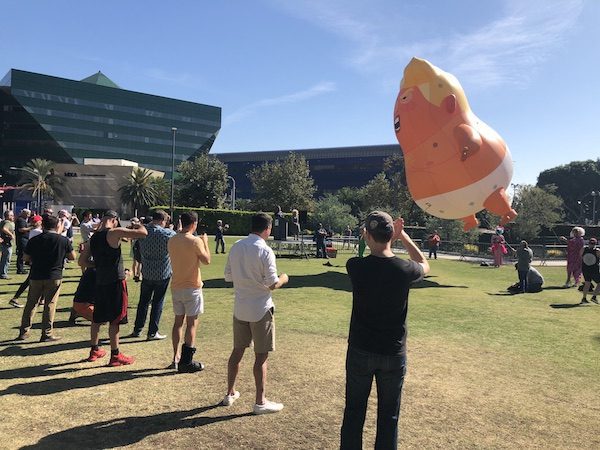 Approximately three dozen people turned out at noon today for the "Trump Baby" balloon protest hosted by Mayor John Duran at West Hollywood Park.
The protest featured a large balloon image of Donald Trump as "an angry orange baby" wearing diapers and carrying a mobile phone. It was designed by Matt Bonner, who has permitted it to be copied for other demonstrations. The protest in West Hollywood was one of six held nationwide.
Duran, at whose behest the city declared May 31 "Stormy Daniels Day," described West Hollywood as the "epicenter of the resistance" to Trump, a Republican whose stands on issues ranging from LGBT civil liberties to immigration to climate change have outraged his Democratic opponents. Daniels is the adult film star who has alleged that Trump had an overnight affair with her which his lawyer paid her to keep silent.
Duran was accompanied by four drag performers – Jasmine Flowers, Cookie, Anastasia DeTwat and Baex Jing – who helped hold the Trump Baby balloon aloft.
Also speaking was City Councilmember Lauren Meister, who shouted out: "Put that baby in place." Other council members were not present.
The event occurred at noon with the balloon being deflated at 1:30 p.m.