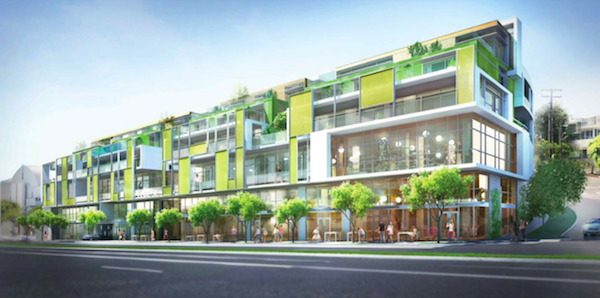 One of the most prominent development projects currently proposed in West Hollywood will go before the city's Planning Commission on Thursday for review.
The project, on the northwest corner of Santa Monica Boulevard at Knoll, is a four- and five-story mixed use building that will house as many as three restaurants with outdoor dining, 95 apartments and 15 "live/work" units, retail stores and space for salons and other service businesses. The project would include 328 parking spaces on three levels, with one of them underground. There would be 12 apartments for low- and very low-income people.
The building would stretch from the eastern edge of the Ramada Plaza hotel to West Knoll, replacing the building that now houses the Collar & Leash pet store and its adjacent parking lot and a collection of small businesses including West Knoll Pharmacy, a restaurant and skin care salons. It also would replace a single-family home on West Knoll. The developer is Soto Capital LP, one of several companies owned by Behnam (Ben) Soroudi, a Beverly Hills developer who also has extensive real estate interests through his Ruby Group, Harper Enterprises and other companies.
The city's Planning and Development Services Department, in a memo to the Planning Commission, says "The project would be transformational to this portion of the City … The existing buildings on the subject site are in disrepair, underutilized
and do not help achieve the goals and policies of the City."
The project has been in the works for many years and has been revised in an attempt to address concerns expressed by nearby residents and the Ramada hotel. Those concerns have included increased traffic on West Knoll and blocking natural light into the Ramada's rooms. In response, Soto reduced the driveways into West Knoll Drive from two to one and set the building back on the third through fifth floors from five to 15 feet to allow more natural light into the Ramada. There would be another driveway into the development on Santa Monica Boulevard.
Soto also has slightly reduced the overall square footage of the project to 139,520 and reduced the density of the portion of the building that faces West Knoll and thus sits on residentially zoned lots.
The Planning Commission will consider the project at its meeting on Thursday at 6:30 p.m. in the City Council Chambers at 625 N. San Vicente Blvd. Parking is free in the five-story structure behind the chamber building with a ticket validated at the meeting.