A meeting Thursday of West Hollywood's Planning Commission that was expected to be lengthy turned out to be short when the developer of the massive retail-residential project at 8555 Santa Monica Blvd. at West Knoll Drive asked that the Commission postpone its review of the project. Thus the highlight of the meeting was the swearing in of new Commissioner John Erickson.
An appointee of Councilmember John Heilman, Erickson is currently the director of public affairs at Planned Parenthood Los Angeles. He also serves as the president of Hollywood Chapter of the National Organization of Women (NOW).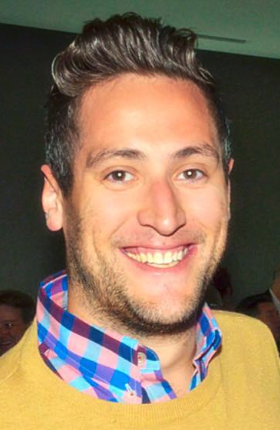 The 32-year-old Erickson told the commissioners he looks forward to working with them and thanked them for the warm welcome.
The other six commissioners applauded his appointment. Commissioner Stacey Jones, a longtime friend of Erickson, said, "I have every expectation that you will be approaching this post with the comments, vigor and enthusiasm that you employ in everything you do and you do a lot."
Erickson replaces David Aghaei who has moved out of the city. Aghaei, an attorney and real estate developer, served seven years as Heilman's appointee, joining in July 2011.
After the meeting, Erickson said he was honored and excited to be joining the Planning Commission.
"Being on the Planning Commission is a great opportunity, and I'm so thankful to Councilmember Heilman for appointing me, as well as for serving as Councilmember Lindsey Horvath's appointee to the Lesbian and Gay Advisory Board," Erickson told WEHOville. "Being on the Planning Commission, there is a lot that comes before us that involves community input and hearing very intricate details of projects that will change the face of our community, and I'm very excited to serve the City of West Hollywood in that way."
Erickson has a special interest in affordable housing and said he is keeping a keen eye on various state laws regarding housing for moderate, low and very low income residents.
"Affordable housing is needed, and it serves a real purpose and we need more of it in West Hollywood," Erickson said. "I look forward to making sure the projects that come before us really address that issue."
Erickson lives on Fountain Avenue near Plummer Park and is also concerned about changes to that thoroughfare.
"The issues on Fountain Avenue are of big importance to me," he said. "As you are aware, Fountain is changing, and it needs to be updated and improved for public safety."
A native of Ripon, Wisc., Erickson holds two master's degrees from Claremont Graduate Universiety – one in gender and sexuality studies, the other in religion. He is currently working on his PhD at Claremont in American religious history with an emphasis on politics, policy and religion.
Erickson moved to West Hollywood in 2011 when he was hired as an intern at City Hall. He served as the interim deputy for former Councilmember Abbe Land and later for Councilmember Heilman, while their full-time deputies were on maternity leave and medical leave, respectively. After that, he was hired full time by the city and served as the community events technician. He also served as president of the West Hollywood Municipal Employees Union (WEHOME).
He left City Hall in 2017 to work as the legislative representative for Los Angeles International Airport, and joined Planned Parenthood earlier this year. In 2017, Gov. Jerry Brown appointed Erickson to the California Commission on the Status of Women and Girls, the first man to be appointed. He also is on the board of the ACLU of Southern California and is chair of the legislative committee for the Stonewall Democratic Club.
Even though he was relieved not to have to tackle as huge a project as the 8555 Santa Monica Blvd. development at his very first meeting, Erickson said he felt aptly prepared for it, having studied the 400+ page staff report diligently. He showed WEHOville his agenda packet with many handwritten notes, turned down pages and post-it notes inserted.
In talking about the postponement, he joked to his fellow commissioners that he was accustomed to making complicated decisions.
"What I thought was going to be a very difficult decision [on 8555 Santa Monica Boulevard] was mirrored by the fact that I had to judge the youth carnival this weekend at Plummer Park," he said. "If I thought the decision that we were going to make tonight was going to be complicated and complex and full of ins and outs, you were not judging the same carnival that I was."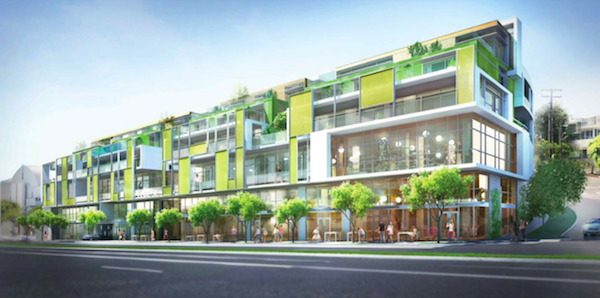 The five-story, 139,000 square foot 8555 Santa Monica Blvd. development covers the area from West Knoll Drive to the Ramada Plaza hotel, land currently occupied by a parking lot, the Collar & Leash pet store and several other small businesses. It also incorporates three residential properties immediately behind it on West Knoll Drive.
The developer is Soto Capital LP, one of several companies owned by Behnam (Ben) Soroudi, a Beverly Hills developer who also has extensive real estate interests through his Ruby Group, Harper Enterprises and other companies.
As proposed, the project will have 95 residential units, six of which will be for very low income residents and six for moderate income residents. It will also have 15 "live-work" units, 5,000 square feet for restaurant/cafes, 13,000 square feet of retail space and 7,000 square feet of office space on the second floor.
The new hearing date for the 8555 Santa Monica Boulevard project has not yet been scheduled, but it likely will return in early 2019. There was no official word why Soto Capital requested the continuation.