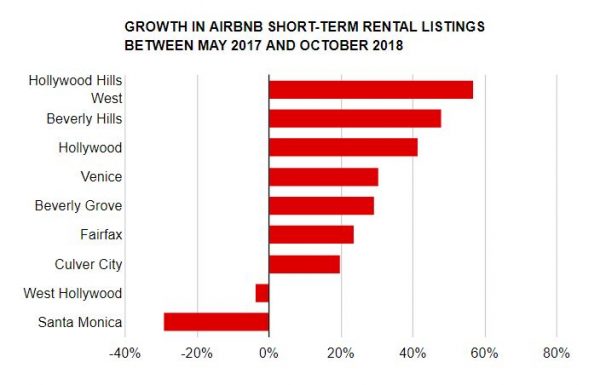 West Hollywood's enforcement efforts have not stopped all short-term rentals, but they may have halted their growth. That is according to a new report by WeHo by the Numbers based on data from Inside Airbnb, an independent website.
In the last three years, the City of West Hollywood opened 365 code compliance cases for short-term rentals (130 of them are still open/being worked on), sent 365+ warning letters, issued 75 citations, and levied over $250,000 in fines. About a year ago, the city hired a specialized contractor to help with enforcement. The contractor has sent another 500 warning letters, though that is not its only role.
The report uses the number of Airbnb listings with minimum stays of 30 days or less as a proxy for all short-term rentals. On one day in October 2018, there were approximately 809 short-term rental listings in West Hollywood. None of the listings were for city-licensed "hosted home-sharing," because the city had not yet issued licenses to homeowners. That process will begin soon.
The report shows the number of listings at 18 points over the last 3 1/2 years. The number started at 604 in May 2015. The highest known value was 920 in April 2018. Inside Airbnb did not collect data for West Hollywood between May 2017 and April 2018, so it is unclear whether the number of listings was even higher in the months before April 2018.
The number of West Hollywood listings shrank 4% between May 2017 and October 2018, even though it was higher for part of that time. The report focuses on the longer one-and-a-half-year period because it offers a "before and after" view of increased enforcement and includes the most recent available data.
The report compares West Hollywood's 4% decline to listing growth rates in nearby communities. The city was an island. The growth rates in bordering communities included 24% in Fairfax, 41% in Hollywood, 48% in Beverly Hills and 57% in the Los Angeles neighborhood north of West Hollywood. The growth rate was 20% in Culver City.
How unusual was West Hollywood's small decline? Among 100+ Los Angeles communities with 50 or more listings, only two experienced a drop in listings. They were West Hollywood and Santa Monica, which has its own short-term rental licensing and enforcement program. The drop was bigger there at 29%.
The city's decision to allow some hosted home-sharing suggests that partial-home rentals are somewhat less of a concern than whole-home rentals. The report calculates the percentage of listings that were for the whole home. West Hollywood's whole-home percentage has gone up and down since 2015. The biggest increase was in the last year. The number was 68% in May 2017. By April 2018, it was 74%. It was 78% in October 2018. That put West Hollywood toward the high end of the range among nearby communities.
The report also calculates the percentage of listings posted by a host who has multiple listings. Almost half of West Hollywood listings fell in that category in October 2018. The share started around 30% in 2015. It rose into the mid-30s in 2016, then 40% in 2017, reaching 50% in 2018. The final percentage was similar to many but not all nearby communities: Culver City was on the low end of the range and Hollywood was on the high end.
To find out more, see the full report Has West Hollywood been able to stop illegal short-term rentals?