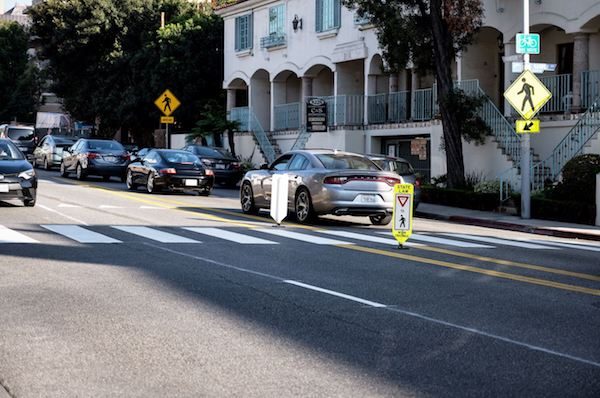 West Hollywood has added five new high-visibility striped crosswalks to Fountain Avenue in response to complaints from residents about traffic accidents on the street.
The new crosswalks are on Fountain at North Harper Avenue, Havenhurst Drive, North Hayworth Avenue, North Formosa Avenue and North Detroit Street.
In an announcement of the installation, the city notes that "the crosswalks feature small refuge islands in the center of the road in order to reduce the exposure of pedestrians crossing and increase motorist awareness of pedestrians crossing. The islands are marked with bright yellow paddle signs, which face lanes of traffic.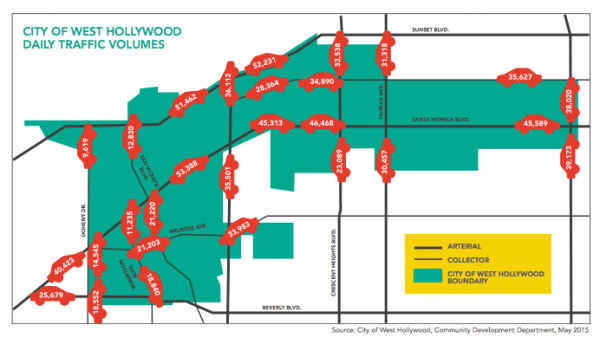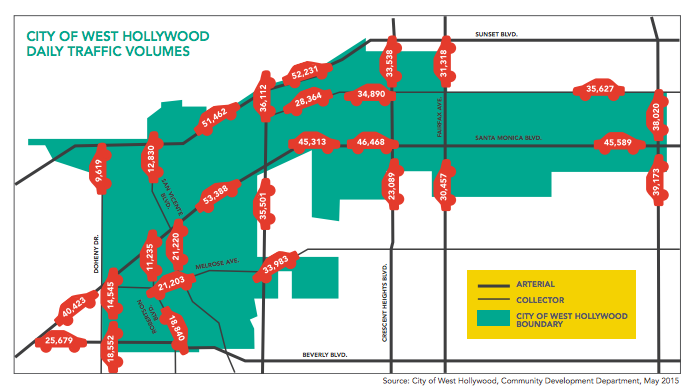 "Additional safety treatments include bulb-outs at intersection corners to reduce crossing distances and enhance pedestrian safety, as well as selected right-turn-only signs in order to reduce potential conflict points. In the upcoming weeks, pavement-embedded lights will be added to the edges of the new crosswalks in order to enhance visibility."
Traffic accidents on Fountain have been a major issue for some time, with residents' concerns heightened in September 2017 when a local resident was killed after being struck by a car while he was crossing Fountain near Formosa.
The city engaged consultant Fehr & Peers to look at the traffic safety issues on Fountain. The Fehr & Peers study reported that nearly 66% of trips on Fountain involve drivers crossing through West Hollywood.
A study of traffic accidents on Fountain from 2012 to 2016 determined that 41% of the 179 collisions were "broadsides," meaning one vehicle crashing into the side of another as a car attempts to cross Fountain from a side street or make a turn onto it. The next largest number (21%) involved rear end collisions, and 14% were head-on collisions. City Engineer Hany Demitri has said an average of 35,000 cars each day drive along Fountain.
The city's initial focus has been to reduce pedestrian accidents and reduce those broadside collisions by reducing the number of left turns made on Fountain from intersections without stop lights. A map illustrating those collisions shows that they constituted 32% of the 179 total collisions between 2012 and 2016, with most of them involving vehicles headed south toward Fountain.
In addressing pedestrian safety issues, the city has installed several new signalized pedestrian crosswalks along Santa Monica Boulevard and has added bicycle lanes on Fairfax Avenue. The city has installed solar-powered radar speed indicator signs along Fountain Avenue and on North San Vicente Boulevard in order to remind drivers to drive within the speed limit, and additional radar speed indicator signs will be installed on North Doheny Drive in the coming weeks, according to an announcement from the city. In addition, trailer-mounted electronic variable message signs have been placed at key locations within the city to encourage drivers to slow down and abide by posted speed limits.