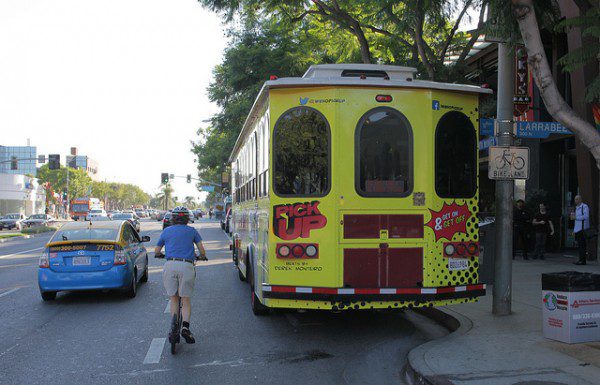 An annual evaluation of West Hollywood's The Pickup shuttle service shows ridership has continued to increase since its launch in 2014.
The Pickup offers free rides on Santa Monica Boulevard from 8 p.m. to 3 a.m. on Fridays and Saturdays and from 2 to 10 p.m. on Sundays and on certain holidays. Its goal is to reduce incidents of driving while intoxicated by providing transportation to areas where bars and restaurants are congregated.
According to a report presented to the City Council on Monday night, "during fiscal year 2018, The PickUp operated on 158 days (52 Fridays, 53 Saturdays, 51 Sundays, and two Tuesdays) and provided 90,681 trips — 5,781 more trips than in fiscal year 2017. On average, 1,640 passenger trips were provided each weekend. For comparison, in fiscal year 2017 the service provided an average of 1,530 trips per weekend."
The report states that "2018 operating and marketing costs for The PickUp totaled $586,664. Operations expenses accounted for 91% of program costs and include vehicles and drivers and hardware purchases. Marketing costs accounted for 9% of program expenses and include graphic design services and the creation of content for The PickUp's social media pages, ads and printing costs."
The average cost per passenger per trip was $6.47, which the report says "compares favorably with other small public transit operations."
The report states that a survey of riders of The Pickup in September 2017 showed that 93% of riders were "satisfied" or "very satisfied" with the service. Suggestions for improvements included running on additional days and hours, arriving at stops more frequently and better publicizing the shuttle service.
Increasing the Sunday run to midnight, which some users have recommended, would require two shifts of workers from American GTS, the contractor that provides the drivers, which would not be financially feasible. However, the city is recommending starting the Friday and Saturday runs at 7 p.m., an hour earlier than the current 8 p.m. start time.
The staff report recommends revising the brand design and the city has contracted with Symblaze Inc., which created the original design for The Pickup, to refresh it. Symblaze is proposing replacing the current cartoon-like characters on the outside of the shuttles with images of real West Hollywood people. Symblaze intends, it says in a presentation, to "Make it as gay as original PickUp- or gayer … Make it as racy as original PickUp- or racier …Maybe add more nuance & sophistication."

However City Council members John Heilman and Lauren Meister questioned doing that without consulting with the Council on the proposed design changes. Meister noted that the survey conducted by Symblaze of riders found many of them generally satisfied with the look. "If it ain't broke, we shouldn't fix it," she said.