The West Hollywood City Council agreed on Monday night to put a proposal for a cannabis sales tax on the March 5, 2019 ballot.
The proposed 7.5% tax on recreational cannabis would boost the overall tax to 30% and is projected to raise $5.5 million year. A memo from City Hall says the money could be used to fund services "such as public safety, street repair, homeless services, pedestrian/bike safety, and parks …"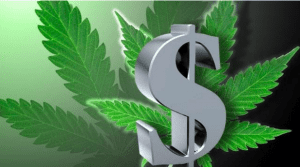 If approved by West Hollywood voters, that tax would be in addition to a 7.5% state sales tax and a 15% state excise tax. There is no sales tax levied on medical cannabis.
Councilmember John D'Amico joined his fellow council members in approving the proposal as one of a number of measures on the Council's consent agenda. However D'Amico expressed some concern about advocating for a tax when the city has not yet decided which applicants will receive licenses to operate cannabis businesses in West Hollywood. An independent committee has been assessing applications and is expected to announce which applicants will qualify for the licenses.
"I'm a little concerned that we're putting a tax on businesses that don't yet exist," D'Amico said, adding that he would like to hear the opinions of cannabis business owners on the proposed tax.
Mayor John Duran expressed his support for the tax. Noting that no owners of cannabis businesses showed up to oppose the proposal, Duran said he thought the proposal had general support.
The City Hall memo states that the estimated $5.5 million in revenue "is based on approximately 18 adult-use cannabis businesses operating in the city which generate on average approximately $4,000,000 in gross receipts from adult-use cannabis sales each year; which would generate $72 million in gross receipts.
"The city will issue a total of 32 cannabis licenses for the sale of adult-use cannabis in some form (8 adult- use retail licenses, 8 consumption lounge (smoking, vaping, edibles) licenses, 8 consumption lounge (edibles only) licenses, and 8 delivery licenses). The city anticipates that some applicants may receive more than one type of license for a single location, which is why only 18 locations were estimated."
Earlier this year the city engaged Fairbank, Maslin, Maullin, Metz & Associations to survey local residents as to their opinion of a city cannabis tax. When asked if they would support a 7.5% tax "to fund general municipal service such as Sheriffs, street repair, parks, and homeless services, until ended by voters and requiring annual independent financial audits" 75% of those responding said "yes" and 52% said "definitely yes." Those responding "no" were 22% and those who said "definitely no" totaled 15%). Four percent were unsure.
A proposed 5% tax got less support, with 67% saying "yes" and 43% saying "definitely yes." Those saying "no" were 26% and those saying "definitely no" equaled 18%.