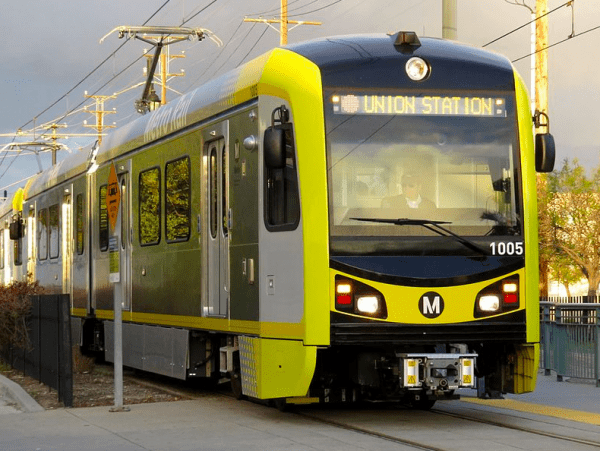 The City Council last night chose two consulting firms to which it will pay a total of $611,390 to examine the cost of a Metro rail extension through the City of West Hollywood. The decision to authorize that expenditure means West Hollywood will have spent at least $2 million to lobby for the Metro extension.
That expenditure sparked a discussion among council members about what West Hollywood ultimately will pay for the extension and how much the City of Los Angeles will contribute.
"We've already spent $1.3 million. Why spend more?" asked Councilmember Lauren Meister, referring to the previously approved cost of lobbying to have West Hollywood moved up the list for consideration as Metro evaluates new projects made possible by the passage in 2016 of Measure M. The L.A. Metropolitan Transportation Authority's board of directors voted in September to screen five options for an extension and chose two to three for an environmental review.
Measure M authorized a one-half cent increase in the county sales tax to fund Metro's overall growth plans, prompting many cities and neighborhoods to lobby to be one of Metro's earliest projects. In response, the Metro board has adopted an "early project delivery strategy," which uses certain criteria to assign points to projects and rank their priority. The Metro extension of the Crenshaw /LAX line had been scheduled for 2041-2047. Accelerating it means construction could begin as early as 2020.
One of the criteria for ranking projects is whether a local jurisdiction is willing to allocate at least 10% more than the required 3% contribution to the local project. The mandatory 3% contribution would cost West Hollywood between $44 million and $66 million, depending on which route Metro finally chooses. An additional contribution of between 10% and 25% could cost West Hollywood between $70 million and $550 million.
Meister questioned whether the City of Los Angeles, through which as much as 70% of the Crenshaw/LAX extension will run, also is paying to move the extension up the Metro priority list. City staffers said it is not.
Councilmember John Heilman said he agreed that the cost to West Hollywood is high. But Heilman said the investment is worthwhile given that West Hollywood has lobbied for years to get a rail extension and has failed to get Metro's support until recently. Councilmember John D'Amico criticized the failure of the City of Los Angeles to invest in moving the extension up the priority list, as did Mayor John Duran. Duran, however, noted that West Hollywood, as a small city, had relatively little power compared with the City of Los Angeles in such matters.
Four of the five options for the extension involve West Hollywood. Those options include routing the extension along San Vicente Boulevard, along La Cienega Boulevard, along Fairfax Avenue and along La Brea Avenue and a route up Vermont Avenue that doesn't cross West Hollywood.
The routes that look likely to provide the most benefit to WeHo are the San Vicente Route and the La Cienega Route. Each of those would take Metro trains through dense areas of the city.
A memo to the City Council from City Hall staffers states that the Metro environmental impact report is "the final and most critical step towards a shovel-ready project as environmental clearance identifies a locally preferred alternative from a narrow option of alternatives and renders a project eligible for state and federal funding and more attractive to private investors."
HR&A Advisors and Scully Capital Services, the firms that the city will contract with, will look at options for paying the additional 10%.
One option would be an "enhanced infrastructure financing district" (EIFD). "EIFD's allow local jurisdictions to capture a portion of the tax revenue generated in a designated area by property value increases in that area," the city staff memo explains. Other options include enacting a local sales tax to cover the Metro expenses and issuing bonds backed by money the city expects to receive from Measure M.
Metro also will evaluate projects based on whether a city will streamline the construction permit process.