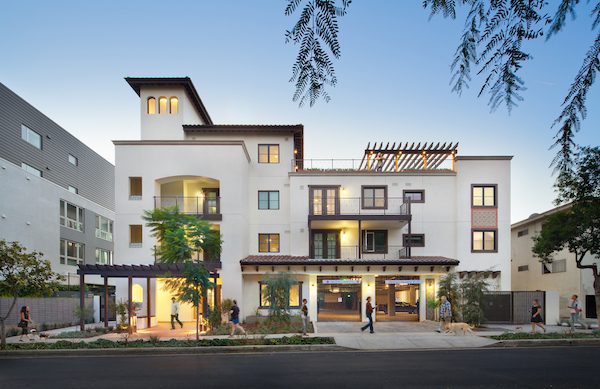 The West Hollywood Community Housing Corporation has announced the opening of Blue Hibiscus, a new affordable apartment community on Detroit Street for low-income households.
The 22-unit Blue Hibiscus replaces the Detroit Bungalows, an eight-unit, 1920s-era building with 22 units of affordable housing. It was designed by KFA architects and built by Dreyfuss Construction. An announcement of the opening notes that Blue Hibiscus is designated for special needs households and includes five apartments for formerly homeless youth. WHCHC has partnered with the Los Angeles LGBT Center and other social service agencies to provide supportive services and programs. There are on-site resident services coordinators to meet with residents to assess their needs, provide referrals to care and encourage participation in programs that promote healthy and independent living.
Construction of Blue Hibiscus initially was controversial. Opposition to the project, led by Dr. Pamela Love, a resident of the Detroit Bungalows, said that the elderly and disabled residents of the bungalows shouldn't be forced to move for construction of a new building. Three outspoken opponents of the project, Cathy Blaivas, Stephanie Harker and Michael Wojtkielewicz, eventually supported it because WHCHC guaranteed that the Detroit Bungalow residents could become residents of Blue Hibiscus.
In its announcement, WHCHC said "Every apartment is designed to be functional and practical for people both with and without mobility impairments. The building is expecting LEED for Homes Platinum certification. Each apartment contains energy-efficient appliances, an eat-in kitchen and private balcony. Blue Hibiscus features a spacious roof deck, a container garden area, a fully furnished community room with kitchenette, a fitness room, a laundry room, two resident services offices and a resident manager's office. "
"Blue Hibiscus has been a major blessing for me. I struggled when I was living on the streets and feared that I had no chance of finding my way," said new resident Darryl Greene. "Now I am at ease. I don't have to worry anymore. I know that WHCHC has provided me with a permanent home and supportive services to help give me the opportunity to live and be happy again. For that I am truly grateful!"
"This is the reason we do what we do," said Jesse Slansky, WHCHC president and CEO. "A home is the foundation for someone's life. We are inspired by the stories of our new residents and are thrilled to be able to provide them with the stability of a beautiful environment where they will be able to truly age-in-place."
Blue Hibiscus funders include the City of West Hollywood, the County of Los Angeles, the California Department of Housing and Community Development, the California Tax Credit Allocation Committee and Union Bank.
West Hollywood Community Housing Corporation (WHCHC) is a non-profit community housing development organization. WHCHC currently houses over 800 low-income residents in 18 affordable apartment communities, 15 in the City of West Hollywood, one in the City of Glendale and two in Los Angeles. WHCHC has a development pipeline of five projects in pre-development and construction.