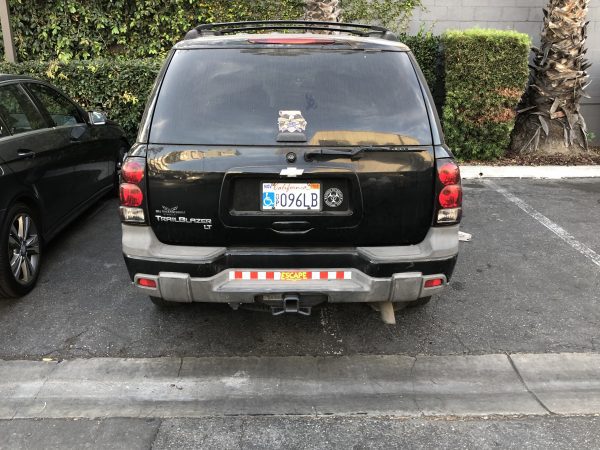 West Hollywood residents frequently complain about the lack of parking in our compact city. There are many reasons why a parking space can be difficult to find. Unfortunately one of them is that some drivers are oblivious to certain parking basics.
For example, whatever you're driving, you need to know that you should park between the lines, not across them.
And if you're one of those "environmentally conscious" WeHo residents who needs to drive a Range Rover or a Mercedes G Class or a Cadillac Escalade, remember that parking spaces labeled for compact cars aren't for your "status mobile." More than once this driver has had to crawl across the passenger side of his small Mini Cooper to get behind the steering wheel in the parking structure at 8582 Santa Monica Blvd., where the "compact" spaces often are filled with luxury lounges on wheels.
So what can we do about this? Apparently not much. The parking attendants shrug their shoulders. And while leaving a nasty note on the windshield may make you feel better, it isn't likely to have much of an impact on someone whose car size betrays an anxious Trumpian sense of the meaning of "big."
We could, however, shed a little shame on those who don't understand basic parking rules. Thus WEHOville is inviting its readers to share photos of cars that cross the line or park in spots where they're not supposed to be. We aren't including parking spots for the handicapped in this shame campaign because that's a system so incredibly abused that it's hard to figure out what permit holder really deserves one. (Remember that City Council candidate who used her disabled parking permit at the City Council Chambers parking structure while also posting on Facebook those photos of herself running on a softball field?)
Use the photos above  and below as an example of what you need to catch with your smartphone — the date, the rear of the car and its license plate, and how it is straddling the parking space line or crowding out the compact car properly parked next to it. Email it to me at henry@wehoville.com and I'll publish it. And include the location. Maybe that will inspire parking lot owners to start enforcing the rules. Don't worry, we won't share you name. It's the People Who Can't Park we want to call out.