As expected, the West Hollywood City Council voted on Monday night to put on the March 5, 2019, ballot a proposal to rescind its August decision to permit the construction of the Arts Club on Sunset Boulevard.
Unite Here Local 11, the hotel and restaurant workers union, gathered 2,831 signatures on a petition that forced the council to either put the matter on the ballot or to vote to reverse its earlier decision approving the project.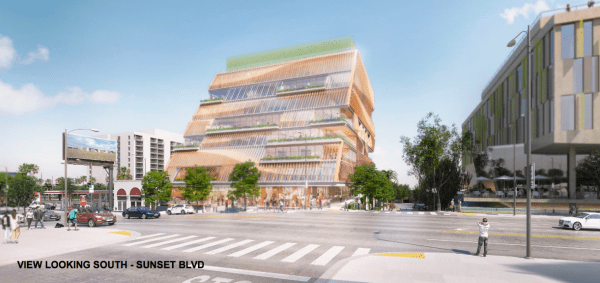 In what was otherwise an exceptionally short meeting, more than a dozen speakers turned out to speak for and against the Arts Club. Keith Kaplan, chair of the West Hollywood Chamber of Commerce, criticized the union for using what he alleged were lies about the project to get local residents to sign the petition against it. Kaplan noted that the union had gone through a similar, although unsuccessful, effort earlier this year to reverse the City Council's approval of the Robertson Lane hotel, restaurant and retail project. Genevieve Morrill, the Chamber's CEO, also called out the union for entering into contracts with hotels that resulted in its members being paid less than the $15 minimum wage.
Residents Elyse Eisenberg, Felice Kaplan and John Lovejoy were among those who spoke in favor of the Arts Club project. Eisenberg, who heads the West Hollywood Heights Neighborhood Association, noted that she was not known as a big supporter of development on Sunset Boulevard. The Arts Club is "is probably the rare and only project on the Sunset Boulevard that I've ever been supportive of," Eisenberg said, with a hint of irony.
A number of young people who identified themselves as residents of West Hollywood spoke against the Arts Club project. Some said that building the members-only club, whose London affiliate charges nearly $2,500 a year for membership, rather than more housing contradicted WeHo's claim to be a strong advocate for affordable housing. The lot at 8920 Sunset on which the club would be built includes land now occupied by the Hustler sex accessories shop and some office suites.
Steve Martin, a former city council member, also spoke out against the project. "A residentially zoned lot is going to be ceded to a wealthy developer without any benefit to the community," Martin said. "This is an intrusion of commercial interests into a residential zone. We are trying to make this a livable city and make this a place for people to live."
As proposed, the Arts Club would be housed in a nine-story building on the south side of Sunset at Hilldale Avenue. It will include a restaurant, a lounge, a supper club, 10 guest rooms that can be rented to club members and a rooftop pool area as well as retail space and a public art gallery and performance rehearsal space. There will be nearly 46,000 square feet of office space.
The Arts Club has agreed to provide $13.5 million in benefits to the city. That includes a publicly accessible art gallery and a rehearsal space and a staff to maintain it, which it values at $10.1 million. There also would be a contribution to city arts programs of $1.25 million over 10 years and an additional $1 million contribution to the city.
The Arts Club was founded in 1863 in London by a group that included author Charles Dickens. The private club, somewhat similar to the SoHo House club, which is further west on the Sunset Strip, will be for creative people such as writers, artists and designers.
The building is designed by architect Andy Cohen of Gensler. The Sunset Boulevard-facing façade will be angled so that each floor is slightly smaller than the floor below, with the top floor being about a third smaller than the ground level. It will also feature vertical glass panels, or fins, on the outside to create a unique appearance.
The City Council's approval was necessary because the proposed building will be substantially higher and more dense that what is permitted under the city's zoning ordinance and the Sunset Specific Plan.