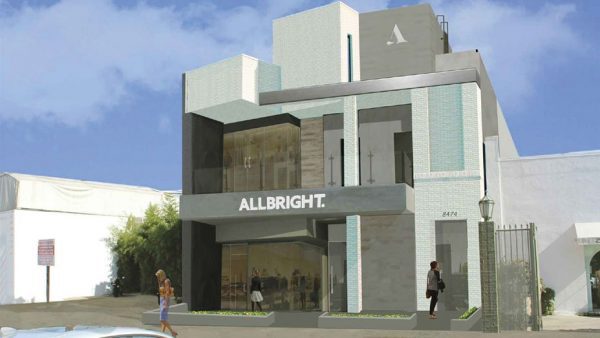 It won't literally be within the boundaries of West Hollywood, but it's borrowing the name. That would be AllBright West Hollywood, a private membership club exclusively for working women that plans to open at 8474 Melrose Place early next summer.
Plans for the club were first revealed in the Hollywood Reporter in a story that described it as entering "a crowded members-only landscape." In West Hollywood, that landscape includes the Arts Club, a members-only club planned for 8920 Sunset Blvd., and the San Vicente Bungalows, which will consist of a portion of the renovated San Vicente Inn at 845 N. San Vicente Blvd., which is expected to open later this year. West Hollywood already is home to the SoHo House at 9200 Sunset Blvd., which opened 10 years ago. SoHo House, the Arts Club and AllBright all are offshoots of clubs based in London.
The Hollywood Reporter reports that AllBright will occupy a 9,000-square-foot building designed by Brigette Romanek. It will "have beauty services on the ground floor and club and dining spaces on the upper floors and rooftop."
Unlike The Wing, a women-only collective workspace planned for the building under construction at 8550 Santa Monica Blvd., AllBright will allow men to enter its doors. The Wing's New York location has been under investigation by New York City's Human Rights Commission for its refusal to allow men inside.
Joining the new members-only clubs will be pricey. Annual fees at AllBright will be $2,100 ($1,100 for women 29 and under), with a $300 initiation fee. Membership at the San Vicente Bungalows will cost $4,200 a year, or $1,800 for those 35 and under. The initiation fee will be $1,800 (only $500 for those 40 and under). The SoHo House is said to charge $2,000 annually, or $2,800 for access to all of its clubs around the world. It's not clear what the Arts Club will charge, but in London a membership in the club for artists and writers and other creatives is the equivalent of $2,558 in U.S. dollars as is the initiation fee.
While anyone can apply for a membership to SoHo House or the Arts Club (although not anyone will be accepted), membership in the San Vicente Bungalows is by invitation only.
The opening of the Arts Club remains uncertain given the success of Unite Here Local 11, the restaurant and hotel workers union, in gathering signatures to put a proposal on the March 5, 2019, ballot to rescind the West Hollywood City Council's approval of the club.
Union members and supporters criticized the city's support for the club at Monday night's City Council meeting, calling it a contradiction to the city's historic commitment to making West Hollywood an affordable place to live.