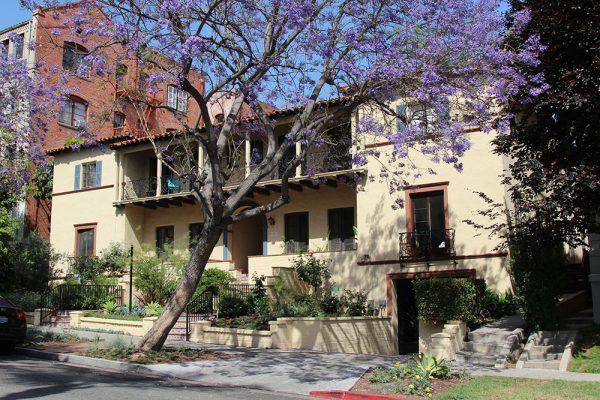 Women historically have been vastly under-represented in the male-dominated profession of architecture. Only about 18% of licensed practitioners in the U.S. today are women, according to Architect magazine.
That may seem like a lot compared with the number of women architects in Los Angeles in 1937, when there was only one, the Los Angeles Times states. The newspaper says there were only 10 in all of California 11 years later.
Two woman architects, remarkably, worked in West Hollywood in the 1920s and 1930s on residential projects. Both were instrumental in helping give the city its distinguished architectural heritage – Edith Northman and Nina Zwebell.
The male architects of the period get a great deal of the attention – namely Leland Bryant, Edward Fickett, Rudolph Schindler, Richard Neutra and Irving Gill – but some of the rare woman architects also had large influences.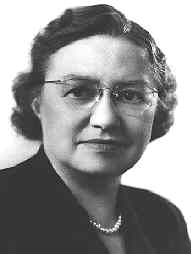 Edith Northman
Northman created the Monterey Colonial style for Villa Sevilla at 1346 N. Harper Ave. in the Harper Historic District, earning the apartment building the eighth spot on a list of West Hollywood's 14 most historic places compiled by WEHOville.com. The 17-unit building, constructed in 1931, joins similar period revival styles in the neighborhood.
The Villa Sevilla building has a rare distinction of being featured in the two leading reference books on L.A. / Southern California architecture: "An Architectural Guidebook to Los Angeles" by David Gebhard and Robert Winter, and "Courtyard Housing in Los Angeles" by Stefanos Polyzoids, according to LA Curbed.
West Hollywood provides historical context for her work in its multi-family survey. "Born in Copenhagen, Edith Northman built her architectural practice in L.A. She studied architecture at the University of California and worked with architects Henry J. Knavel and later Clarence J. Smale."
The L.A. Times notes in 1937 she was "Los Angeles' only woman architect." Northman started her career during the worst of economic times but went on to design some 120 buildings over 25 years, ranging from houses and apartments to churches and factories. Many of her clients were Hollywood actors, including Danin and Jean Hersholt.
She campaigned vigorously for more women to enter the architecture profession but found herself to be an oddity more often than not. She told the newspaper in a 1948 article, "Women are just as qualified to design in the many architectural fields as men."
Nina Zwebell
Zwebell and her husband, Arthur, both originally from the Midwest, were a gifted team known for their innovation in the design of courtyard apartments. "During the 1920s the Zwebells helped perfect the vocabulary of the romantic Mediterranean hybrid that is often claimed by Southern California as its one indigenous style," says Architectural Digest magazine.
Arthur, as the architect, served as contractor and exterior designer while Nina, as the architectural designer, focused on the interiors and a furniture design and manufacturing business. The Zwebells' nimbly articulated combinations of thick plaster walls, tile roofs and beam ceilings, wrought iron grates and balconies, courtyards with splashing tiled fountains, dense plantings and outdoor fireplaces.
Several of the West Hollywood buildings they designed are listed in the National Register of Historic Places: Patio del Moro at 8225-8237 Fountain Ave. (1925); Andalusia Apartments, 1471-1475 Havenhurst (1926), and the Ronda Apartments, 1400 Havenhurst (1927).
When the lucrative Twenties ended with the 1929 stock market crash, they no longer could build and turned instead to the design of film sets and furniture.