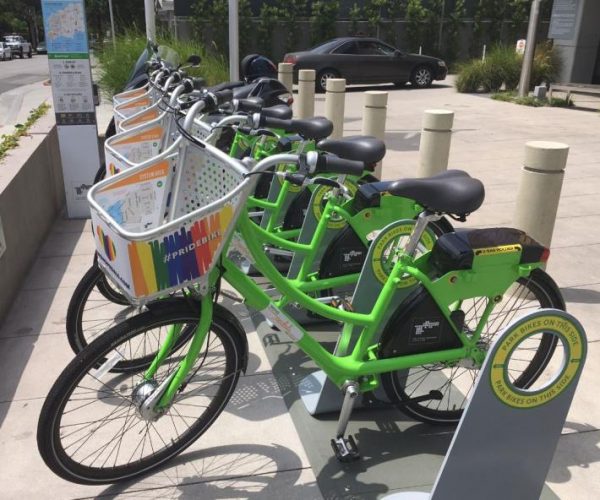 West Hollywood will put the brakes on its WeHo Pedals bike-sharing program if the City Council on Monday approves a proposal by council members John D'Amico and Lauren Meister.
A memo accompanying the proposal suggests the city instead test a dockless bike share program like those being evaluated currently in Santa Monica and Los Angeles. The dockless bike share program would be operated by a for-profit company and not subsidized by the city.
The memo calls out a January 2018 report from City Hall that says that over 12 months WeHo Pedals cost the city $344,750 and generated revenue of only $133,771. The city had anticipated revenue from those who used the 150 rental bikes and from advertising on the 21 stations where they are located. It notes that while WeHo Pedals was expected to generate 263 trips per day, it only generated an average of 40 per day over a 12 month period at an average cost to the city of $25 a trip.
WeHo Pedals has a number of pricing plans, including one that charges $7 for the first hour of a ride and then 12 cents for each minute after, and one that charges $99 a year for a rides of up to 90 minutes per day.
The council members' proposal says the program, which was approved by the council in August 2016, "remains an underutilized program and an inefficient use of resources."
A dockless bike share program would allow private companies to offer shared bicycles for rent on sidewalks and private property with a license from the city. The bikes would not need to be locked to a standard rack or be located at designated stations or hubs. They would be accessible via a mobile app through which the user could pay for his or her ride.
The model that D'Amico and Meister ask the city to consider is currently used in a pilot project in Santa Monica, which has granted Bird, Lime, Jump and Lyft permission to operate a set number of dockless bikes in certain areas of that city. Santa Monica also has given those companies permission to test dockless electric scooters, whose rental within West Hollywood has been banned by the city council and which isn't recommended in the D'Amico/Meister proposal. Santa Monica Mayor Ted Winterer has described its test of dockless bikes and electric scooters as "another chapter in our long history of commitment to being a multimodal city where the car is not the only option to get around, and fossil fuel transportation doesn't threaten our planet."
In both Los Angeles and Santa Monica operators of dockless transportation vehicles pay the city an annual fee of $20,000 and $130 per device. Los Angeles also requires those operators to share data on the usage of the vehicles and to provide access to those without smartphones and those with low incomes. The operators will have to have liability insurance of at least $5 million that covers both the companies and their customers.
The proposal to the city council states that closing WeHo Pedals could save the city $400,00 a year and that the city might be able to recover some costs by selling the bikes and other related equipment.
The City Council will meet at 6:30 p.m. on Monday in the City Council Chambers, 625 N. San Vicente Blvd., south of Santa Monica. Parking in the adjacent five-story parking structure is free with a ticket validated at the council meeting.
CORRECTION: An earlier version of this story said the average cost per trip of West Hollywood's WeHo Pedals program was $7. The actual cost was $25 and the story has been corrected.