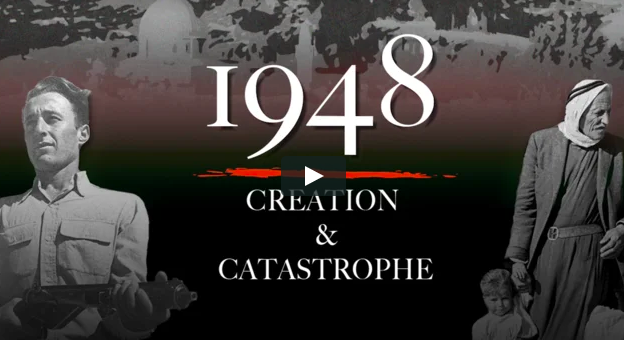 Confronted with criticism from Rabbi Denise Eger and other members of the city's Jewish community, the City of West Hollywood has postponed plans to co-host "1948: Creation & Catastrophe," a documentary about the founding of modern Israel and the Israeli-Palestinian conflict.
The documentary was to have been screened on Dec. 12 at the West Hollywood City Council Chambers as part of the city's Human Rights Speakers Series. It was to have been followed by a panel discussion including Andy Trimlett and Ahlam Muhtaseb, co-producers and co-directors of the documentary.
Asst. City Manager David Wilson announced the postponement at the City Council meeting tonight in response to a question from Councilmember Lindsey Horvath. Wilson said city staff would discuss the reaction to the proposed screening and work with the producers of the film.
The documentary's website says that "1948" (a reference to the year the modern state of Israel was founded) "tells the story of the establishment of the state of Israel through the eyes of the people who lived it."
"It is simply not possible to understand what is happening in the Israeli-Palestinian conflict today without an understanding of what happened in 1948. This documentary was the last chance for many of its Israeli and Palestinian interviewees to narrate their first-hand accounts of the creation of a state and the expulsion of a nation."
The documentary has been criticized by some who see it as being anti-Israel and have called out co-producer Muhtaseb for comments she has made about Israel. Muhtaseb is a professor of media studies at California State University, San Bernardino, who has done field work in Palestinian refugee camps in the Lebanon, Syria, and Palestine.
In an email message to council members on Friday, Rabbi Eger of Congregation Kol Ami said: "I am shocked that the City of West Hollywood is allowing this piece of anti-Israel propaganda to be shown on city property … This in our city with a sizeable Jewish population The film '1948' is unbalanced and nothing but propaganda..
"The person who is a producer for this so called documentary is a well-documented anti-Israel anti-Semitic professor who regularly attacks Israel and the Jewish people … I am urging you the members of the City Council to cancel this event. In a time when the Jewish community is under heightened threats of violence following Pittsburgh, and when a Muslim anti-Israel activist tried to run over Jews last Shabbat on La Brea as they walked home from synagogue –allowing this film to be shown at this time and the anti-Israel speakers to foment hate in our city is irresponsible. "
Eger called out Muhtaseb for her support for the "Boycott, Divestment, Sanctions" movement, which calls for people and governments to boycott Israel and divest from investments in Israeli companies. She also accused Muhtaseb of taking a sympathetic view of Omar el-Abed, a Palestinian man who in July 2017 broke into a home and stabbed three Israelis to death as they were celebrating the Sabbath and the birth of a new grandson. And she said that in July 2017, Muhtaseb put a post on her Facebook page "urging her friends to sign a petition condemning pro-Israel activism and alleging a conspiracy aimed to 'repress Palestinian rights activists here in the US.' The petition went on to claim that 'Palestine activists at San Francisco State University have been under attack for years' by pro-Israel advocates."
Eger isn't the only one who expressed concerns about the screening. For example, Tyler Gregory, the executive director of A Wider Bridge, an organization advancing LGBTQ equality in Israel, wrote to council members saying "it pains me to hear that the city plans to screen '1948' on December 12th, a film that seeks to undermine Israel's right to exist. The Israeli-Palestinian conflict is something deeply personal to many residents of West Hollywood, and this film lacks the balance and nuance needed to properly engage the community with these issues."
City Councilmember Lindsey Horvath raised the issue of the Dec. 12 screening with David Wilson at the City Council meeting. Horvath, in an interview with WEHOville, said she respects the right to free speech, which she sees as creating a safe space for the discussion of issues and ideas. But, she said, when "we give license to people who advocate for eliminating Israel, we are creating an environment where people feel unsafe."
"We don't need to become a refuge for hatred," Horvath said of West Hollywood. "We want to be a refuge, a safe space, where people can live their lives."
Horvath also has expressed concerns about plans by UCLA to host the National Students for Justice in Palestine Conference last month. "SJP is known for organizing sensationalist, anti-Israel protests and events on college campuses," Horvath said in a letter to UCLA Chancellor Gene Block. "According to recent accounts SJP members have posted violent, anti-Semitic rhetoric on social media, ranging from calling for the annihilation of the Jewish people to the admiration of Adolf Hitler and hateful calls for violence."
While Wilson said the "1948" screening was being postponed, Eger said that wasn't enough. In an email message to City Manager Paul Arevalo, who wasn't at tonight's city council meeting, said she hoped the city could "put this film to rest."
"The producers of this film are virulent anti-Israel advocates," she wrote. "And the movie they have made is filled with errors and outright lies. I was under the impression that if the city wanted to have a discussion about the complexity of Israel and Palestine then we ought to have different kind of discussion. This film is throwing gas on a fire."