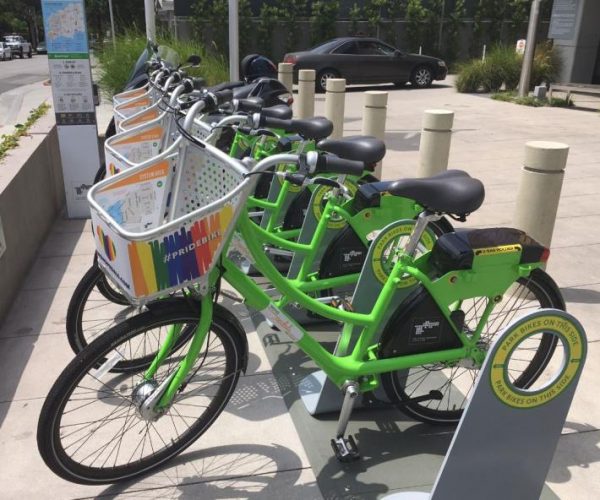 The West Hollywood City Council on Monday night agreed to shut down the WeHo Pedals bike share program. But not yet.
Council members John D'Amico and Lauren Meister had brought the proposal forward, noting that WeHo Pedals has lost considerable money and its bikes aren't being used often. The program was launched in August 2016 and offers 150 bicycles that can be rented with a smartphone app at 21 stations around the city. The program has been managed by CycleHop LLC, an outside contractor. A memo to the council noted that the system averages only 45 trips a day and the average cost to the city is $25 a trip.
In a four-to-one vote, council members last night agreed to ask city staffers to begin the process of ending the program. They also asked that staff report seek the Transportation Commission's review of another option, a dockless bike share program operated by an outside contractor. The city's Parking Services Division and Long Range Planning Division were asked to research and develop a dockless bike share pilot program, including information on how other cities were operating such programs. The council did not authorize the use of dockless electric scooters, which previously had been banned.
Councilmember Meister asked that city staffers also take a look at long term options for making the city safer for bicycles, which would require a change in its infrastructure given that West Hollywood has few dedicated bicycle lanes. Kevin Burton of the West Hollywood Bicycle Coalition said the lack of bike lanes is an issue when it comes to encouraging that form of environmentally friendly transportation.
Mayor John Duran voted against the proposal, saying that he wanted the city to engage an outside contractor to research and develop the dockless bike share program.
Cash for Keys
The City Council also last night approved a proposal to regulate "cash for keys," the practice of landlords paying tenants to move out of their rent-stabilized apartments so that they can raise the rent to market rates.
A report from the city's Administrative Services Department stated that "some landlords are offering to buy tenants out of their tenancies in order to raise unit rents to market rate for a new tenancy or to avoid the restrictions on rent following no-fault evictions, such as Ellis Act evictions. Since the recovery of the rental market following the Great Recession, staff has received reports of an increase in such offers."
The ordinance approved by the council requires landlords to inform tenants of their rights when offering to buy them out and give them a 30-day period to rescind their agreement to such an offer. Other protections include requiring landlords to let the city know when a tenant is bought out of his or her lease.