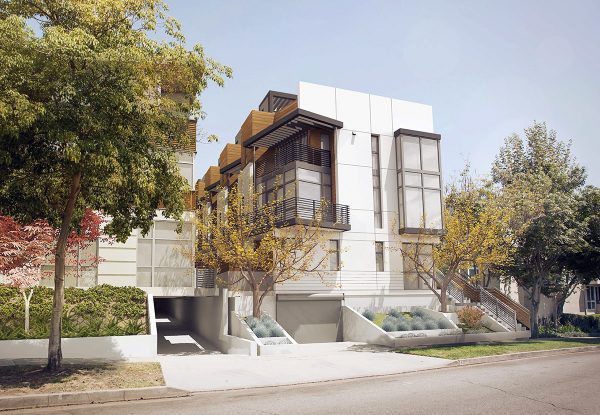 With a unanimous vote on Thursday, West Hollywood's Planning Commission approved a condominium complex designed by local architect Ed Levin.
Located at 8553 West Knoll Drive, a few lots east of the Chamberlain Hotel on Westmount Drive, the three-story, five-unit townhouse condo project will replace a single-family home built in 1927.
Because of the deep but narrow lot, Levin requested a variance allowing unit sizes of slightly more than 1,900 square feet rather the maximum of 1,200 square feet the zoning code allows for new projects. While the lot could support up to eight units under the code, Levin explained, the deep but narrow lot only had room for 10 parking spaces in the parking garage (two spaces per unit).
City zoning codes require the front unit of a complex have a street-facing entrance in order to maintain a residential "feel" to the street. However, due to narrow, sloping lot, Levin also requested a variance moving the front entrance of the front unit to the eastern side.
The commission was impressed by Levin's thoughtful design, Commissioner John Erickson calling it "extraordinary architecture." Commissioner John Altschul called it a "perfect example of exemplary architecture."
The commission had no issue granting the variances. Commissioner Adam Bass, generally someone reluctant to approve variances, said this project with the unusual topography was "exactly what a variance is supposed to granted for."
During the public comment period, resident Irene Oppenheim, who lives next door to the project, objected because it did not meet ADA (Americans with Disabilities Act) requirements for having wheelchair access ramps and elevators. However, Levin explained the ADA rules allow for exemptions on sites whose topography have a slope of 15% or greater. This lot has a slope of 33%.
The property is owned by the West Hollywood-based NT3 LLC.
Two Hearings Delayed
The Planning Commission was scheduled to hear a proposal on Thursday to convert the historically designated Piazza del Sol building at 8439 Sunset Blvd, at Queen's Road, from offices to a boutique hotel. However, that hearing was delayed at the last minute to a date uncertain.
While no official explanation for the postponement was offered, it appears to be connected to a 17-page detailed letter delivered on Thursday morning from Unite Here Local 11, the hotel and restaurant workers union.
In that letter, Unite Here raised many concerns about CEQA (California Environmental Quality Act) impacts and compliance with the city's zoning codes.
Unite Here has been actively involved recently in attempting to waylay hotel projects in the city, an apparent attempt to force the hotel to agree to hire union workers.
In June, the group circulated a petition trying to rescind approval of the proposed nine-story Robertson Lane hotel-retail project straddling between Robertson Boulevard and La Peer Drive, just south of Santa Monica Boulevard. However, that petition drive failed to collect enough signatures.
In October, the group did collect enough petition signatures to force approval of the proposed Arts Club project at 8920 Sunset Blvd. (a block west of San Vicente Boulevard) to go before the voters in the March 2019 election. The nine-story Arts Club project would have a private club, including ten hotel rooms for members, on the upper floors. It would also have ground-floor retail and 46,000 square-feet of creative office space on floors two through four.
The Planning Commission was also scheduled to hear an item clarifying the definitions of "dwelling unit" and "hotel" plus other related terms. However, that hearing was rescheduled to the commission's Jan. 17, 2019 meeting to allow city staff more time to work on the definitions.