West Hollywood Sheriff's Station deputies last week arrested a man responsible for two residential burglaries – on Hayworth Avenue and on Havenhurst Drive. Other notable incidents included an armed robbery on San Vicente Boulevard on Nov. 27 and six vehicle burglaries. Then there was that man who was stabbed in the back of the neck at his apartment on Doheny Drive by a man he invited home from a nightclub. Hookups can be hazardous!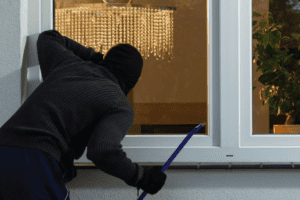 The incidents below are serious (Part I) crimes reported to the West Hollywood Sheriff's Department that occurred between Nov. 26 and Dec. 2. A more complete list of crimes, and their location, can be found on Crimemapping, which is posted here on WEHOville.
Nov. 26
Grand Theft. 7800 block Santa Monica Boulevard between 2:15 and 3:30 p.m. An unknown suspect removed an iPad from the front seat of the unlocked vehicle. #07816
Other Burglary. 8500 block Melrose Avenue at 4 a.m. Two men pried open a metal security gate and smashed the front glass door to gain entry. The suspect's removed clothing and shoes and fled the area on foot. #07798
Nov. 27
Residential Burglary (Suspect Arrested). 1400 block Hayworth Avenue between 10 p.m. and 2:45 a.m. A man climbed through the kitchen window to gain access and removed a laptop computer from the kitchen and a gold ring, jacket, and suitcase from the bedroom. The suspect was arrested on 11/28/2018. #07825
Armed Robbery. 900 block San Vicente Boulevard at 1:27 a.m. A man and a woman were walking on San Vicente Boulevard when a man approached them from behind while armed with a handgun and pulled the man's cell phone from his hand. The suspect then pulled the woman's purse from her shoulder and fled the area on foot. #07810
Vehicle Burglary. 900 block North Orange Grove Avenue between 9:30 p.m. and noon. An unknown suspect removed property from the trunk. No sign of forced entry. #07838
Nov. 28
Aggravated Assault – Hands, Fist, Feet. 8900 block Santa Monica Boulevard at 2:20 a.m. Two men fought in the parking lot of the club after an argument. Three other men joined the fight and punched the victim several times before leaving the area in separate vehicles. #07824
Grand Theft. 1100 block La Brea Avenue at 11:58 a.m. A man and a woman cut the security cords and removed four cell phones from a display area and left the store without payment. #07829
Residential Burglary (Suspect Arrested). 1200 block Havenhurst Drive at 7:30 a.m. A man removed a bathroom window screen and opened the window to gain access but was scared away by an alarm. The suspect was located and arrested by responding deputies. #07827. The suspect also is responsible for the burglary on Hayworth Avenue that occurred on Nov. 27 (#07825).
Vehicle Burglary. 600 block North Kings Road between 11 p.m. and 6 a.m. An unknown suspect removed property from the rear cargo area and center console. No sign of forced entry. #07857
Nov. 29
Vehicle Burglary. 8900 block Sunset Boulevard between 6:15 and 7:45 p.m. An unknown suspect smashed the rear driver's side window and removed property from the back seat. #07862
Vehicle Burglary. 8300 block Sunset Boulevard between 8:30 a.m. and 8:30 p.m. An unknown suspect smashed the rear passenger's side window and removed property from the trunk. #07863
Vehicle Burglary. Santa Monica Boulevard / Spaulding Avenue between 8 and 10 p.m. An unknown suspect smashed the rear driver's side window and removed property from the trunk. #07864
Nov. 30
Vehicle Burglary. 8700 block Sunset Boulevard between 4:30 and 7:30 p.m. An unknown suspect smashed the front passenger's side window and removed property from the front floorboard. #07879
Dec. 1
Aggravated Assault – Other Weapon (Suspect Arrested). 8200 block Santa Monica Boulevard at 7:45 a.m. A woman was walking on the sidewalk when she was hit on her head with a wooden board by a homeless woman. The victim was not injured. Responding deputies located and arrested the suspect. #07887
Strong Arm Robbery. 7100 block Santa Monica Boulevard at 6:49 p.m. A man removed alcohol, clothing and hygiene products from display areas and left the store without payment. When confronted by store security, the suspect punched a security guard and pushed her to the ground. The suspect fled the area on foot. #07894
Dec. 2
Aggravated Assault – Knife. 900 block Doheny Drive at 2:42 a.m. A man was stabbed one time on the back of his head during a fight with a man he had invited to his residence after meeting in a club. #07900
Grand Theft (Suspect Arrested). 7100 block Santa Monica Boulevard at 7:28 p.m. A woman removed clothing, luggage, electronics, jewelry, and cosmetics from display areas and left the store without payment. The suspect was detained by store security and arrested by responding deputies. #07928