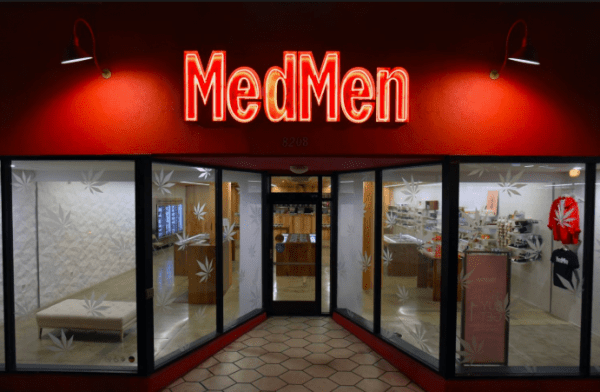 MedMen, a leading cannabis retailer and one of four currently licensed to do business in West Hollywood, is being sued by employees who allege they were not properly paid.
A lawsuit was filed in L.A. Superior Court as a class action complaint by Daniel Srourian, a lawyer representing Chelsea Medlock and Anthony Torres, a former employee at MedMen's West Hollywood cannabis dispensary. In the lawsuit, Srourian estimates that more than 100 current and former employees of MedMen could be included in the class for which he is filing the suit.
Medlock worked for MedMen from February to June of this year and Torres worked from February to August. In the lawsuit, Srourian makes several allegations, including that MedMen:
–Often required hourly workers to work more than eight hours a day and more than 40 hours a week without paying them overtime.
–Refused to give hourly workers the state-required 10-minute rest breaks for each four hours worked.
–Sometimes required hourly workers to work for more than five hours without giving them the 30-minute meal break required under state law and routinely asked hourly workers to punch out for a meal break but continue working.
–Did not maintain accurate payroll records.
If found guilty, MedMen would face a range of fines including $50 per employee for each initial pay period for which an employee was underpaid and $100 for each subsequent underpayment. Perhaps more significant would be civil penalties assessed by a judge along with attorneys fees and expenses.
The lawsuit was filed in November against Manlin I LLC and DT Fund II Group LLC, identified as subsidiaries of MedMen.
MedMen is headquartered in Culver City and is listed on the Canadian Stock Exchange. In its CSE filing for the third quarter of this year, MedMen said that as of November 2018 it had over 1,000 employees. It currently owns and operates 14 retail stores in in California, Nevada and New York and has applied for or is contemplating applying for licenses for additional retail locations, which would include six in California, two in Nevada, and one in Massachusetts, and a manufacturing and distribution location in California. It has cultivation and production facilities in Nevada, Florida and New York and is developing one in California.
MedMen's West Hollywood location is at 8208 Santa Monica Blvd. It has a medical cannabis license and was granted a temporary license to sell recreational cannabis by the City of West Hollywood while a city-appointed board reviews applications for permanent recreational cannabis licenses.
The city will announce the winners of those licenses on Dec. 18. Among the criteria used by the review board to evaluate applicants for a license is the compensation package offered to employees, including salary, health insurance, other insurance, retirement plan and paid leave. It is unclear whether the Medlock/Torres lawsuit will have an impact on MedMen's WeHo application.
Another issue confronting MedMen is allegations that it has taken tips away from its California employees. Equity Guru, a website that provides investment information about the tech and cannabis industries, reported in July that it "has been approached by several employees of MedMen's … California dispensaries who are telling us colleagues are walking out, upset about a new and unexplained pay cheque deduction that hit this week.
"MedMen, a CSE-listed U.S. cannabis dispensary chain, built around high-end retail outlets geared towards urban professionals, boasts that its stores are staffed by knowledgeable 'budtenders.'
"But those budtenders, who tell us they are paid minimum wage, are furious to see their pay cheques being deducted, without explanation, for amounts they were paid in tips through credit and debit transactions. Some of those staff tell us their take home pay was turned into a negative through the unexplained actions."
MedMen also has generated some controversy for being among a group of cannabis companies that donated to a PAC that supported anti-immigration candidates in the 2018 midterm elections. Cannabis Wire, a cannabis news site, reported in June that the PAC, called What A Country!, or WACPAC, "has so far donated $63,000 to congressional candidates across the country, all of whom are Republicans who tend toward hardline positions on immigration.
"Cannabis industry leaders have contributed a total of $69,000 to the PAC between January of 2017 and the present. Thirty-one of the 41 individuals who have donated to the PAC so far are cannabis investors or business owners. Top donors include executives from major cannabis companies such as MedMen Enterprises, Columbia Care, LivWell, and PalliaTech Inc. Contributions also came from CEOs of smaller companies, such as Medicine Man in Colorado and Remedy Compassion Center in Maine.
"MedMen founder and CEO Adam Bierman donated $5,000 to WACPAC. MedMen's political lobbying arm, MedMen Opportunity Fund II LP, donated an additional $5,000, its only donation this year."
Cannabis Wire reports that the PAC was formed by Florida Congressman Carlos Curbelo, a Republican, in 2015.
"… Most candidates who have received support from WACPAC have staunch anti-immigration views," Cannabis Wire reported. "Of the 26 candidates who received donations from WACPAC, 19 of them support penalizing sanctuary cities. Twenty support giving the government more power to deport and deny admission to immigrants suspected of gang activity, and twenty voted to withhold Affordable Care Act subsidies from people until their citizenship is verified. Curbelo himself has voted against penalizing sanctuary cities, but supports deporting suspected gang members and withholding health care subsidies.
"Vern Buchanan, a Republican congressman from Florida—who describes his immigration stance as 'No Amnesty. Secure the Border. Enforce the Rule of Law. Respect the Constitution' —received $2,000 from WACPAC. He has consistently argued against amnesty for undocumented immigrants and for tighter border security, and has sought to make English the official language of the United States. Others, like Lee Zeldin of New York, Jack Bergman of Michigan, and Peter Roskam of Illinois, supported President Trump's ban on immigration from Muslim-majority countries."
Cannabis Wire speculates that cannabis companies donated to the PAC to win the support of Congressman Curbelo, who it says could help them get involved in the cannabis business in Florida.
"Two of WACPAC's top donors from the industry have obtained licenses to cultivate medical cannabis in Curbelo's home state of Florida. In a June 6th press release, MedMen Enterprises announced that it had purchased Treadwell Nursery, which is based in Florida and operates as Remeny Wellness, for $53 million. The acquisition allows MedMen to open twenty-five medical marijuana facilities in the state."
After Cannabis Wire revealed the contributions, the Massachusetts Recreational Consumer Council withdrew its sponsorship of a job fair in protest. MedMen then said it had requested a refund from WACPAC and wasn't aware of its anti-immigration support.
WEHOville has reached out to MedMen's Adam Bierman for a comment on these issues but as of publication has not received a response from him. However MedMen's Briana Chester forwarded a comment from Daniel Yi, Senior Vice President of corporate communications, who said:  "We do not comment on ongoing litigation or personnel matters. We value the contributions of every team member here at MedMen. We offer competitive compensation and strive to cultivate a thriving work environment."
Earlier a MedMen spokesman told CannabisWire that it donated to the WACPAC because "We support causes and candidates who are aligned with our efforts to pass common sense cannabis-related laws at the local, state, and federal levels."