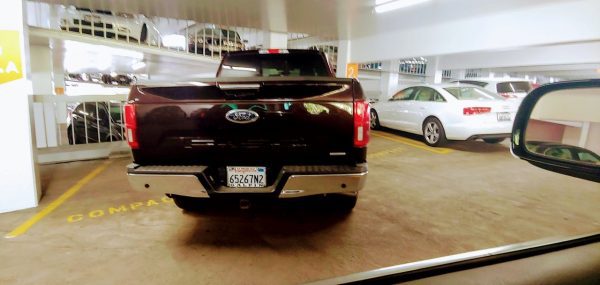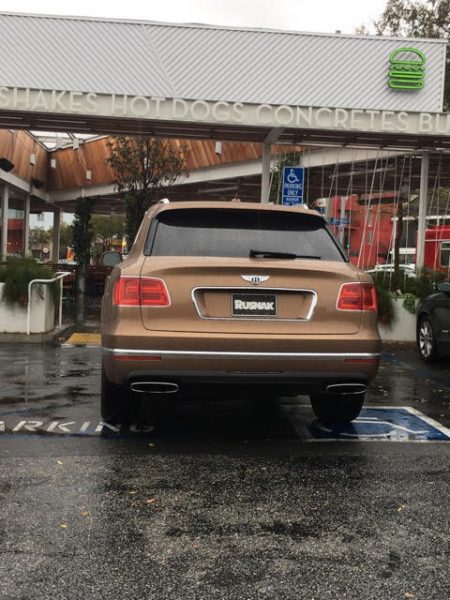 Oh, they're still at it.  That Bentley on Thursday not only took two parking spaces at Shake Shack on Santa Monica Boulevard,  but one of them was reserved for the handicapped.  But hey, if your ego is big enough to require a Bentley, you just might need that extra room to get your head out of your car.
On Tuesday of last week someone who must be used to diagonal parking spaces (they have them in some small towns), managed to cover three spaces with his Ford pickup in the East Tower parking garage at Cedars-Sinai Medical Center (right next to the elevators.)  Then again, maybe he parked that big truck across three compact spaces because the macular degeneration for which he was seeing his doctor made it impossible for him to read the word "compact."
Yes, we're trying to find some sympathy for those People Who Can't Park to appease those who accuse us of shaming them. Maybe each of those drivers was aspiring to be the next Rex Tillerson, who our commander in cheese has declared is "dumb as a rock." There's no better way to illustrate that qualification than taking more than one parking space in a town with a shortage of them.
We'll continue from time to time to call out those who don't understand, or just choose to ignore, basic parking rules. WEHOville invites its readers to share photos of cars that cross the line or park in spots where they're not supposed to be. We aren't including parking spots for the handicapped in this shame campaign because that's a system so incredibly abused that it's hard to figure out what permit holder really deserves one.
Use the photos above and below as an example of what you need to catch with your smartphone — the date, the rear of the car and its license plate, and how it is straddling the parking space line or crowding out the car properly parked next to it. Email it to me at henry@wehoville.com and I'll publish it. And include the location. Don't worry, we won't share you name. It's the People Who Can't Park we want to call out.
Images of previously published People Who Can't Park can be found below: