The City of West Hollywood has filed a lawsuit against the owner of two apartment towers at 8500 Sunset Blvd., asking that a judge bar BPREP 8500 LLC from continuing to offer short-term rentals of its AKA West Hollywood apartments in one of those buildings. The city also is asking the BPREP reimburse it for the costs it has incurred, which include attorney's fees and the cost of monitoring BPREP's use of the apartments.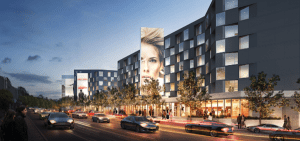 In September, the City Council affirmed a decision by then-interim Director of Community Development John Keho that BPREP was violating city law by offering what it describes as "luxury serviced residences" for periods as short as 31 days. In effect, Keho had ruled, BPREP was operating a hotel. BPREP is a company controlled by Korman Communities, which operates the AKA short term corporate rental business, and the Brookfield Property Group. It claimed the city's decision will cost it $40 million
The lawsuit claims that despite the City Council's decision, AKA continues to rent suites in its 110-unit West Tower for stays of at least 31 days, a claim supported by the AKA website. AKA has agreed to rent the 80 units in its East Tower as conventional apartments (with eight of them set aside as affordable housing.)
At a meeting in October, the City Council approved increasing by $425,000 the $75,000 already allocated to Baker & Hostetler LLP, one of the nation's leading law firms, to deal with the BPREP issue. Baker & Hostetler is the firm that filed the lawsuit against BPREP last month. The city did not disclose the filing of the lawsuit to the public and WEHOville discovered it in a routine search of court records.
Councilmember John D'Amico and Mayor John Duran voted against the additional allocation for Baker & Hostetler in October. Both had supported BPREP's appeal on Sept. 4 of Keho's decision that the rental of apartments in the 110-unit building for periods of less than a year was a violation of the city's ban on short-term rentals. That ban was enacted in response to apartments being taken off the rental market by building owners who hoped to earn more money from short term rentals through services such as Airbnb.