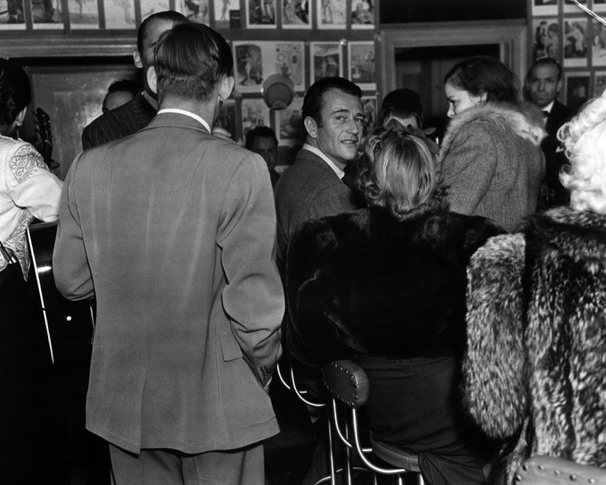 Some notable businesses in West Hollywood's past became the stuff of legends – nightclubs like Ciro's, Mocambo and Café Trocadero still get all the publicity. Others didn't become as well-known but still were distinctive parts of the mix that formed the creative city. This is a look at several of those bygone places that may not be as familiar to many readers.
Club Marcel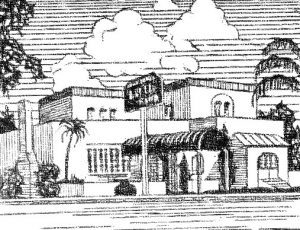 Club Marcel was one of the most raided Sunset Strip nightclubs beginning in the post-Prohibition era through the years of World War II. It was jam-packed with members of the motion picture colony, Hollywood café society and nightlife characters in the early morning hours of Nov. 21, 1941 when it was raided by the Los Angeles County Sheriff's Department.
Vice squad deputies "were forced to batter down the front door and struggle with drunken patrons and defiant patrons," reports J.H. Graham, who has written extensively about the history of the Sunset Strip. "One young woman swayed away from the bar to attack deputies and newspapermen with clawing fingers and well-aimed high kicks, displaying a shocking lack of ladylike manners and underwear," the press reported at the time.
Located in a Spanish-style former residence at 8730 West Sunset Blvd., Club Marcel was raided as a bottle club – places that operated without a liquor license and the proprietor ostensibly sold no alcoholic beverages but merely served liquor provided by "members" – and for operating after closing hours. Club employees and the owner were arrested but no celebrities.
That raid wasn't the first time. The club was again crowded with Hollywood celebrities when another raid occurred on Feb. 23, 1942. Owner Howard "Slim" Gordon was arrested for selling liquor after the required 2 a.m. closing time. Others at the club were charged on suspicion of gambling. Gordon was fined $250 by a Beverly Hills court and banned from entering the township again except "on business."
By November 1941, it had been taken over by prominent Los Angeles gambler and underworld figure Howard 'Slim' Gordon. Gordon previously ran gambling clubs on Sunset Strip and elsewhere. In 1929 Gordon and partners had briefly operated a gambling club in the former home of the late Wallace Reid, at 8300 Sunset. In 1930, he was running the Cortez Club at 8428 Sunset.
Beginning as the Kings Club in 1934, Club Marcel was one of the early post-Prohibition nightspots that made up what soon came to be known as the Sunset Strip," according to historian J.H. Graham. The King's Club was popular with the movieland celebrity crowd, many
of whom were present when it was raided by Sheriff's vice squad deputies on May 13, 1934, for liquor violations. On Sept. 1, 1935, patrons were both "alarmed and amused" when it was raided again by the sheriff's men for selling booze after hours.
By May 1936, it had become Jane Jones' Little Club, still popular with the film crowd and still being raided on occasion. On Sept. 2, 1939, sheriff's deputies, wearing tuxedos to blend in with the well-dressed crowd of 50 patrons, slipped in quietly and arrested Jane Jones herself and co-owner Raymond P. Babcock for violating the 2 a.m. closing, Graham's account of the Sunset Strip states.
"Things simmered down after that," Graham writes. In 1961, the Continental Bank building was constructed on Club Marcel's site.
Richfield Oil
Richfield was a small, Los Angeles-area gas station in 1915 when it began competing against Standard, Shell, Associated and Union – all national companies that dominated the market. It had a big advantage though – gasoline with a 75 octane rating, quite high at the time. Richfield's West Hollywood station was located at 7786 Santa Monica Blvd., on the southeast corner of the intersection with Ogden.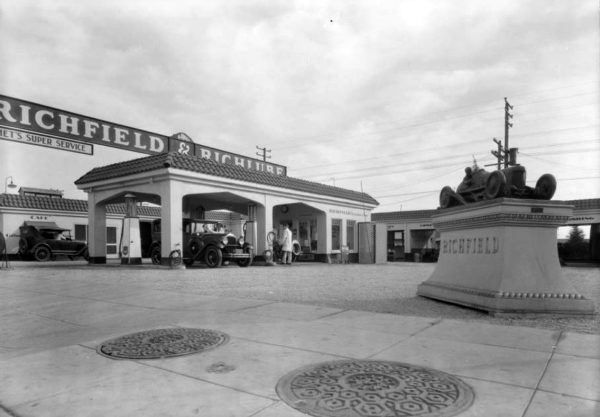 To promote its more powerful gasoline, it offered gas to race car drivers around L.A. From 1921 to 1932, cars using Richfield gas took the top five places at the Indianapolis 500, which spawned its "Gasoline of Power" branding.
To celebrate this success, Richfield commissioned statues created by sculptor Finn Haakon Frolich featuring a dirt track racer sliding through a turn. These statues graced its service stations as a monument to commemorate racing success – including the West Hollywood location. online casino with $5 minimum deposit The site today is a privately owned parking lot. Richfield Oil eventually became Atlantic Richfield, or ARCO, gasoline stations.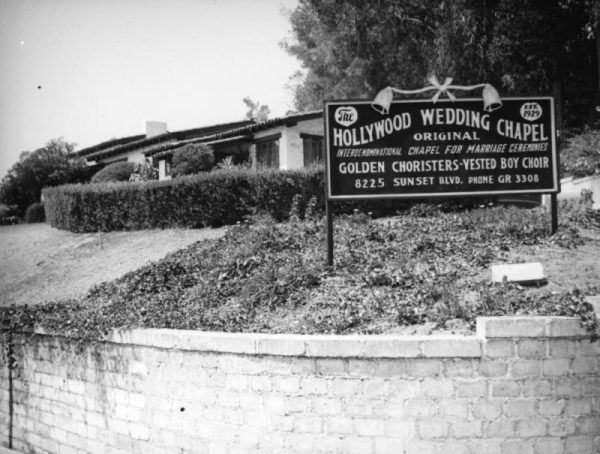 Hollywood Wedding Chapel
Established in 1929, the Hollywood Wedding Chapel was situated where Pink Taco is located today at 8225 West Sunset Blvd. It hosted interdenominational ceremonies that came with a huge convenience – marriages performed there were kept secret and out of the public's prying eyes.
This worked out well for motion picture up-and-coming actors whose studios wanted to keep their personal lives out of the public view, according to The New York Times. The chapel was part of a California trend of keeping marriages secret from the public, the newspaper reports, due to the state's version of a quickie nuptial, in which wedding documents are kept under seal by the state.
The arrangement caused problems from time to time, caused by "men who are just heels," the Times notes, "who marry a woman with false I.D. and when they skip town with her money, there is no trail." It IS Hollywood, after all.