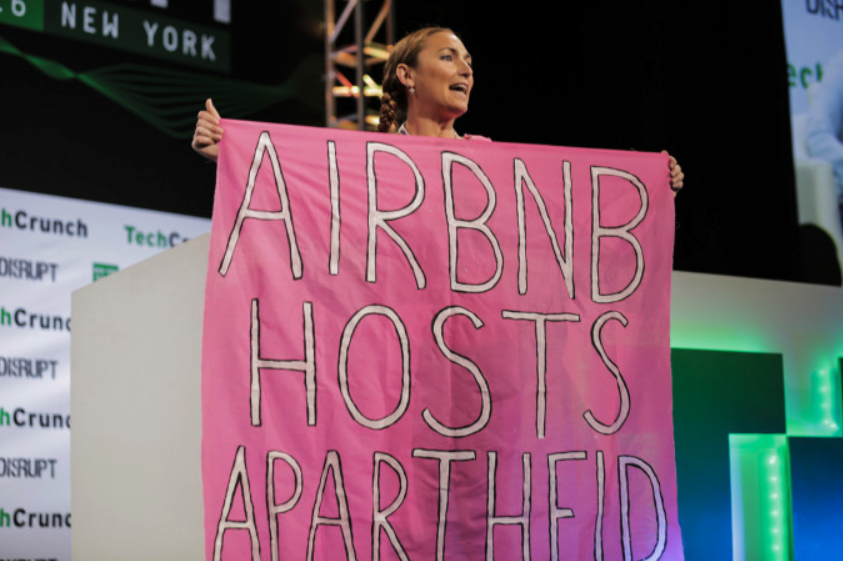 Faced with objections from area Jewish-American and Palestinian-American residents, City Council members Lindsey Horvath and Lauren Meister tonight backed off from their proposal that the City of West Hollywood condemn Airbnb for its restriction on rentals in Israeli settlements in Palestine's West Bank.
Their proposal follows a city decision to postpone the Dec. 12 screening of a documentary about the formation of Israel in 1948 and its impact on the Palestinian community. That documentary, "1948: Creation and Catastrophe," was to have been screened as part of the city's Human Rights Speakers Series. It was to have been followed by a panel discussion including Andy Trimlett and Ahlam Muhtaseb, co-producers and co-directors of the documentary.
Estee Chandler of the Jewish Voice for Peace said the proposal was "completely contrary to the history of West Hollywood. Some members of the West Hollywood City Council have made it clear that they are supportive of human rights except when it involves Palestinians." The Jewish Voice for Peace advocates for ending the Israeli occupation of Palestine.
Another speaker, Abdul Barakut, urged the City Council not to give in to what he described as "Zionist protocol. You can be anti-Zionist without being anti-Israel," he said. "It's like being anti-Republican without being anti-American."
After the comments from those and other speakers, Horvath said that she and Meister had agreed to remove the proposal from the Council's consent agenda. She also said that Airbnb had reached out about the matter and clarified its position.
Horvath said that Airbnb made clear that it opposed the Boycott, Divestment and Sanctions (BDS) movement, which has called for boycotting and divesting from investments in companies doing business with Israel and particularly in Israelis settlements in Palestine. While that movement has been opposed by some Jewish leaders in the United States, it has gained significant support among college student organizations and other progressive groups.
"Their further clarification requires consideration," Horvath said in explaining the decision to remove the proposal.
City Manager Paul Arevalo also said tonight that the "1948" documentary would be screened at a future date and he said it was not postponed at the City Council's request. However Horvath, at a Dec. 3 City Council meeting, did question the city's decision to screen the film. When "we give license to people who advocate for eliminating Israel, we are creating an environment where people feel unsafe," she said. The proposed screening was criticized by Rabbi Denise Eger of Congregation Kol Ami, who described one of the co-producers as anti-Semitic.
In an earlier memo to the City Council, Horvath and Meister had criticized Airbnb for focusing on Israel when there are other countries with controversial settlements such as those in Tibet and Northern Cyprus. "Many have called Airbnb hypocritical as these settlements experience just as much, if not more, violence than the West Bank," said the memo. "The West Bank is the first and only region from which Airbnb has so far withdrawn under a revised set of guidelines, although it previously removed listings in Crimea due to international sanctions."
The international community has largely agreed that the existence of Israeli settlements in the West Bank is in violation of international law. The Fourth Geneva Convention includes statements such as "the Occupying Power shall not deport or transfer parts of its own civilian population into the territory it occupies." The United Nations Security Council has called on Israel to stop transferring its people into Palestinian territory and the International Court of Justice has ruled that Israel is in breach of international law by establishing settlements in occupied Palestinian territory.
Airbnb has struggled for years with its decision to allow Israelis living in settlements in Palestine to rent out rooms in their homes. The Guardian reported in November that Human Rights Watch, the humanitarian organizations, welcomed its decision to stop rentals in those settlements.
"Arvind Ganesan, the business and human rights director at the organisation, said Airbnb's decision was 'an important recognition that such listings can't square with its human rights responsibilities. Human Rights Watch welcomed the move. Arvind Ganesan, the business and human rights director at the organisation, said Airbnb's decision was "an important recognition that such listings can't square with its human rights responsibilities .. For two years, Human Rights Watch has spoken with Airbnb about their brokering of rentals in West Bank settlements that are illegal under international humanitarian law and for which Palestinian ID holders are effectively barred from entering."