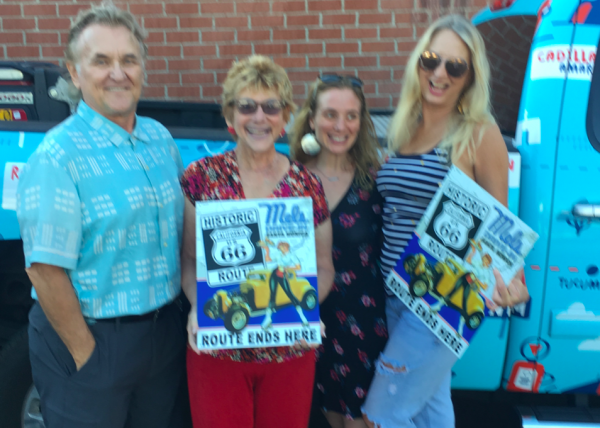 Lowy, 69, graduated from Fairfax High School, the University of California at Berkeley (B.A), and George Washington University (M.A.) She was involved in a number of cultural affairs and historic preservation issues, serving for a long time as docent at the historic Gamble House in Pasadena and as WHPA's board secretary. Lowy sang with the Hollywood Master Chorale, was a member of the City of West Hollywood Women's Advisory Board and served as B'nai B'rith Western regional coordinator.
Lowy's death was announced today by Victor Omelczenko, WHPA's board president. In his announcement, Omelczenko called out Lowy's work to preserve Plummer Park's Great Hall / Long Hall and the trees around it.
"My Mother used to wheel me in a stroller through that park and into those historic buildings!" Lowy said in speaking up for preservation of the buildings
One of the last preservation events Lowy attended was a celebration of historic Route 66 on Aug. 3 in Santa Monica. The photo above shows Lowy (second from left) with WHPA colleagues Victor Omelczenko, Amanda Bleich and Lisa Koers.
Her survivors include son Matthew and daughter Stephanie and Diane, several grandchildren and brother Arthur Rubinstein. Funeral services will be held Thursday at 1 p.m. at Hollywood Forever Cemetery, 6000 Santa Monica Blvd.