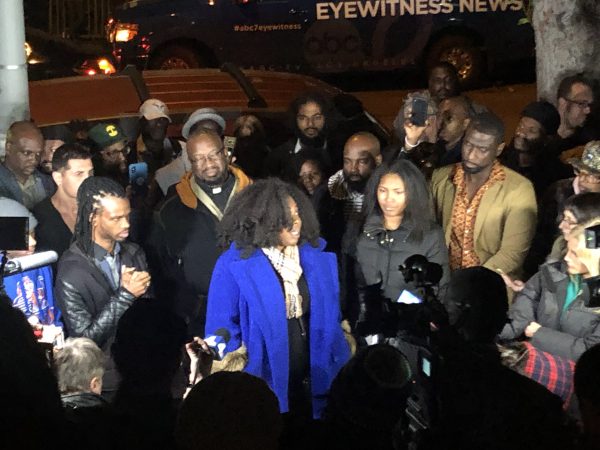 More than 100 people, including local residents, black community activists and local political figures, turned out tonight for a rally demanding action by the Sheriff's Department in the case of a black man found dead in the apartment of Ed Buck, 64, a white political activist and campaign donor.
Buck, in whose apartment the man was found dead around 1 a.m. Monday, apparently was at home during the rally, which took place in front of his building at 1234 Laurel Ave. The lights in his apartment turned on and off several times during the event. While Sheriff's deputies and representatives of the L.A. County Coroner's Office removed the body of the dead man around 9 a.m. this morning, Buck was not arrested or taken to the Sheriff's Station for questioning. Several of those attending the rally said that would make it possible for Buck to destroy any incriminatory evidence.
An investigation into the death is being led by Detective Q. Rodriguez of the department's Homicide Bureau. The identity of the dead man has not been revealed. While it is clear that he was African-American, he may not have been a young man. Cannick said that she had been told that he was in his 50s.
Those attending the rally tonight called for the arrest of Buck and also for a renewed investigation into the death of Gemmel Moore, a 26-year-old African American man who was found dead of a methamphetamine overdose in Buck's apartment on July 27, 2017. Moore was a sex worker who was visiting his mother near Houston when Buck bought him an airline ticket to fly back to Los Angeles and go to his apartment.
Buck's lawyer, Seymour Amster, has said his client wasn't responsible for either death and that both men were friends he was trying to help.  Amster said that the man who died in Buck's apartment this morning may have been using drugs before he arrived.
The Los Angeles County District Attorney's office ruled a year after Moore's death that an investigation by the Sheriff's Department death did not reveal sufficient evidence to charge Buck. That decision outraged Moore's mother, LaTisha Nixon, and family friends and supporters who pointed to evidence that included a diary in which Moore claimed Buck paid him to inject the drug and drug paraphernalia found in Buck's apartment by the L.A. County Coroner's Office. Shortly after Moore's death, WEHOville published an article showing a screenshot of a profile that Buck had posted on an online sex site seeking other young black men.
Jasmyne Cannick, a communications and public affairs strategist who has worked on behalf of Moore's mother, criticized the Sheriff's Department's handling of the Gemmel Moore investigation. Cannick said that she, civil rights lawyer Nana Gyamfi and others had done most of the investigators' work for them by bringing forward other young black and gay sex workers who were willing to discuss their interactions with Buck and present evidence of it, including airline tickets, other receipts and even a video. She criticized investigators for insulting and intimidating the witnesses, who had been granted limited immunity from prosecution to encourage them to testify as to their encounters with Buck.
Cannick also said that she and Ms. Nixon had predicted that another death would occur at Buck's apartment. "We will leave and there will be another man going into his house tonight, another man coming in tomorrow," she said. "Now it's time for the Sheriff's Department and (District Attorney) Jackie Lacey to sh-t or get off the pot."
Cannick said she hoped that newly elected Sheriff Alex Villanueva would take a more aggressive approach to the investigation than did former Sheriff Jim McDonnell.
The rally got contentious at several points. Several black men and women attending the rally complained that Buck's neighbors weren't working to get him evicted Roughly a dozen of the building's residents attended the rally, with several proclaiming that they supported the effort to remove Buck. In fact, a petition demanding that the landlord evict Buck was being circulated inside the building while the rally was underway, with nine names on it shortly after it started.  The building is owned by David Shane Enterprises.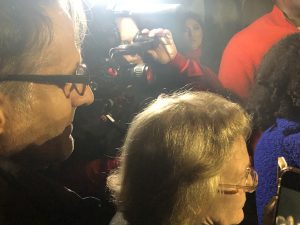 "We the residents of 1234 N. Laurel Ave. demand swift justice in evicting Ed Buck from his apartment," the petition read. "His constant drug use has been a nuisance to the entire community. Our safety is compromised due to his constant traffic in and out of the drug den. The families of his victims deserve justice. And we will not stand for this anymore. He must be arrested and we should no longer suffer for his crimes."
One resident of the building, who was willing to talk on the condition his name not be disclosed, said residents had called the Sheriff's Station a number of times. "We call the cops on him like once a month," he said. "They aren't arresting him though."
That resident said that deputies tell him and other neighbors that they can't enter Buck's apartment without his permission unless there is clear evidence of a crime.
City Council members John D'Amico and Lauren Meister attended the rally, with D'Amico drawing criticism from Cannick for having accepted campaign donations from Buck. Cannick criticized an array of Democratic Party members for not returning the money that Buck had donated to their campaigns. Those elected officials include newly inaugurated Gov. Gavin Newsom and Los Angeles Mayor Eric Garcetti. D'Amico and Meister both expressed their support for an aggressive investigation into the deaths in Buck's apartment. Councilmember Lindsey Horvath, who didn't attend the rally because she was in Sacramento, issued a statement supporting it. In her statement she called for an aggressive investigation into today's death and also "that we hold ourselves and our justice system accountable to deliver for those whose lives have been plagued by addiction…"
Also attending were two other candidates in the March 5 City Council election – Marquita Thomas and Sepi Shyne. Jeffrey Waack and Amanda Laflen of the city's Public Safety Commission also were present.
Cannick said that LaTisha Nixon, who live near Houston, will be returning to West Hollywood at the end of this week to join in the mourning of a second man's death at Buck's apartment.