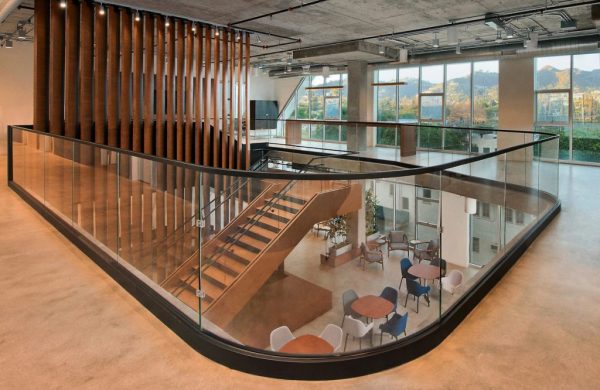 Showtime is officially calling West Hollywood its West Coast home.
The premium cable and satellite television network, a subsidiary of CBS Corporation, has moved to The Lot at the corner of Santa Monica Boulevard and North Formosa Avenue. The Lot is also home to OWN (the Oprah Winfrey Network.)
The Showtime move took place over the recent holiday. The network's 125 employees left its location in Westwood for a 50,000-square-foot space on two floors with glass-walled offices, lounges with views of the Hollywood Hills views, a screening room and a café. It will occupy the third and fourth floors of the five-story Formosa West building. The Showtime space was designed by CannonDesign.
Formosa West is a 300,000-square-foot building owned by CIM Group, which purchased The Lot in 2007 from Warner Bros. Entertainment.
The announcement of the move was made by Jana Winograde, the West Coast president of business operations for Showtime Networks.
"It was important for us to build a space that inspires employees to do their best work and encourages collaboration," Winograde said. "With the help of CannonDesign we were able to create that atmosphere at The Lot. The move to our new and improved location is a welcome change for Showtime providing an environment conducive to interaction and innovation."
"We have been modernizing facilities and studio amenities to refresh The Lot, building on its legacy in the entertainment industry in Hollywood and maintain its position as one of the top-tier studio campuses in Los Angeles," says Shaul Kuba, co-founding principal of CIM Group in a statement.
The Lot has evolved from a studio opened around 1918 by Jesse D. Hampton, a producer and director of silent films. Early films produced at the studio include 1920's "Pollyanna," starring Mary Pickford. In 1922, Pickford and Douglas Fairbanks bought the studio from Hampton and expanded it. Eventually it became known as the United Artists Studio, famed as the location for production of dozens of silent films, featuring such stars of the day as Holbrook Blinn and Irene Rich, and Charlie Chaplin as well as Pickford and Fairbanks. Later it became the Samuel Goldwyn Studios and then was sold to Warner Bros. Today it is owned by CIM Group and managed by Skye Partners.
CIM has added substantial space to The Lot. It is about to start construction on Courtyard at The Lot, a 98,000-square-foot building anticipated to be finished by 2020.