"Solution? Prosecution!" was the chant at a candlelight vigil tonight outside the Laurel Avenue home of Ed Buck. The vigil, the second this week, attracted over 100 people, including reporters from every major television station, the Los Angeles Times and Britain's Daily Mail.
And it ended with the arrest of Dennis Gleason, the policy director for Los Angeles City Councilmember Joe Buscaino, who lit a candle and sat in the middle of Laurel Avenue to protest the fact that Ed Buck has not yet been arrested for the death in his apartment of Timothy Dean on Monday and of Gemmel Moore 18 months earlier.  Buck, 64, is a white man known for his animal rights activism and donations to Democratic Party politicians. Dean, 55, and Moore, 26, were African-American men.
A dominant theme in the rally was criticism of L.A. County District Attorney Jackie Lacey, whose office declined to file charges against Buck after the Sheriff's Department's investigation of Moore's death, which was attributed to a methamphetamine overdose. The coroner's report noted that Moore's naked body was found lying on a mattress in Buck's living room, surrounded by 24 syringes with brown residue, five glass pipes with white residue and burn marks, a plastic straw with possible white residue, clear plastic bags with white powdery residue and a clear plastic bag with a "piece of crystal-like substance." The police report also indicated that someone at the scene "is suspected to be known to exchange drugs for sex."  However, after the Sheriff's Department investigation, the District Attorney's Office said there wasn't sufficient evidence to bring charges against Buck that would result in a conviction.
Buck's lawyer, Seymour Amster, has said his client was not responsible for the deaths of either Moore or Dean. He said both were friends of Bucks who he was trying to help.
Another major subject at the vigil was criticism of Democratic Party politicians who had received contributions from Buck and had not responded to requests that they pass that money along to organizations focused on black and LGBTQ rights.  Among the politicians who have done that are U.S. Rep. Karen Bass (D-Calif.), who had received $250 from Buck and gave that amount to Moore's family after his death, and U.S. Rep. Ted Lieu (D-Calif.),  who has pledged to give more than $18,000 in campaign contributions he received from Buck to LGBTQ and African American civil rights organizations. Former state Sen. Kevin de Leon has been criticized for giving his $26,000 in donations from Buck to a Sacramento charity focused on domestic violence rather than to causes related to gay African-Americans.
City Councilmember Lindsey Horvath was called out by Jasmyne Cannick, an organizer of the rally, for being the only member of the West Hollywood City Council who had not received a donation from Buck in her political career.  No other members of the WeHo City Council have given any of the contributions they got from Buck to Moore's family or to LGBTQ and African-American causes with the exception of John D'Amico.  He received a total of $1,000 from Buck in two campaigns and has given $25 to a fund for Gemmel Moore.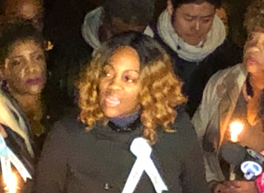 In a speech to the crowd, Horvath said she had reached out directly to newly elected Sheriff Alex Villanueva and asked him to aggressively investigate the cause of Dean's death and take another look at Moore's death.  The Sheriff's Department's Homicide Bureau is doing that. Capt. Sergio Aloma, head of the West Hollywood Sheriff's Station, told WEHOville that detectives are flying out of state to places like New York City to interview young black men who allege they have had encounters with Buck. Buck has a reputation for soliciting sex on gay hookup sites such as Grindr and Adam4Adam from young African American men, some of  whom have said that he pays them and offers them drugs.  But while the investigation is underway, the cause of Dean's death has been put on a "security hold" by the Sheriff's Department according a spokesperson for the coroner's office.  That means the coroner will not be allowed to make public the cause of his death.
Horvath expressed her disappointment in Jackie Lacey. She said she had called her today to request that Lacey grant limited immunity from prosecution to men who came forward to describe their relations with Buck. She said she was told she would have to submit her request in writing and that it might take 24 hours for Lacey to response. "That certainly is disheartening," she said.  "What we learned from the Gemmel Moore case is in this community justice is not served."
City Councilmember Lauren Meister also attended the vigil as did Brendan Hood, Sepi Shyne and Marquita Thomas, three of the nine challengers in the March 5 election for three City Council seats. Also present was LaTisha Nixon, Gemmel Moore's mother, who had flown to Los Angeles from her home in Houston.  She lamented Dean's death but stressed that she was not going to give up on pursuing justice for her son, which she said would mean conviction of Ed Buck for his death.
The fact that Buck is a relatively affluent white man and that Moore and many of the other young black men who visited him were poor if not homeless was also subject at  tonight's rally, where some African American speakers described white gay men  in West Hollywood as exploiting black men only for sex. "Our body parts are being hunted," said Paul Scott, the president of Los Angeles Black Gay Pride. "It's like killing an elephant for his tusks."
As the vigil wound down, Dennis Gleason, the policy director for Los Angeles City Councilmember Joe Buscaino, moved to the center of Laurel Avenue and sat before a candle as a protest.  Gleason was approached by Sheriff's deputies who asked him to move. 
"I get it. I'm a threat to public safety, so you're going to have to remove me," Gleason said. "Why haven't you removed Ed Buck?"
Gleason was handcuffed and taken to the West Hollywood Sheriff's Station.