UPDATE: Karen Mason now says her store will close on Feb. 9.
Circus of Books, a longtime West Hollywood business that was once a vital institution for the city's gay community, is closing after almost 60 years. While there have been rumors about a possible closing for months, the newsstand and adult video store's owners says they plan to shut its door for the final time sometime in February, possibly as early as Friday.
"It's sad to close, but people aren't buying magazines or renting videos anymore. They're getting them on the internet now," said owner Karen Mason during a recent interview. "This store used to have a steady stream of customers all day long. Now we get a few an hour. It's just not worth it anymore; it's too much work."
An exact closing date is uncertain as they are still meeting with prospective tenants, but Mason assures it will be sometime in February. She thought a marijuana dispensary would take over the space, but that deal fell through a few weeks ago when the City of West Hollywood didn't approve the dispensary's cannabis license application.
Located at 8230 Santa Monica Blvd. at La Jolla Avenue, Circus of Books was known as one of the best newsstands in the area, carrying virtually every mainstream magazine published, including many obscure and foreign magazines, plus used books and greeting cards.
The store also had a giant selection of adult magazines, both domestic and foreign. "We carried everything," Mason said. "There was a market for the foreign adult magazines, so we got them in. Some of them, we were the only store in the area that stocked them."
However, Circus of Books was best known for its vast selection of adult videos, which they it both for sale and rent. The videos were housed in a separate section that was partitioned off from the newsstand area, but that video section drew in a huge number of customers around the clock, from 6 a.m. to 2 a.m., the store's hours.
Former general manager Bill Palmer told WEHOville the store never carried mainstream videos, just adult videos. Still, those adult ones, originally videocassettes and later DVDs, brought in tremendous business.
"When DVDs were really hot for us, I used to go weekly on buying sprees, and I would come back to the store with stacks and stacks of boxes that I had handpicked," Palmer recalled. "And I did that every week. I had a knack for knowing which DVDs would sell and they sure did."
The store's best-selling videos of all time? Porn star Jeff Stryker's 1986 film, "Bigger than Life," and Stryker's 1987 follow-up, "Stryker Force."
The store also a large selection of sex toys, leather items, condoms, lube and poppers.
"The bulk of our profits were from the adult material – the videos, the sex toys and poppers," Mason said. "But magazines accounted for a big chunk of our business too. A lot of people came in here because we had such a good newsstand and never even went in the adult video section."
Although the vast majority of customers were gay men, the store drew a wide range of people. "We got everyone from young children to senior citizens," Mason said. "We really attracted an array of people. It was very much like a circus."
Started as Book Circus
First opened in 1960 as a newsstand and bookstore, the store was originally called Book Circus. Even in the early 1960s, long before the Stonewall Riots and the subsequent gay liberation movement, the West Hollywood area had enough of a gay population to make selling male physique magazines and the like profitable.
Karen Mason and her husband, Barry, took over the store in 1982. At the time, the couple sold medical equipment and had a magazine distribution business on the side, a business started after publisher Larry Flynt placed an ad looking for someone to distribute his "Hustler" magazine by hand to area stores. With the contract for "Hustler" in place, they quickly started distributing other porn magazines like "Blueboy" and "Chic."
Book Circus was the Masons' biggest account, so when the owner ran into financial trouble, they paid $500 to take over the lease. The couple had limited retail experience, but they hired the Book Circus manager to continue running their store. However, they did change the name to Circus of Books, a name shift just slight enough to signal the store had new owners but was still the same store.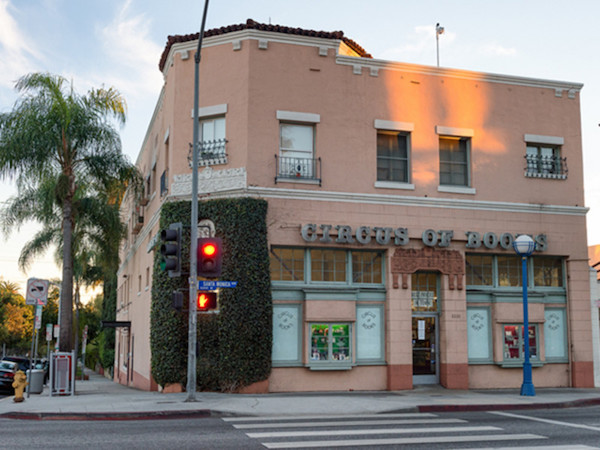 "From the first day we opened the doors, we made a profit," Mason recalled. "The people who started this store had the real vision. All we did was continue what they started and, to some extent, made it better."
Their timing was perfect. They assumed the lease just as VCRs were becoming common in American homes, so they added an adult video section to the business. With few stores carrying gay adult videos at the time, they had almost no competition.
However, they did have trouble finding gay videos. "Straight adult videos were easy to get, but not the gay ones," Mason recalled. "But we managed to find them since that's what our customers wanted."
A credit card was required to rent videos, but if you didn't have one, they'd take a $75 cash deposit for the video, refundable upon return.
Profits were strong, and in 1985 the couple purchased the building. Mason explained, "When you run an adult business, you're better off owning the building so the landlord can't kick you out."
More Locations
Also in 1985, their manager at the time suggested a Silver Lake store could do as well as the West Hollywood one. Since they already owned a building in Silver Lake at 4001 Sunset Blvd. (at Sanburn Avenue, right where Santa Monica Boulevard splits off from Sunset), they decided to take a chance and open the second store.
That move proved fortuitous as the Silver Lake location also quickly began making a profit. While it also had a large gay clientele, a lot of families living in the area came in too. Consequently, it carried used children's books, plus used records, two things the WeHo branch never carried.
Although the Silver Lake store did well, the flagship West Hollywood store was always the more profitable of the two, accounting for about 60% of the company's income. The Silver Lake store closed in August 2016 due to declining sales, replaced by a medical marijuana dispensary.
In the late 1980s, they even opened a third Circus of Books location, in Sherman Oaks on Ventura Boulevard near Kester Avenue (where the Goodwill store is currently located). However, that store only lasted about two years. Nearby homeowners objected to the adult material and fought against it. At that store, the straight porn sold better than the gay porn.
"Part of the motivation for opening that [Sherman Oaks] store was to make the organization bigger," said Mason. "We had so many good employees and I felt they needed a place to grow."
Good Employers
At its peak, the company had about 40 employees between the three Circus of Books stores and the Universal News sidewalk newsstand they owned on Las Palmas Avenue at Hollywood Boulevard.
By the mid-2000s, the company was making an estimated $5 to $6 million a year. However, profits began tapering off rapidly when the recession hit in 2008. About that same time, more porn became available on the internet, which cut into their business dramatically.
Bill Palmer, who started at Circus of Books in 1986 on the graveyard shift in Silver Lake and worked his way up the ranks to general manager, said the Masons were excellent employers.
"Karen and Barry treated us [the employees] so very well," said Palmer, who retired in 2012. "I'll always appreciate the way Karen and Barry recognized my abilities and compensated me. I worked hard, often 70 hours a week, but they paid very well. I have a house in North Hollywood because of them."
In addition to paying well, the couple offered employees a pension plan as well as medical and dental insurance. "I liked being a good employer," Mason said. "I liked being able to provide pension and health insurance and take care of the employees."
They also made a point of hiring top employees, both gay and straight.
"We never cared who was gay when we hired them," said Mason. "What was important was you had to be comfortable around gay material and gay employees."
In the 1980s and 1990s, some of the stores' employees were HIV-positive and/or had AIDS. At the time, the Medicaid didn't cover AIDS treatment, so people had to be unemployed to get assistance. Some Circus of Books employees didn't want to quit just to qualify for medical treatment, so the Masons continued giving them work, but paid them under the table in cash.
"These were kids in their 20s who were sick. I didn't think it was right they had to stop working in order to get medical treatment, so I kept them on staff. It just felt like the right thing to do," said Mason. "They had skills and specialties we could use. I think it's important for people to work if they can and they wanted to continue working. It also helped them feel positive about their outcome to have a job to come to."
Vaseline Alley
Circus of Books is in the heart of what was once West Hollywood's "Vaseline Alley," a parking lot and alley behind the store where gay men cruised for sex. A scene in the 1982 film "Making Love," the first gay-themed mainstream Hollywood movie, depicts star Michael Ontkean's character picking up a man in Vaseline Alley. (Ironically, Circus of Books never carried that video since it did not stock mainstream movies).
While some believe Vaseline Alley developed there because of the store, Palmer disputed that idea. He reported there were several gay bars in the neighborhood that generated most of the cruising action.
"There was a Pioneer Chicken at Havenhurst [where Marco's Trattoria is now] that was open late," said Palmer. "After the bars closed, you'd walk through the alley to go to Pioneer Chicken and there'd be lots of action going on."
However, Mason acknowledges Circus of Books contributed to the action in Vaseline Alley since men would often first meet while renting videos at the store.
"There was a lot of activity in the alley behind our store," Mason said. "People would meet each other here, and even though we, as owners, kept out of it, it was definitely a pickup spot. I think when Circus of Books opened, this was such a special place for people who were gay or were trying to come out or feel comfortable."
Documentary About the Store
The store may be closing, but Circus of Books will live on in film thanks to Karen and Barry Mason's daughter, Rachel, an artist who has made a documentary film about the store and its place in West Hollywood's gay history.
Rachel Mason debuted a 10-minute clip of the film that was well received during a special screening held at the store in July 2018. She is currently editing the final draft of that documentary, so look for it soon.
In the meantime, many people are bemoaning the loss of another WeHo gay institution. But like A Different Light Bookstore, the French Market restaurant, Studio One nightclub and others, the store holds a special place in the hearts of many area residents.
"This store had an important niche for the gay community," mused Karen Mason. "It sure was fun while it lasted. It's really sad to be closing."