Last year, the West Hollywood City Council overwhelmingly approved the Arts Club. Founded by Charles Dickens in 1863, the Arts Club is going to replace the Hustler store with a bistro, music and art gallery, along with free rehearsal space for local singers, dancers and performers. The Arts Club is generously providing more than $13.5 million in community benefits to West Hollywood residents, which includes over $10 million dedicated for free rehearsal space for our local artists and musicians, over $1 million will be provided to arts education and scholarships, and approximately $1.25 million to promote art, artists and performers.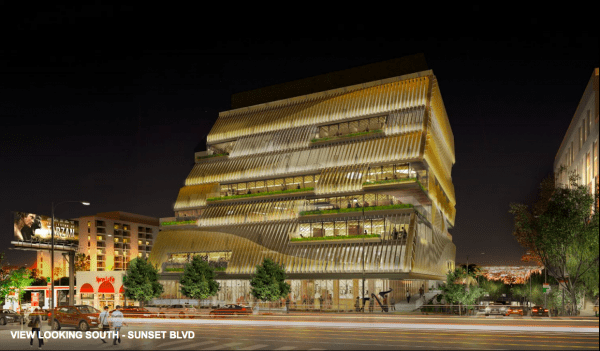 The Arts Club will have spectacular architecture. New street trees will be planted; the cul-de-sac on Hilldale Avenue will be modernized and landscaped. There will be sidewalk seating and beautiful public space.
Because there was a referendum, the City Council in its wisdom, decided to place the Arts Club on the March 5th ballot to allow the community to weigh in. Please support the Arts Club and preserve the vision and future of the Sunset Strip by voting YES ON MEASURE B!
The Arts Club would REPLACE the Hustler store and instead provide a beautiful and iconic addition to the Sunset Strip! The Arts Club is also contributing half a million dollars to affordable housing in West Hollywood. Their generosity and commitment to be a part of our community is truly commendable.
The Arts Club honors and respects West Hollywood values. There is no better way for them to demonstrate that than by being a model employer. The Arts Club offers wages equal to and above living wage, they give their employees a full benefits package, and offer child care and telecommuting opportunities for eligible employees. The Arts Club is committed to hire West Hollywood first, and will have amazing job opportunities.
It truly is an honor that the Arts Club has chosen West Hollywood as their first United States location. Our unique, creative, and diverse city is the perfect location for the Arts Club, and the Arts Club is the perfect addition to the Sunset Strip. Not only is the architecture and design of the proposed building breathtaking, but their mission to provide artists a space to display and engage the community is admirable.
The Arts Club is supported by hundreds of local leaders, residents, and small business owners in West Hollywood. Please join our community and preserve the Sunset Strip. VOTE YES ON MEASURE B!