Just four days after surviving a brutal assault in which two men allegedly beat him, shouted homophobic and racial slurs and put a rope around his neck, Jussie Smollet was back on the stage at the Troubadour in West Hollywood.
"I had to be here tonight, y'all. I can't let [them] win," Smollet said to a crowd of 400 fans who included U.S. Rep. Maxine Waters, actor Wilson Cruz and filmmaker Lee Daniels. "I have so many words on my heart. The most important thing I have to say is thank you so much and that I'm okay. I'm not fully healed yet, but I'm going to. And I'm gonna stand strong with y'all… l will always stand for love. I will never stand for anything other than that. Regardless of what anyone else says, I will only stand for love. And I hope that you all will stand with me. So now… let's do it."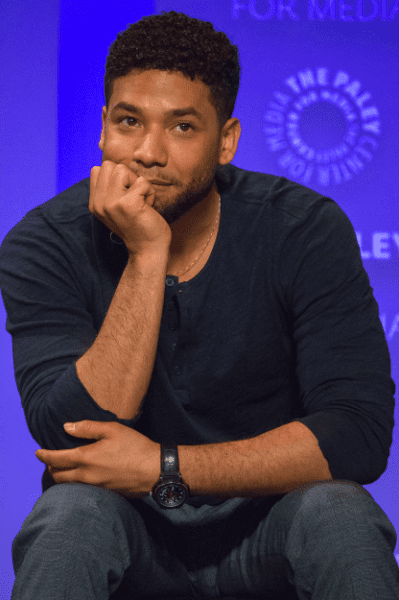 ""The hateful rhetoric that gets passed around, it has to stop. But guess what, it stops with the people that believe in love," Smollett said. "Be as black, be as brown, be as gay as the f-ck you want to be. Now is the time: Be blacker, be gayer, do it right the f-ck now."
Smollet was attacked on the street in Chicago in the early hours of Jan. 29 in what the police are investigating as a possible hate crime. The singer and actor (best known for his role as Jamal Lyon—a gay musician — in the Fox drama series Empire) corrected some early reports about the incident. He said he had gone to a doctor, and not a hospital, for treatment of bruised ribs. Smollet has confirmed that the men who attacked him hollered "MAGA," the acronym for "Make American Great Again," Donald Trump's campaign slogan. Trump is one of several prominent politicians who have spoken out against the attack.
Members of Smollet's family also showed up at the Troubadour and spoke on the stage before his performance.