She's arrived! West Hollywood's Ivy Bottini, famed nationally for her work as a woman's rights and lesbian activist and locally for her engagement in those and other issues in California, has finally settled into her new home in Sebring, Fla.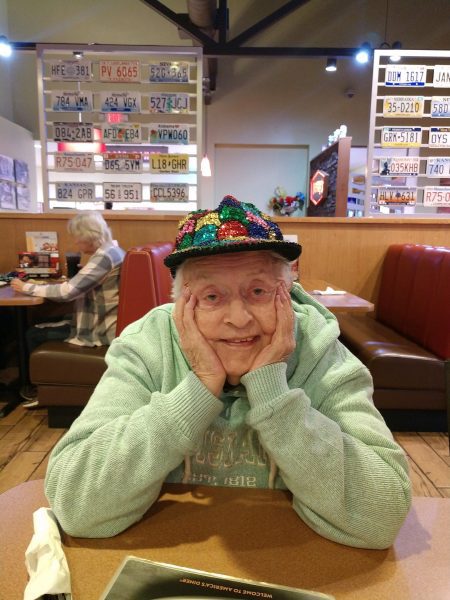 Bottini, 92, decided to leave West Hollywood, which has been her home for many years, to live with her daughter, Lisa Santasiero Perron, and Perron's wife.
That required a journey from West Hollywood through New Mexico, Texas, Louisiana, Mississippi and Alabama to Sebring, a city of 10,700 people in the middle of Central Florid. It was a long one, Bottini said in a call to WEHOville. But that didn't mean there wasn't some fun, which was chronicled in a series of text messages from Perron to friends, which are posted below:
"Hi all. Well we have arrived in Blythe (California) … which is not so blythe. Best Western is clean, and the front desk clerk, whose name is Genesis (after the Bible, not the Rock group) was charming. Our fellow lodgers are a generally genial lot except for their shared disdain for Democrats. Needless to say we are laying low. Lol. We miss you all of you already. Karen and Jackie, however, are giving a universal finger to the world in their disgust with the human species. I am getting hissed at regularly. Hugs and kisses!!! 😘 😊
Hi all!, We are finally horizontal, blissfully resting our aching legs. We didn't make it to Deming (New Mexico), having finally hit Route 10 at about 9:30 a.m. after a free breakfast at the motel. We came to the rescue of a woman who needed jumper cables first, then we left. During the day Mom was introduced to a Love's Truck Stop, which she found fascinating as you could rent a shower!!! After much discussion, we decided to pass. Mom didn't sleep near the amount she did yesterday so she was kind of bored until we found a 60's (radio) station and started singing. Tomorrow we will listen to a book on tape as the highway patrol told us we can't sing at the truckers anymore as it was too upsetting for the truckers.
Well, that's it for now. We are in Lordsburg (New Mexico), by the way. A genuinely teeny, tiny group of houses surrounded by the larger skeleton of a larger town. They had a lot of hotels though. Sweet dreams from me and Mom!!!! 😘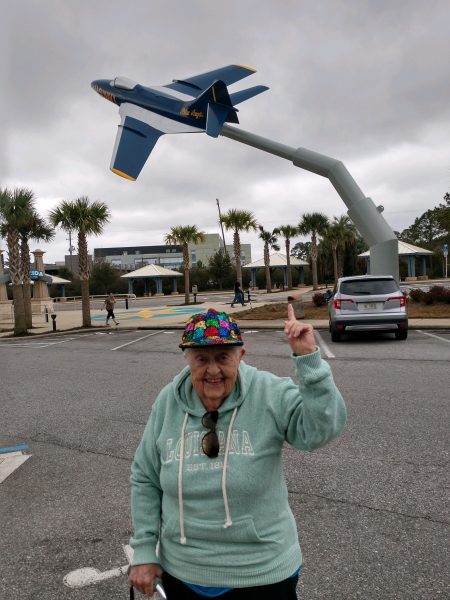 Hi All, I am under the weather after eating lunch at Applebee's. Mom is fine. I will live to fight another day, but right now I am going to sleep. I will send an even longer report than usual tomorrow. Hugs 😘
Well, here we are in Brookshire (Texas), just outside of Houston. I have recovered completely after a good night's rest at the La Quinta in Fort Stockton (Texas) last night. Aside from my feeling indisposed yesterday, the only thing that happened yesterday worth relating was our experience at breakfast where we were served by a very nice woman who, upon my asking her name, pointed to her name tag, which read "Cynthia."
She then smiled and said, "But my real name is June. My boss likes all his female employees to have names that end with I A". Noting my open-mouthed expression of outrage on her behalf, she said, "It's okay, I call him Raj, after Koothrappali on the 'Big Bang.' (I guess it's okay to stereotype and demean each other as long as it's a level playing field?) Yeah, Mom and I were rather bemused by the whole exchange.
So, today we started early after having Texas-shaped waffles and drove through fog for a couple of hours. Then the sun came out and, around lunchtime, I saw a roadside sign for Mom's favorite restaurant, IHOP. So, of course I had to pull off to go there. She was very excited and ate a hearty lunch.
As we were leaving and I was guiding Mom to the car, I noticed a commotion outside the restaurant. There were police and a group gathering around a person lying on the ground. Of course, my first response, being the loving person I am, was to say to Mom, "For God's sake, hurry up and get in the car before we get stuck here for hours!!!" (I'm going to hell).
Sure enough, the ambulance pulled up just as we screeched out of the parking lot. The rest of the day was uneventful. We finally pulled into the La Quinta and, after getting Mom settled in the room, I went out to get the baggage and cats and all the various and assorted accouterments associated with traveling with an entourage. When I returned, Mom called me over and said "I don't understand why this TV won't turn on … I keep pushing the buttons and nothing is happening!" I said, "That's the microwave, Mom"…….
Well, that's all for now. More adventures tomorrow!!! Love and kisses!! 😘
We have arrived in Kenner (Louisiana) after a long day on the road. That's just west of New Orleans. I asked for a handicap room for Mom, and we got the last one. The room is adequate, but it was a smoking room, so when we walked in I wrinkled my nose and ran out to the car to get the Lysol spray. Now the room smells better but our socks are wet. (I was a bit over zealous evidently). Also, the kitty's have to stay in the bathroom because we had to get a king and I will never get them out from under the bed in the morning.
It was kind of a yucky driving day. Started out foggy and then stayed overcast all day. Oh, Mom bought a bag to replace her little white bag. It's Teal and has silver studs on it. Look out !!! She got it at a …. wait for it … Love's Truck Stop!!! Afterward we hit the road again and she transferred her stuff into the bag while I drove. We stopped at Chick Fil A for drunch (that's lunch and dinner for those not up on cutting edge vernacular) and Mom was concerned that she was breaking the boycott. I was able to explain that they changed their ways several years ago, and she felt better.
Then, the Universe, just to assure her she was okay with it, caused the drive-in to make a chocolate shake in error, and they offered it to her for free!!!! She was most pleased. So, it was, overall, a good day. Mom says she misses you all already and that she will just have to suck it up until you visit.
Hellooooo from Midway (Florida), not to be confused with the Midway from WWll (I think that one had more restaurants). Well, after a hearty breakfast at Denny's this morning, outside of New Orleans, we hit the foggy road and breezed through Mississippi so fast we lost it in the fog. Alabama suffered the same fate, and we crossed into Florida around mid-afternoon to much cheering and general ballyhoo.
We stopped at the Welcome Center, and Mom picked up a "Visit Sebring" magazine, which promised delights such as fine dining and, get this, a nightlife. We got a good laugh out of that. I mean, sure, Olive Garden constitutes fine dining for some. But the only nightlife in Sebring I am aware of is cow tipping. And that is generally frowned upon by the ranchers.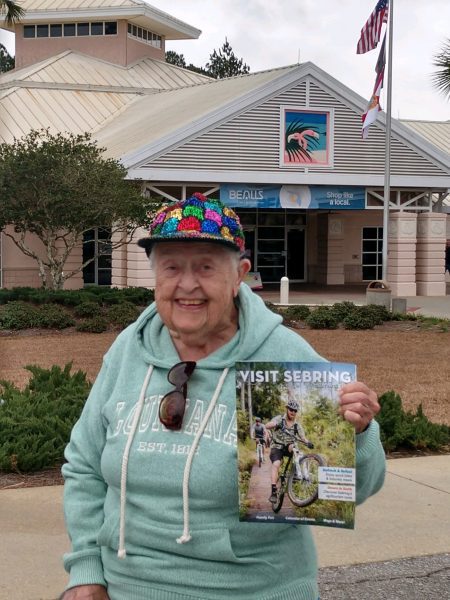 This will be our last night on the road, and we are both looking forward to reaching Sebring tomorrow!!! I will be sure to take photos of the joyous occasion and, while our little travel log has come to an end, I will continue to update you often on Mom's adventures. Happy Trails, my little buckaroos, until tomorrow. 😘
The Flamingo has landed!! We finally made it! Calloo Callay!!!