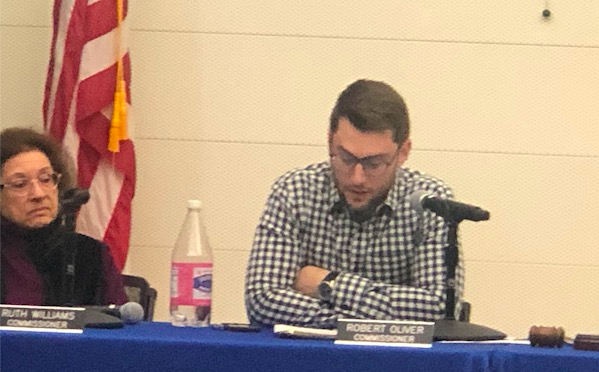 Robert Oliver abruptly resigned from the City of West Hollywood's Public Safety Commission  tonight after all but one of his fellow commissioners declined to address the growing scandal over allegations that Mayor John Duran has sexually harassed young members of the Gay Men's Chorus of Los Angeles.
"I'd like to know why the rest of the commission would stay silent when we have the second, third and fourth allegation against the mayor of our city," Oliver said, citing a story published on Feb. 5 in the Los Angeles Times and referencing a lawsuit in 2016 in which Duran's City Hall deputy accused him of sexual harassment. The city settled that lawsuit with a payment of $500,000 to former deputy Ian Owens. Duran admitted hiring Ian Owens after meeting him on the Grindr hookup app and having sex with him. But he denied Owens'  allegations that he acted in a sexually inappropriate way as his boss, making comments in the office such as "I would bottom for you any day" and asking that Owens update his address book, sorting through lists of men Duran had had sex with that were said to have noted the size of their penis or their sexual skills.
Oliver, who is gay, said he was concerned about the abuse of young gay men by older gay men of power. He said he was "astounded" at the silence of the other commissioners. "I have been honored to serve on this commission with you … but I cannot continue to serve on a commission that stays silent on issues of such importance,"  he said.  Oliver then walked out of the meeting room to a round of applause from members of the community in the audience.  Oliver was followed out the door by Estevan Montemayor, a former chair of the commission, who was sitting in the audience. "I'm disappointed in the commission.  I really am," Montemayor said.
Click here to read the full text of Oliver's statement.
The only commissioner who supported Oliver's request that the commission call for Duran's resignation was Amanda Laflen. "If roles were reversed and an elected official did this to a woman, this wouldn't be acceptable," Laflen said. She said there appeared to be a double standard in the gay community when it came to older men in positions of power taking advantage of younger men.
Duran recently announced that he will be stepping down as chair of GMCLA, a non-profit whose board he has overseen for a number of years, after publication by WEHOville  and the L.A. Times of stories in which young members of the chorus alleged sexually inappropriate behavior by him and by Jonathan Weedman, the chorus's executive director. Both Duran and Weedman have denied the allegations, and Duran has said he is leaving the board because of a "toxic" environment at GMCLA that he attributes to the allegations about him.
Duran has been accused of behavior like putting his hand into the underwear of chorus members and making inappropriate sexual comments to them. Weedman has been accused of forcing a then-20-year-old chorus member to perform oral sex on him. After WEHOville contacted GMCLA board members about the allegations, the organization hired private investigators to look into the allegation against Weedman and one of those against Duran. Duran has said neither investigator was able to gather evidence sufficient to validate the allegations.
The GMCLA board of directors is scheduled to meet on Wednesday to discuss whether to renew Weedman's contract, which is up for renewal next month. The board also will discuss the organization's serious financial issues. It is said to be in debt in the amount of $180,000 and to have not paid some contract employees for several months. 
Like the majority of the Public Safety Commission, Duran's fellow City Council members, three of whom are up for re-election in March, have been silent in public about the sexual misconduct allegations. However, when pressed for a response at an election forum on Feb. 6, Council members Horvath and D'Amico said they thought Duran should "take a pause" from his role as mayor. Councilmember Lauren Meister said the accusations, if leveled at her, "would be a terrible distraction from my responsibility as mayor of the city." Councilmember John Heilman has yet to make a public statement about the allegations.  None of the Council members has addressed the question of whether Duran should resign from his position as City Council member as well as mayor. Meister is the only one of the three incumbents who has declined to accept Duran's endorsement of her candidacy.
The City Council at its Feb. 19 meeting may, however, vote to rescind a decision it made on Feb. 4  to extend Duran's 12-month term as mayor by four months, ending this coming September. The Council made that decision as part of an effort to rearrange its schedule to accommodate a state requirement that future elections be held on the state general election date, which will be  Nov. 3, 2020. A Council member is said to have asked that the Feb. 19 agenda include a resolution to change the extension of the mayor's term.
That meeting also will feature a rally and press conference outside the Council Chambers at  which members of #MeToo Los Angeles, the local part of the international  movement against sexual harassment and sexual assault, will speak out against Duran and Ed Buck, the white political donor in whose Laurel Avenue apartment two black men have been found dead of alleged drug overdoses.  Buck, who is accused of having paid young black sex workers to do drugs at his apartment, has been a major donor to Duran's political campaigns, giving a total of $14,000. Buck has denied any involvement in the deaths of the visitors to his apartment.
The role of mayor typically rotates among Council members each spring. Given that West Hollywood is a contract city with a Council/Manager form of government, the role of mayor is largely honorary. However the mayor is seen by many residents and media organizations as an official representative of and voice of the city. Duran, who failed in a 2014 run for election for L.A. County Supervisor, has used his position as mayor to promote his political career.  He got nationwide media coverage for declaring May 31 as Stormy Daniels Day in West Hollywood. Duran welcomed the porn actress, who has alleged a sexual relationship with Donald Trump, to an event on Santa Monica Boulevard where fellow Councilmember John D'Amico gave Daniels the key to the city.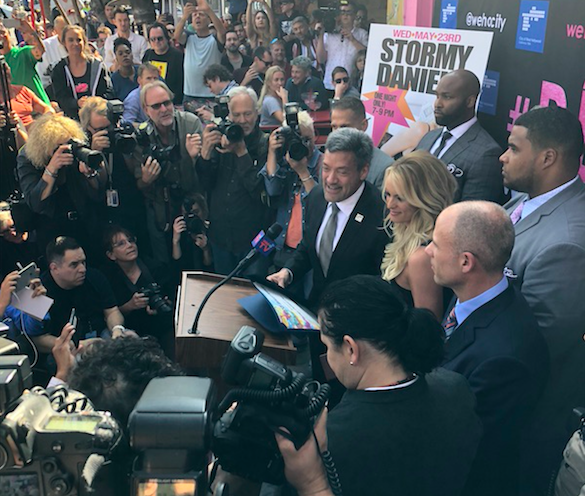 Duran also got the city to put on an event at West Hollywood Park where he stood beneath a large "Trump Baby" balloon. Duran declared that West Hollywood is the "epicenter of the resistance" to Trump. A city employee has filed a complaint with the city's Human Resources Department alleging that Duran made a sexually inappropriate comment to a photographer at the event, suggesting that by laying on his back the photographer was making himself available for sex.  Christof Schroeder, the city's Director of Administrative Services, who oversees Human Resources, has not responded to several requests from WEHOville about that complaint so it is unclear whether the city actually is investigating it.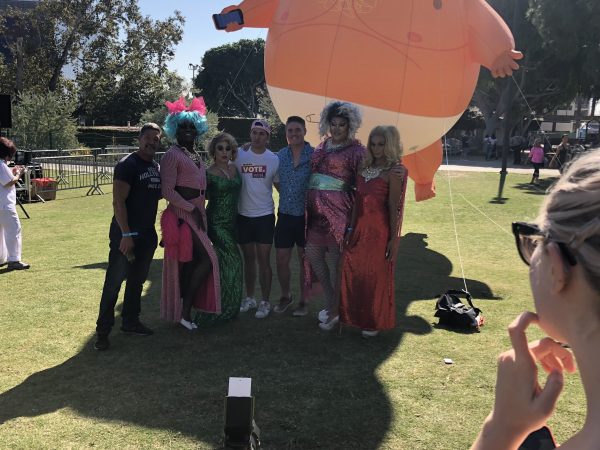 Duran is known for being open about his sexual activities  and has stressed the city's reputation as a center for sexual freedom during the days when gay men in Los Angeles were being persecuted by that city's police department for their sexual orientation. On a recent radio show he described West Hollywood as a "sex-based city." 
However Duran has been criticized for letting his sexual pursuits overlap with his official position as a mayor and City Council member. For example, fellow Council member John D'Amico called him out at a Council meeting in March 2016 for viewing Grindr, the gay hookup app, on his mobile phone during City Council meetings and at other civic events. "For years I have glanced over and seen John trolling on Grindr for men," D'Amico said. "I can no longer agree to believe that we can give John Duran a pass."
Duran also has called out his position as mayor in soliciting sex on Grindr. An attorney who spoke with WEHOville on the condition that his name not be used said that Duran had reached out to him on Grindr, texting "Don't you want to be able to tell your friends that you sucked the mayor's d-ck?" The man, who took a screenshot of the conversation, declined.  "I thought it was tacky," he told WEHOville.