West Hollywood City Council members John D'Amico, Lindsey Horvath and Lauren Meister have posted statements on their Facebook pages this afternoon asking that John Duran step down as the city's mayor.
"I continue to condemn sexual assault and harassment in all its forms and understand the importance of creating a safe environment in West Hollywood for residents, staff, appointed officials and visitors, regardless of gender and sexual orientation," says D'Amico's statement.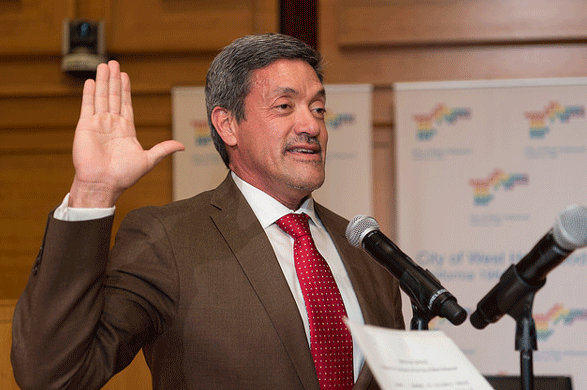 "Recent allegations regarding John Duran are dividing us and our attention, moving the city away from the important work we do; providing affordable housing, social services, advocating for rail, helping seniors, filling pot holes, code compliance and planning, renovating our parks, being a beacon for LGBTQ people everywhere, the long list of good, regular city business we can accomplish every day. For the city we all love.
"To get our city back on track John Duran needs to step away from being Mayor immediately and consult his conscience about what happens next."
Duran did not respond to requests from WEHOville for his comments on the suggestions he step down. However, in an interview with the Los Angeles Times he said he would not step down as mayor. Duran also suggested his fellow Council members were violating the law if they had coordinated their call for him to step down as mayor and for the district attorney to investigate them.
"If the three of them are talking about this, and it sounds like they are, that's a violation of the Brown Act, and the district attorney should investigate," Duran told the Times. "You can't have meetings outside of public view.… Do I think that they all got the idea to put up their statements, all three, at the exact same time without talking to each other? No."

The Ralph M. Brown Act is the state's open meeting law. According to the Times, City Attorney Mike Jenkins said "the statements reflect the individual views of each council member and are not the result of a coordinated effort."

D'Amico said the City Council had few options for dealing with the situation.
"If he does not take action on his own there are a limited set of actions for our City Council to take. We are able to demote John from his position as Mayor and / or censure him and remove his travel budget. We cannot remove John from office. And we have all asked that the City Clerk add an item to our Council agenda for the February 19 meeting so we can discuss the options in open session.
"I have genuine love for John and know that he would never want to harm our City, the city he has helped to invent, serving for nearly 20 years. I hope he will do what's right – so that we can all immediately get back to the business of doing the City's business."
Councilmember Lindsey Horvath's statement on Facebook says "First and most importantly, I condemn in the strongest terms sexual harassment and assault in all its forms. No matter whether it is perpetrated against a woman or man or gender non-conforming person, this behavior is wrong and it is unacceptable.
"I was deeply disturbed by the allegations made in a recent Los Angeles Times article about the Gay Men's Chorus and its board chair, John Duran, and I am devastated to learn of more and similar stories since that report.
"Throughout this time, I have been in close contact with our City Manager and City Attorney, as well as my colleagues. Last night, I also spent time talking with former Commissioner Robert Oliver, who spoke out at last night's Public Safety Commission meeting, as well as other long-time members of our community. I know I am not alone in saying that protecting our City has been and remains of the utmost importance to me.
"It is for this reason that I believe it is time for our Mayor to step away from his role on the Council. Our City cannot focus on the work of the people when we have to address new and numerous allegations of sexual misconduct, including whether our Mayor used his title to solicit sexual favors. It is not fair to the people of this City to continue seeing 'West Hollywood' in the same sentence as these allegations. Our City deserves better. #WeHo"
In her statement, Councilmember Lauren Meister also suggested that Duran "step away" from his position on the Council.
"Our strength as a City comes from our love for West Hollywood and from our shared values of compassion, respect and dignity," Meister wrote.
"It is very difficult for me to see our city divided, particularly, on how to address the various allegations against Mayor John Duran.
"I am neither a judge nor jury and believe that all people deserve due process.
"However, as West Hollywood holds itself up as an example for us, we need to hold ourselves to a higher standard – one we expect from any public office from City Hall to the White House.
"West Hollywood as a city is suffering as a result of the numerous and repeated allegations against Mayor Duran. The City Council cannot force a resignation, 'impeach' a colleague, or remove them from office – only the voters can do that. I hope that it does not come to that and I have hope that Mayor Duran will do the right thing.
"I believe that Mayor Duran should do what's best for the City – in this case, it would be to step down from the position of Mayor, and perhaps, step away from the Council position so that he can focus on these issues and the City can focus on moving forward."
Councilmember John Heilman has not issued any statement about the allegations against Duran. Unlike D'Amico, Horvath and Meister, he is not running for re-election on March 5. Robert Oliver, a young gay man who is vice chair of the city's Public Safety Commission, last night asked that Duran resign and pushed his fellow commissioners to do the same. Only one, Amanda Laflen, spoke up in support of Oliver, who then stepped down from his position as commissioner.
Duran recently announced that he will be stepping down as chair of Gay Men's Chorus of Los Angeles, a non-profit whose board he has overseen for a number of years, after publication by WEHOville and the L.A. Times of stories in which young members of the chorus alleged sexually inappropriate behavior by him and by Jonathan Weedman, the chorus's executive director. Both Duran and Weedman have denied the allegations, and Duran has said he is leaving the board because of a "toxic" environment at GMCLA that he attributes to the allegations about him.
Duran has been accused of behavior like putting his hand into the underwear of chorus members and making inappropriate sexual comments to them. Weedman has been accused of forcing a then-20-year-old chorus member to perform oral sex on him. After WEHOville contacted GMCLA board members about the allegations, the organization hired private investigators to look into the allegation against Weedman and one of those against Duran. Duran has said neither investigator was able to gather evidence sufficient to validate the allegations.
In 2016 the City of West Hollywood settled a lawsuit in which Duran's City Hall deputy, Ian Owens, accused him of sexual harassment. The city made a payment of $500,000 to Owens. Duran admitted hiring Ian Owens after meeting him on the Grindr hookup app and having sex with him. But he denied Owens' allegations that he acted in a sexually inappropriate way as his boss, making comments in the office such as "I would bottom for you any day" and asking that Owens update his address book, sorting through lists of men Duran had had sex with that were said to have noted the size of their penis or their sexual skills.
Since the City Council members posted their statement on Facebook, two challengers in the March 5 election have made statements of their own.
"I attended last night's Public Safety Commission meeting, where former Commissioner Robert Oliver spoke truth to power and shared a powerful statement about the allegations against John Duran recently publicized by the Los Angeles Times," said Sepi Shyne.
"I agree with Mr. Oliver, in no uncertain terms. That is why I'm asking John Duran to resign from the West Hollywood City Council and allow our city to begin healing, and that is why I will work to establish strict policies for city officials and staff on day one to ensure no one is made to feel unsafe or threatened again, regardless of gender or sexuality."
In her statement, Marquita Thomas stopped short of asking Duran to step down as mayor.
"As we learn about more and more allegations about a pillar in our community, I cannot help but have compassion for the victims and think about how our City's legacy and leadership are being tarnished under the spotlight of public scrutiny," Thomas said.
"As they say, 'where there's smoke, there's fire,' and we cannot stand idly by and watch the same things happen again and again as we have done elsewhere in this City.
"I love West Hollywood—that's why I am running for City Council—and encourage anyone who feels the same to speak up and ask that our leaders do the right thing for the victims, for our values and for our reputation as a safe harbor for LGBT people around the country and the world."
At a recent City Council candidates forum, challengers Brendan Hood and Tom Demille said that Duran should step down as mayor. Duke Mason, another challenger, has said that Duran should consider such a move.