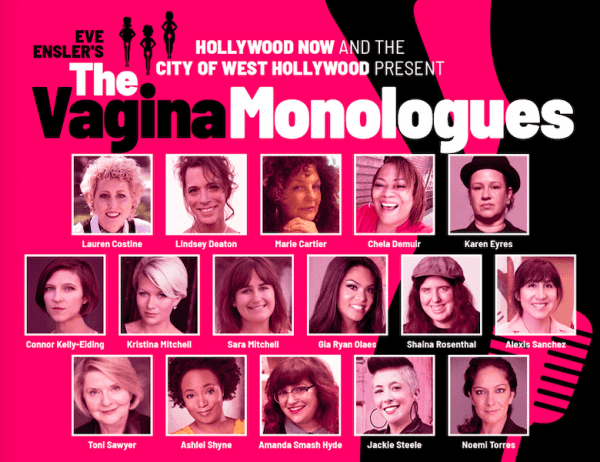 The Vagina Monologues will take place on Saturday (Feb. 16) and Sunday (Feb. 17)  at 2 p.m. at the City of West Hollywood's Council Chambers,  625 N. San Vicente Blvd. It will be performed by local grassroots activists and leaders and will feature original material written by the cast that spotlights the significant diversity of women's voices and their stories.
Twenty-one years ago, Eve Ensler's play The Vagina Monologues gave birth to V-Day, bringing widespread attention to issues of harassment, rape, battery, incest, female genital mutilation and sex slavery. Every year around the world, The Vagina Monologues is performed by local activists to raise awareness and funds for organizations supporting women. To date, these events have raised more than $100 million for grassroots anti-violence groups and safe houses worldwide.
The cast for this production includes Lauren Costine, Lindsey Deaton, Dr. Marie Cartier, Chela Demuir, Connor Kelly-Eiding, Kristina Mitchell, Sara Mitchell, Gia Ryan Olaes, Alexis Sanchez, Toni Sawyer, Ashlei Shyne, Amanda Smash Hyde, Jackie Steele and Noemi Torres.
As part of the city's annual commemoration of V-Day, attendees will be encouraged to add their voices to the global effort to end violence against women via the hashtag #vday. Violence prevention and awareness information will also be available including the city's Only Yes Means Yes public awareness campaign about sexual assault, which promotes the message of consent.
This event is endorsed by the city's Women's Advisory Board, Transgender Advisory Board and Lesbian and Gay Advisory Board; Pacific Shore NOW; V-Day; One Billion Rising – Los Angeles, and The Stonewall Democratic Club.
Tickets are $15, and proceeds benefit Hollywood NOW and Planned Parenthood Los Angeles. Validated parking will be provided in the adjacent five-story West Hollywood Park structure.
For more information or to purchase tickets, please visit vaginamonologues.eventbrite.com. For questions, please call (323) 596-7389 or email hollywoodnowchapter@gmail.com.