As an activist in the city, a life-long resident and one of the co-founders of West Hollywood, I have thought long and hard about writing this, but after receiving numerous phone calls since our Commission meeting on Monday evening I feel that I need to share my thoughts. As a woman who has devoted most of my life fighting against sexual harassment, sexual assault, racism, discrimination, and supporting equality and human rights. I felt the need to speak out on my feelings regarding the most recent allegations against John Duran and triggered as well by his recent racist comment.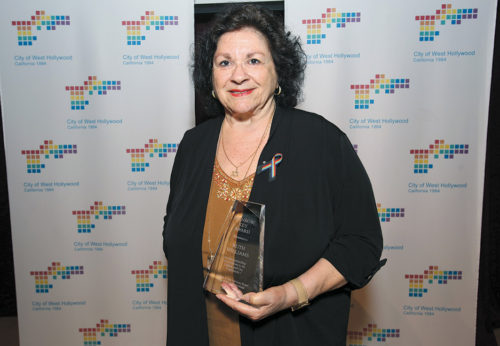 First of all I've been a friend of John's for over 30 years, I respect his leadership and commitment in and for the LGBT community, human rights, his fights for equality, his fight in the 80's for AIDS funding in Sacramento, his work with APLA, and his fight for educational programs targeted against Crystal Meth that he spearheaded. As well as his deep love for West Hollywood. It's a tragedy that his long legacy of fighting for LGBT civil liberties and his contributions are dampened by this alleged behavior.
All that said, I also consider Robert Oliver a dear friend, and a respected Commissioner who cares deeply about WeHo and is 100% committed to the city and in what he believes in. I can only speak for myself regarding his speech at our Commission meeting last Monday night. I was caught off guard and honestly at a loss for words. Unfortunately, after he spoke he abruptly got up and left as did Hank Scott, so neither heard some of our comments. Sitting next to him I felt that his nervousness, his passion and his sincerity were real and I wish he had been there to hear what was said. As I previously mentioned, I am a woman who has spent the better part of my life fighting racism, homophobia, unwanted sexual harassment and/or sexual assault and discrimination in any form. I was also recently stunned to see the racist comment from John regarding the young Asian man from the Gay Men's Chorus, which hit me on a very personal level as well. My beloved daughter-in-law is Asian-American, and I'm proud to be her mother-in-law. She is a fantastic wife, an incredible mother to my grandson, and a beloved teacher, and I'm so lucky to have her in my life. It's just simply wrong to make hurtful, racist statements like that, and I stand by the API community, and especially API members of the LGBT community.
What I'm not hearing is John taking any responsibility or making a public apology to those hurt by unwanted advances, for these comments. For these reasons I cannot remain silent. Other highly respected elected officials such as Al Franken, with similar allegations against them, have stepped down from much higher office for the betterment and healing of their constituents and our country. And now I join others in stating that our city needs to heal and go forward in supporting Robert and members of the Council and citizens in stating it's time that John step down from the Council.
What a dark moment in time for our city, which has always taken such a public stand against this type of behavior.
I also respectfully ask the Council to reject Commissioner Oliver's resignation and allow him to resume his role on the Public Safety Commission where he is needed!