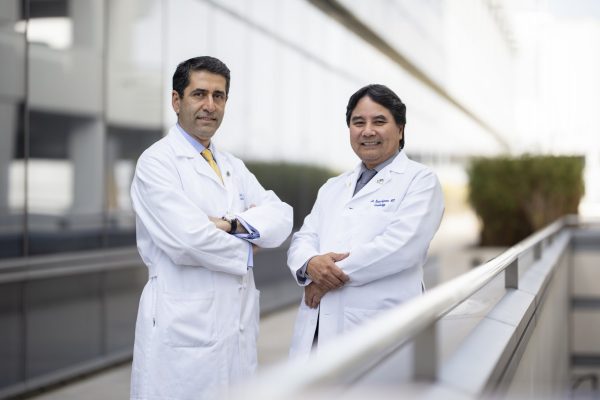 The Smidt Heart Institute at Cedars-Sinai once again ranked first in the country for completing more adult heart transplants in 2018 than any other U.S. medical center.
The Smidt Heart Institute transplant team completed 122 heart transplants during the calendar year, including two heart and kidney transplants.
The year's transplant statistics were compiled by the United Network for Organ Sharing (UNOS), the nonprofit organization that manages the U.S. organ transplant system and collects data on every transplant performed in the nation.
"Behind every heart transplant patient is a donor who gave the ultimate gift – life," said Eduardo Marbán, MD, PhD, director of the Smidt Heart Institute. "On average each week, we are able to give two or three patients more time and moments with their families and friends. It's both an honor and privilege we take great pride in."
Every year since 2010, the Smidt Heart Institute has performed more adult heart transplants than any other U.S. medical center. Despite Cedars-Sinai's transplant achievements, the need for organs remains great. According to UNOS, more than 114,000 people in the U.S. are waiting to receive a life-saving organ transplant.
"No transplant procedure is merely a surgery," said Fardad Esmailian, MD, surgical director of the Heart Transplant Program. "We realize each procedure as a gift of life for the recipient and a selfless act made by a willing donor."
The achievement also is accompanied by outstanding patient outcomes that surpass the national average, as reported recently by the Scientific Registry of Transplant Recipients.
"These prestigious achievements could not happen without the dedication and outstanding care provided by our multidisciplinary team, of surgeons, physicians, pharmacists, nurses and other health professionals," said Jon Kobashigawa, MD, director of the Heart Transplant Program at the Smidt Heart Institute at Cedars-Sinai. "We are grateful for the steadfast trust our patients put in us, knowing our ultimate goal is to provide life-saving, excellent care to every patient we come across."
The Scientific Registry of Transplant Recipients also recently named Cedars-Sinai's Liver and Transplant Program as having the best one-year survival outcomes of all hospitals in California, with 96% of patients surviving beyond the one-year milestone. Cedars-Sinai's Liver Transplant Program is one of only six in the U.S. – and the only program west of Texas — to receive the SRTR designation of "better than expected" results.
"Patients transplanted at Cedars-Sinai can rely on our specialized, compassionate teams who follow each patient through their entire treatment journey," said Andrew Klein, MD, the Esther and Mark Schumann Chair in Surgery and Transplantation Medicine and director of the Cedars-Sinai Transplant Center. "And post-transplant, patients can expect this same level of care for the rest of their life."