One of West Hollywood's more prominent neighborhood leaders has launched a petition on Change.org asking that Mayor John Duran resign from the City Council.  It is the latest in a number of efforts to convince him to step down in the wake of allegations of sexual misconduct by him and his response to those allegations.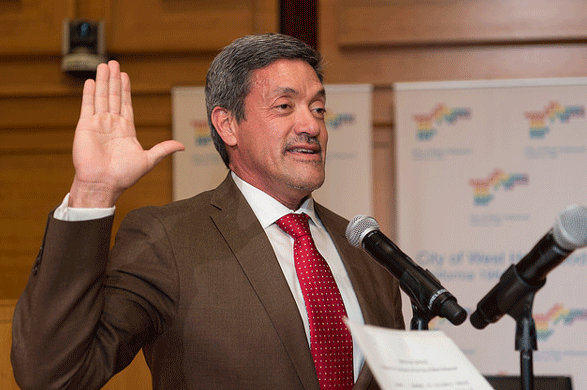 The petition – headlined "John Duran – Please Resign from WeHo City Council!" — was posted today by Elyse Eisenberg, chair of the WeHo Heights Neighborhood Association.  Change.org is a website often used by activists on a variety of issues to collect signatures to show support for the changes they are seeking.
"We believe the time has come for you to acknowledge that the line between your private life and your public one has been crossed and is beyond redemption," the post on Change.org reads.  "Your behavior has become a distraction and national gossip fodder, and your continued presence as a Councilmember in the age of #MeToo is an ongoing embarrassment and a poor reflection on the world-renowned, progressive City of West Hollywood.
"Your behavior and constant references to your unabashed sexual promiscuity is 1) TMI and 2) in this day and age – if it ever was, represents Conduct Unbecoming a Public Official representing ANY community, LGBTQ or otherwise.
"West Hollywood is, and always will be, a safe haven for the LGBTQ community.  Their elected representatives, whether members of that community or not, should treat ALL their constituents with respect at all times – in their private life as well as their public one, whether members of the LGBTQ community or not.  There is not a different standard for a member of the LGBTQ community – and there never was.
"Mayor Duran, you have not met those standards in many years and you openly acknowledge that.
"While your many years of service to the City of West Hollywood, and your many accomplishments with LGBT equality, HIV/AIDS and other issues are and will remain important, don't let your blind ego tarnish the rest of your legacy.
"It is time to step down and let us all move on."
Duran, a 59-year old gay man, has denied allegations by three young members of the Gay Mens Chorus of Los Angeles, whose board he has chaired for years, that he engaged in sexually inappropriate behavior with them. Those allegations were published initially by WEHOville and the Los Angeles Times and since then have been reported by media across the nation.
In response to the allegations, Duran has described himself as a highly sexual person. In an interview on Friday with KNX 10.70 NewsRadio he said that the fact that he is the focus of the GMCLA allegations and others that have come to light is because he is "the only, I think, sexually active member of the City Council.  I don't want to besmirch my colleagues, but I mean, I don't think any of them are having the level of activity I am."
Groups ranging from the Stonewall Democratic Club, which advocates for LGBT interests in the Democratic Party, and API Equality-LA, an Asian and Pacific Islander LGBTQ community organization, have demanded that Duran resign.  West Hollywood City Councilmember Lindsey Horvath also has asked that he resign. Her fellow Council members have only gone so far as to say he should step down from his honorary position as mayor, which expires in May. The Los Angeles Times published an editorial last week saying he should resign.
Others who have called for his resignation include the Los Angeles chapter of the #MeToo movement, an organization initially created to fight sexual abuse of women by men of power, and Justice4Gemmel, a group advocating for a tougher investigation into the death of Gemmel Moore and another black man in the Laurel Avenue apartment of Ed Buck.. Buck, 64, is a white Democratic Party donor who allegedly hires young black sex workers.  He has been a major donor to Duran's various election campaigns.
To date Duran has said he will not resign as mayor or leave the City Council.  However he did abruptly resign last week as chair of GMCLA and said he would step down from the board of directors at the end of its season this summer.