The latest move in the campaign for the arrest and prosecution of Ed Buck will take place tomorrow, when Color of Change, the nation's largest online racial justice organization, will deliver more than 30,000 petitions calling on L.A. County District Attorney Jackie Lacey to prosecute Buck for the deaths of Gemmel Moore and Timothy Dean.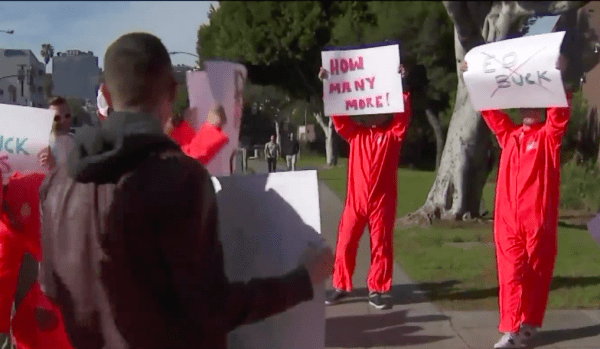 The event will be attended by LaTisha Nixon, the mother of Gemmel Moore, a 26-year-old black escort who was found dead of a drug overdose in Buck's apartment on Laurel Avenue on July 27, 2017. The L.A. County Coroner's Office ruled the death an accident, which prompted friends and relatives of Moore and local activists to push for law enforcement officers to investigate it. District Attorney Lacey declined to prosecute Buck after receiving the findings from the L.A. County Sheriff's Department. On Jan. 7 of this year, another black man, Timothy Dean, 55, also was found dead in Buck's apartment, which has escalated both the campaign to prosecute Buck and an investigation by the Sheriff's Department.
There have been several protests in front of Buck's apartment building at 1234 Laurel Ave. by members of the Justice4Gemmel group and Black Lives Matter.  On Saturday, a group of demonstrators gathered outside the West Hollywood Sheriff's Station to demand action.  The investigation is being carried out by the Sheriff's Department's detective bureau and is outside the purview of the West Hollywood station.
Buck, a 64-year-old gay, white man with a reputation for soliciting young black escorts and for allegedly using methamphetamine, is well-known in political circles as a donor to Democratic Party candidates. Demonstrators have demanded that those who have received contributions from Buck donate that money to Justice4Gemmel or other similar causes.
The petition will be delivered at 11 a.m. on Tuesday at the Hall of Justice, 211 W. Temple St., in downtown Los Angeles.