The latest round of campaign finance reports, filed Feb. 21, shows that a total of $1.05 million has been raised so far by candidates for three seats on the West Hollywood City Council, by a political action committee supporting two of incumbents and by supporters and opponents of the two measures on the March 5 ballot.
As noted before, most of the fundraising involves Measure B, a proposal on the ballot to reaffirm the West Hollywood City Council's decision last year to approve construction of the Arts Club on Sunset Boulevard at Hilldale. Unite Here Local 11, the restaurant and hotel workers union, which opposes the project, was successful in gathering signatures to put it on the ballot in the hope that voters would reject the Council's decision. No money is being spent to promote or oppose Measure Y, which would impose a 7.5% tax on recreational cannabis sales.
"Citizens for a Better West Hollywood," the political action committee established by Unite Here, raised $255,950 in an unsuccessful effort to put on the ballot a measure that would allow voters to rescind the City Council's approval of the Robertson Lane project. But it was successful in putting Measure B on the ballot and appears to be using some of the funds from its PAC to pay for campaign mailers and door-to-door efforts to convince residents to oppose the Arts Club project. Some of those campaigning against it also have asked voters not to support incumbent John D'Amico and instead vote for challenger Sepi Shyne. D'Amico and fellow incumbent candidates Lauren Meister and Lindsey Horvath and Mayor John Duran supported the project. Councilmember John Heilman voted against it.
Even more money has been raised by "Yes on Measure B, Residents to Preserve the Sunset Strip." That PAC was formed by VE Equities, a New York City real estate developer that is partnering with U.K.-based London & Regional Properties to build the Arts Club building. VE Equities has contributed $650,000 to the campaign for the Arts Club as of Feb. 21.
That means $404,956 has been raised to support seven of the 11 candidates running for three City Council seats. Challengers Eric Jon Schmidt, Tom Demille, Jack Cline have declared they will not accept contributions, and challenger Shawn Davis Mooney has not filed any reports indicating that he has received financial support for his campaign. Of that amount, $306,956 has been raised in the form of individual donations to specific candidates. Another $98,000 has been raised by a political action committee largely funded by real estate interests and billboard companies that is campaigning for the re-election of D'Amico and Horvath.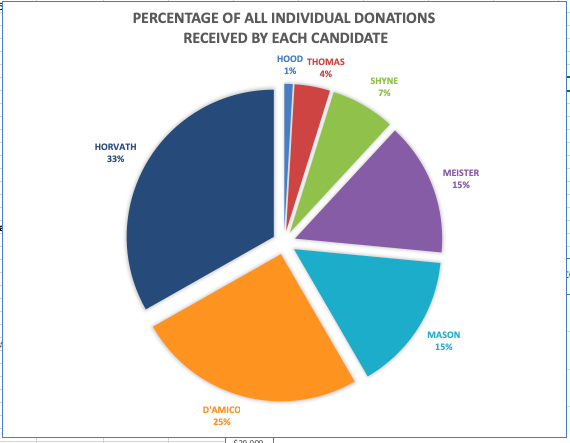 Which Candidates Have Raised the Most Money?
As of Feb. 21, Incumbent Lindsey Horvath's campaign ranks No. 1, with $101,930 in donations. No. 2 is incumbent John D'Amico, with $77,200. Those figures don't include the $98,000 raised by the PAC formed to support them. Political action committees are not allowed to coordinate their campaigns with those of the candidates they support.
James Duke Mason, who is making his second run for a City Council seat, has raised $46,480.  Incumbent Lauren Meister ranks fourth with $44,896 in donations. Challenger Sepi Shyne ranks No. 5 with $21,650 in donations, followed by challenger Marquita Thomas with $12,000 in donations.  Challenger Brendan Hood has raised $2,800.
Challengers Jack Cline, Tom Demille, Mark Davis Mooney and Eric Jon Schmidt have not reported any donations.
How Much Has Been Donated by Real Estate Developers or Those Seeking Council Votes or Support?
As usual, the real estate industry is the largest single source of business or organization donations to City Council candidates.
As of Feb. 21, $103,550 has been donated by owners and operators of real estate companies and their lawyers and lobbyists and other associates and family members, which includes $45,500 from real estate interests contributing to the PAC supporting D'Amico and Horvath.
The cannabis industry has been a major donor in this election. Keff Times, a Las Vegas company associated with the Essence cannabis dispensary, donated $30,000 to the PAC supporting D'Amico and Horvath. Various cannabis companies – including two of those who are lobbying for recreational cannabis licenses after having failed to qualify for them –have donated $2,600 to D'Amico's campaign. One of those donors is MedMen, which donated $500 to D'Amico and the same amount to fellow incumbents Horvath and Meister.
Billboard companies such as E.T. Legg, Ace Outdoor and Orange Barrel Media donated a total of $20,000 to the D'Amico/Horvath PAC.
What About City Vendors?
To date city vendors haven't donated much. Athens Services, the city's trash pickup vendor, has donated $500 to each of the three incumbents. Hollywood Tow, the company that has a contract to tow illegally parked cars from city streets, donated $250 to D'Amico. And Symblaze, a marketing firm that has worked on several projects for the city, donated $150 to each of the three incumbents.
Who Are the Biggest Recipients of Real Estate Industry Donations?
The biggest recipient is John D'Amico, who has received $34,800 in donations from real estate developers and their associates, which constitutes 45% of direct donations to his campaign up until Feb. 21. Lindsey Horvath ranks second, with direct contributions of $12,500 from real estate interests, or 12% of her total. Those figures are much larger when one adds in the $45,500 in real estate donations to the PAC supporting D'Amico and Horvath.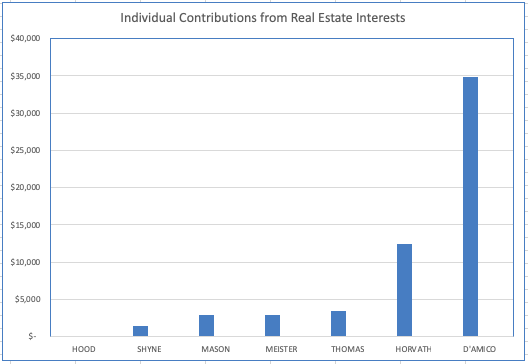 Ranking No. 3 is Marquita Thomas, who has received $3,500 in real estate related donations, which constitutes 29% of her donations. Her largest donors are members of the Illoulian family, donors of $3,000 of that amount. Jason Illoulian is the owner of Faring, developer of the Robertson Lane hotel and retail project among others in West Hollywood.
Lauren Meister has received $2,950 (7% of her total) from real estate interests, who include local real estate agents. Duke Mason has received $2,900 in donations from real estate interests, which constitutes 6% of his total donations, and Sepi Shyne has received $1,400 (6% of her total).
These donations include money from real estate developers and lobbyists and lawyers working for them as well as real estate or property managers and real estate agents. Also included are donations from family members of those in the real estate business.
Which Candidates Attract the Most Local Donors?
First, it must be noted that only donors of $100 or more are identified by name and location. Donations of less than $100 are grouped into a single number in a campaign expense report. When it comes to local donations of $100 or more, Lauren Meister leads her competitors in this metric, with 147 of her 195 donors (75%) being residents of West Hollywood. John D'Amico comes in second with 62 (28%) of his 225 donors being West Hollywood residents.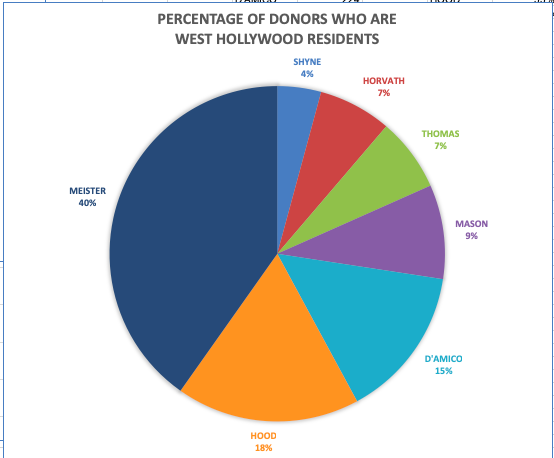 Other candidates with local donors are Duke Mason, with 32 local donors (17%) and Lindsey Horvath, with 43 local donors (13%).
Six of Marquita Thomas's donors (13%) are West Hollywood residents, with Sepi Shyne having seven local donors (making up 8% of her donors). Brendan Hood's four local donors make up 33% of his total. Shyne has noted that she has hosted several events where those attending included West Hollywood residents who made donations of less than $100 each.
EDITOR'S NOTE: This story is an updated version of an earlier one that was discovered to have errors because campaign data downloaded from the City of West Hollywood's website was not complete. WEHOville thanks Sheila Lightfoot for helping track the cause of the error and for taking on the tedious task of entering data not in the online database into a separate database and providing it to WEHOville. We have reached out to the City Clerk about the online campaign finance database issues.