During election season, candidates rightfully spend a lot of time talking about their positions on the issues and their plans for the future of our city. But one of the other most important questions that doesn't get answered enough is this: Why are we doing this? What is our motivation for running?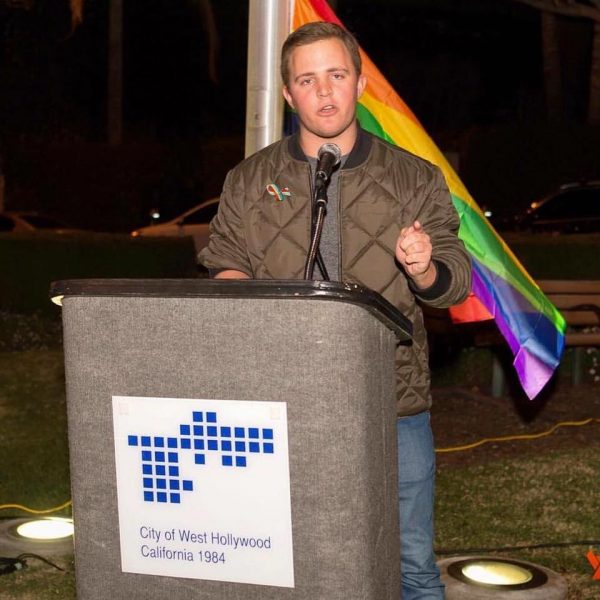 My motivation is simple: I love West Hollywood. This city is my home. I was born in West Hollywood to parents who themselves grew up in L.A. and shared with me their love for this city. I grew up patronizing WeHo institutions like the Hamburger Hamlet on Sunset, which still holds a special place in my heart. My mother would tell me stories about how she started her singing career right up on the Sunset Strip at venues like The Whisky and The Roxy; from a very young age I understood that this was a unique and special place that must be preserved and protected for the future.
West Hollywood took on an even more deep and personal meaning for me when I came out as gay as a teenager. I spent my high school years studying abroad but knew that as soon as I turned 18, I had to come home. And sure enough, that's exactly what I did: I dove into LGBTQ advocacy, writing articles for Out and The Advocate and serving on the board of the L.A. non-profit Outfest, the youngest board member in the organization's history.
At 20, I was an official surrogate for President Obama's re-election campaign, and at 21 I had my first exposure to local politics when I ran for WeHo City Council. I didn't win of course, but it led to some incredible opportunities to serve our community. I was appointed by then-Mayor Lindsey Horvath to her 21st Century Leaders Task Force. I served on the board of the West Hollywood Community Housing Corporation. And for the last four years I've served on the West Hollywood Lesbian & Gay Advisory Board, including a year as co-chair.
In my day job as a public relations consultant, I've worked for major companies such as ABC Television and Sony Pictures, but it's the work I've done for local non-profits that I'm most proud of. I was a public relations specialist for the WeHo non-profit Mercy For Animals, which is dedicated to preventing cruelty to animals and promoting compassionate food choices and policies. I'm a strong advocate for animal rights and animal welfare, and that passion will continue if I am elected to the City Council.
I've heard some people talk about my age and family background as a sort of disqualifier; yes, I'm young, and yes I've been lucky to have certain opportunities afforded to me in life that I am very grateful for. But if you really look into the facts instead of listening to the distortions and the caricature some have tried to create, you'll see that I am someone who has worked hard to make a difference on behalf of our community. Over the last decade I've been an activist, a community advocate, a non-profit leader and city official, and I hope to bring that track record of experience and bold, progressive leadership to the City Council.
West Hollywood is incredible in so many ways. On most levels we are doing great, but there are certainly some big challenges that we need to address. During my last several years in city government, as well as simply as a resident, I've heard many express their concerns about the rising cost of rent and the increasingly urgent housing crisis. As someone who lives in a one bedroom rent-stabilized apartment, I am committed to protecting and expanding renters' rights, and as a former board member at WHCHC, expanding affordable housing is a top priority for me.
Tied into affordable housing is the homelessness crisis, which we need to address head on. WeHo is beginning to take piecemeal steps towards addressing it, but we need a comprehensive, all-encompassing approach. If I am elected, I am pledging to end chronic homelessness by the end of my first term. We can do this through a combination of shelter and transitional housing, plus a "housing first" approach much like cities around the country have done to partner with non-profits and build more permanent housing with wraparound services.
Public safety is also a big concern, and while the City Council has said it has made progress in this area, this has not been reflected in the stories I've heard from residents, particularly those who live on the Eastside. Families are afraid to take their kids to Plummer Park; people are afraid to walk their dogs or patronize local businesses at night because of the increasing sense of danger and vulnerability. We need to make sure our streets are safe, which is why I've called for increasing foot/bicycle patrols and finally putting a police satellite sub-station on the Eastside of our city.
The most important role of a City Council member is to listen to his or her constituents. I have listened, and I will continue to listen if I am elected to the City Council. I hope to have your vote on March 5th.