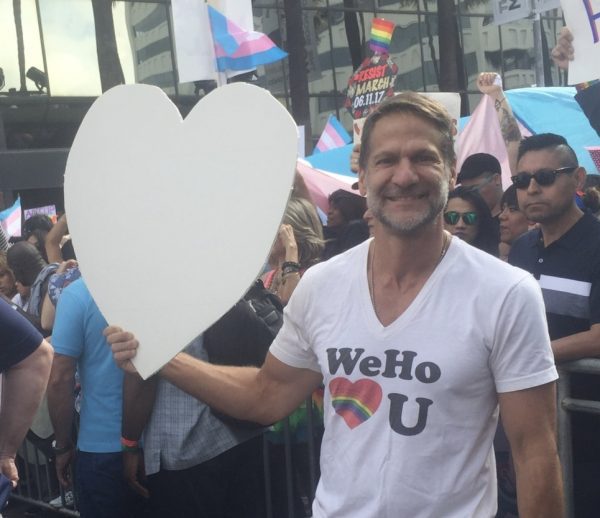 It's truly my honor, as a member of the City Council, to serve the people and communities of West Hollywood. For me, there's no greater privilege than partnering with local residents to protect and improve our neighborhood quality of life while championing West Hollywood's deeply held values and rights.
Of course, Election Day is this Tuesday, March 5th, and since I love public service, I humbly ask that you consider voting for my reelection to the City Council. Whatever your choice, I urge every eligible voter to exercise the right to vote: what we need to be doing nationally, we should also be doing locally!
As always, your interests, safety and security are my top priorities. If you choose to support me, you'll be joining the Democratic Party, Stonewall Democrats, Young Stonewall Dems, and the West Hollywood-Beverly Hills Democratic Club, all of whom have strongly endorsed my candidacy based on my steadfast commitment to progressive efforts and goals.
I have a passion for what is called "city-making" — and that includes making sure that we help and give voice to every constituent with a concern or suggestion about life in West Hollywood. It's a team effort, and I do my utmost to provide practical and accountable leadership, so that all residents and community groups have a chance to be heard, can get help when needed, and know how much their city cares about their well-being.
While it is a team effort, here are some of the crucial successes I'm especially proud of helping to accomplish since taking office:
• I insisted that we have two new dog parks and now we do, and a third is on the way.
• I wrote the item that started the Pick-Up line, our invaluable weekend trolley that reduces the demand for parking and gets residents safely home on the weekend.
• I helped put the pedestrian safety plan in place for Santa Monica Boulevard and Fountain Avenue, bringing accident rates there down to nearly zero while keeping traffic moving.
• Recently my colleagues adopted a plan to reorganize our public safety and code compliance effort to better serve residents with "quality of life" concerns and beef up patrols and policing for added security.
• I've written innovative, heartfelt animal advocacy legislation, including a "fur free" ordinance that has since been emulated by other cities and that may also be approved by the California legislature this fall.
 • I've helped lead the way to achieving sensible new sustainability regulations for our city, making West Hollywood's buildings as green as possible and diminishing negative impacts on the environment for decades to come.
• I authored our electrical vehicle charging plan — the first such citywide effort in California.
• I helped develop our new "building resiliency" policy to ensure that our apartments and buildings are able to face the challenges of the future.
• I've supported stronger rent control ordinance language so that our residents have every opportunity to stay in their housing as long as possible, including when threatened by developers.
• Homelessness is a massive regional challenge throughout our region; here in WEHO, we have successfully moved about 25% of our homeless population off the streets into permanent housing every six months, through drug rehab programs, homeless outreach programs, and our large network of service providers. That is a major accomplishment and I praise and congratulate all involved.
Still, those people who were on the streets are replaced by new homeless people moving into the city, or some of the same people who become homeless again. I advocate for greater coordination of efforts with regional and neighboring partners — the good news is that L.A. City has opened several new shelters, and L.A. County is committing funds, most recently $300,000 to the City of West Hollywood to identify sites for permanent shelters.
• So that all residents now and in the future enjoy the crucial support that our city can provide, I am working on a human services budget that grows with the city's budget.
• I have doubled the arts program, including putting the very first transgender targeted arts and arts organization program in place.
• I've championed new public "open space" policies that give people more freedom, ways and places to enjoy our city — for free!
• I've provided strong local business advocacy and helped design the cannabis program that can bring an additional $5 million to the city every year.
• I've promoted new ways and technology to enhance public safety and reduce crime — including how the Sheriff's Station and neighborhood activists may best employ code compliance to protect our local quality of life.
In these and so many other critical efforts, pragmatic thinking has helped our city be a leader — not just in the region but around the globe. Being visionary counts for a lot, but so does showing up when an issue is on the line, and doing the hard yet practical work involved in getting things done.
I now want to pay special attention to an issue, housing, that is of dramatic consequence here in West Hollywood. We need to safeguard the diversity of our housing stock and housing options, ensure that our rent-control laws are the strongest they can be, produce a new and viable set of apartments, and protect the apartments and apartment dwellers that we have.
WE can all be proud that WEHO has been a leader in affordable housing, market rate housing development and rent control, yet the entire region is suffering a housing crisis. If only our neighboring cities had adopted our "affordable housing first" policies, our region would not be in this mess! Unfortunately, Culver City is building thousands of market rate units today and not a single affordable unit; Beverly Hills all but refuses to build affordable housing, and Los Angeles sometimes gets only 6-8 units of affordable housing in buildings with over 200 units. Such shortsightedness afflicts our region: for example, Huntington Beach is being sued by the state for its bad housing policy.
By comparison, our city has long established 20% minimums and has often exceeded that when the buildings are finally approved and built. This has meant that we have built 421 inclusionary housing units and 459 non-profit units (880 total) on top of the 516 affordable units we have had in place since before cityhood. In our 35 years as a city, we have more than doubled our truly affordable housing while keeping rent control in place. So we have reason to be proud of WeHo's leadership role — but our city must stay vigilant, steadfast and creative.
We have a dynamic, exciting city, with nearly 18,000 rent-controlled apartments, and we're doing our best to make sure such apartments remain available to serve the residents living in them and new residents for generations to come. Keeping our neighborhoods safe and these units in service is priority one. They are the backbone of our community — yet as you may know, we do not always control the rights of use of these properties: some Sacramento policymakers might want to force cities like ours to conform to their ideas and standards, regardless of the impact on our existing communities and residents. So there are challenges. I promise that I will continue to seek out and listen to your input and concerns about these and other issues, and will stand with you, always providing activist teamwork and leadership for the sake of what's best for West Hollywood and you the resident.
And though it seems like our city is more crowded than ever, our census report from 2000 to 2016 shows that our overall population has increased by .04% or approximately 175 people. That said, our population demographics are shifting. Younger people are moving into apartments that were occupied for decades by seniors and other long-term residents. Many LGBT folks are aging in place, living where they dearly hope to stay or having few other options, and many residents have growing families.
So our population is shifting and so are some of our needs, which is why we will continue to need leadership that is  visionary and inventive but also practical and principled — and perhaps most of all, compassionate for the sake of those we serve. WeHo is all about having the best and most responsive programs to serve its people.
Many of us have been doing this work for decades, in big ways and small. West Hollywood has faced extraordinary challenges, crises and opportunities. There have been times of exultation and others of tragedy and heartache. Through it all, West Hollywood has remained remarkably vibrant, optimistic and productive, and that's because our residents have driven the agenda. I saw that 20 years ago, when I was on the Disability Advisory Board. I saw it later when on the Human Services Commission. And I see it today, because I am privileged to be a member of our City Council.
Some Council decisions are based on future benefits (Metro rail to WeHo) and others on catching up on pieces we may have left behind (seismic upgrades of existing housing) — but mostly, I work on helping in the present. City-making should not be confused with "feel-good platitudes." City-making takes commitment, diligent effort, and a pledge to always work with and help the people who live in our city. It's all about partnership, teamwork, transparency and accountability. Those are my guiding principles — as is my personal promise to always live a life of devoted public service and complete integrity.
So Tuesday is election day. I hope to be reelected, and if so, I will continue to bring my pragmatic approach and Democratic/humanitarian values to my Council duties, determined to solve problems even while knowing that everything changes and WeHo is helping lead the way. As always, if you'd like to talk more about these or other matters, now or anytime to come, please feel free to send me an email at jdamico@weho.org or give me a call / shoot me a text at (310) 498-5783.