Members of the West Hollywood City Council struggled tonight to address allegations of sexual misconduct and racist and awkward public comments by John Duran that have riled local residents and attracted publicity nationwide.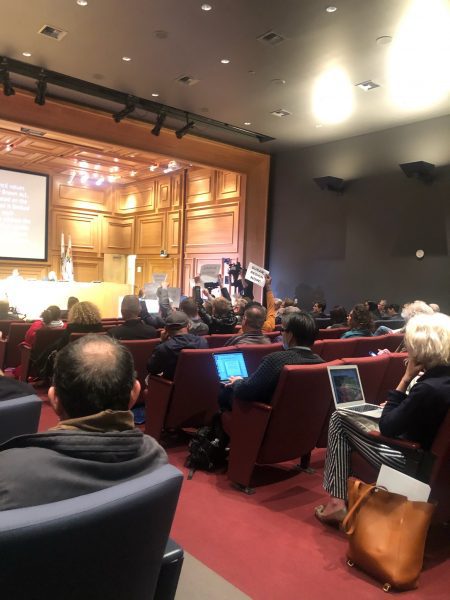 The Council eventually voted unanimously to deny Duran the right to travel on city business at city expense for one year, to deny him reimbursement for city-related expenses for one year and to remove him from a subcommittee appointed to oversee the city's involvement with Christopher Street West, the non-profit that hosts the annual L.A. Pride event. It also asked the City Manager or someone under his purview to review Duran's official emails and to sit in on any meetings Duran has with an employee at City Hall, an apparent response to allegations that Duran has made sexually inappropriate comments to city employees. The Council did not have to remove Duran from his honorary position as mayor because he announced this morning that he was giving that up. Duran has also resigned as chair of the Gay Men's Chorus of Los Angeles, some of whose young members have accused him of sexually inappropriate touching and propositioning. Duran has denied all of those allegations.
After demands from local residents attending tonight's Council meeting, Council members John D'Amico, Lindsey Horvath and Lauren Meister also pushed a reluctant John Heilman to join them in unanimously asking an equally reluctant City Attorney Mike Jenkins to prepare a resolution censuring Duran that will be considered at a future meeting.
"It is unfathomable to me that you would not move forward with a censure," said Estevan Montemayor, a young gay man who is a former member of the city's Public Safety Commission. "…. There is not clarity. With all due respect. I think we need that to heal."
"When people like you have a colleague who has done something reprehensible, you censure him," said local resident John Keitel in a dramatic callout of the Council for its reluctance. " …. It's not something like wait and see. Do it now."
Other young gay men called for Duran to resign. They included Robert Oliver, another former member of the city's Public Safety Commission, and Will Hackner, founder of the Varsity Gay League, a nationwide organization of gay athletic groups based in West Hollywood. The Council does not have the power to remove Duran from office, and its members, three of whom are running for re-election tomorrow, have declined to take a stand on that matter. However challengers Sepi Shyne and Brendon Hood have said Duran should resign from the Council.
Duran did not attend the meeting. In his post on Facebook announcing that he was stepping down as mayor he said that he had to focus on his health. Duran also missed the Feb. 19 City Council meeting, where demonstrators from the #MeToo movement and Justice4Gemmel rallied outside the City Council Chambers, attracting coverage from local television stations. Duran cited his decision to check into the hospital to have himself examined for possible blood clots as a reason for missing that meeting.
Heilman recommended that the Council defer any decision on censuring Duran and take it up at a later date if that is necessary. He said that comments Council members have already made about Duran's behavior were, in effect, a censure of his behavior. Heilman also noted that Duran would have an opportunity to review the censure resolution before the City Council adopted it, which would make for an awkward public meeting.
"What we're essentially inviting is another public meeting with all the people who think he should resign, all the people who think he should be censured," Heilman said. "John will have his supporters there as well."
City Attorney Jenkins said he was troubled with the idea of drafting a censure resolution given that the allegations of sexual misconduct by Duran have not been proved. Councilmember Horvath reminded him that some allegations were documented by an independent investigator looking into complaints of sexual harassment by Duran's former Council deputy, Ian Owens. While the investigator could not corroborate Owens' accusations of sexual harassment, he did report that Duran made inappropriate comments to city staffers. Jenkins said that case, which the city settled with a payment to Owens of $500,000, was not something he wanted to revisit.
Councilmember D'Amico said that Jenkins should consider public statements made in recent weeks by Duran that indicated inappropriate behavior. Those statements included Duran's explanation that he didn't inappropriately touch a young Chorus member because he was "a skinny Korean kid with pimples on his cheek" and statements in which he boasted that he was an openly sexual man and had more sexual activity than his fellow Council members.
The Council voted to name D'Amico, who has been mayor pro tem, as the city's mayor to fill out the rest of Duran's term. Lindsey Horvath was named mayor pro tem. A new mayor and mayor pro tem will be named on April 15.